2021 German Dressage Championships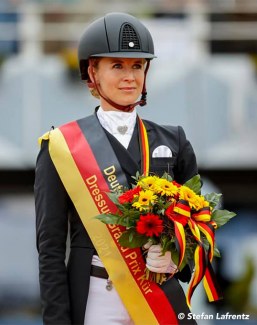 The 2021 German Dressage Championships concluded on Saturday 5 June 2021 with the Kur to Music medal finals. There were no surprises as GP Special winner Jessica von Bredow-Werndl continued on the same form and swept the freestyle with a national personal best score of  93.025%.
The panel of judges - consisting of Nivelle, Holthaus, Ebert, Kessler and Eisenhardt - followed their own judging trend of the first of two days and repeated the ranking in the freestyle. It was a second gold for Von Bredow-Werndl, a second silver for Isabell Werth and a second bronze for Dorothee Schneider.
These three riders are also the clear German Olympic team favourites. Only the reserve team spot is still heavily contested although after Balve that position seems to have been reserved by Helen Langehanenberg on Annabelle, ahead of Benjamin Werndl with Daily Mirror. 
Second Gold for Von Bredow
Von Bredow-Werndl piloted Beatrice Burchler-Keller's 14-year old Trakehner mare Dalera BB (by Easy Game x Handryk) professionally through her floorplan to the music of the celebrated Lala Land movie. All five judges placed her first unanimously, one judge even rewarding the music a 99% for artistry. She finished on 93.025%.
"For me the weekend couldn't have gone better," said Jessica. "Dalera and I are in phenomenal form and now the only thing that matters is to stay calm, take a little break, gather our strengths and step into the future with fresh energy." Werndl will go home and prepare for the second German Olympic selection trial in Kronberg at the end of the month. "I will go home and analyse my rides and see what we can improve. I won't make Tokyo any different from other shows. I hope I'll have good nerves, which one needs, and deliver the optimal."
Second Silver for Werth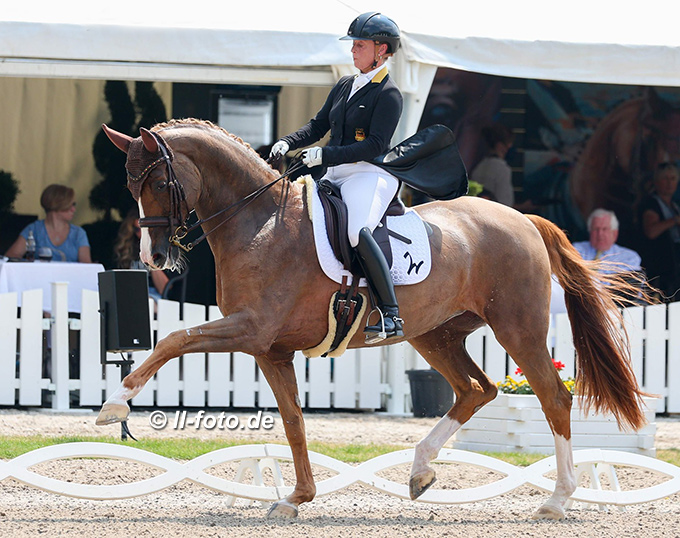 Isabell Werth and Madeleine Winter-Schulze's 17-year old Westfalian mare Bella Rose (by Belissimo M x Cacir AA) followed in her wake. Four judges had them second, one judge third. They achieved a national best score of 90.975%. The pair's international kur high score is 90.875% achieved at the 2019 European Championships in Rotterdam. 
"At the beginning of the kur Bella was a bit uncertain, but then it went really really well," Werth commented. "This was my second show with Bella this year. I'm very happy with her development and how she improved herself and presented herself here in Balve these days."
Second Bronze for Schneider
Dorothee Schneider and Gabriele Kippert's 15-year old Hanoverian gelding Showtime (by Sandro Hit x Rotspon) landed third place and the bronze with 89.775%.
"I buried my flying changes traume today and rediscovered myself," Schneider commented after she had been making mistakes in the tempi changes the past few days. She admits that she was nervous for the changes, but "I went for it and fortunately they worked out. There were a few small thingies but for me the happiness prevails that he improved so well. I return home with a very good feeling."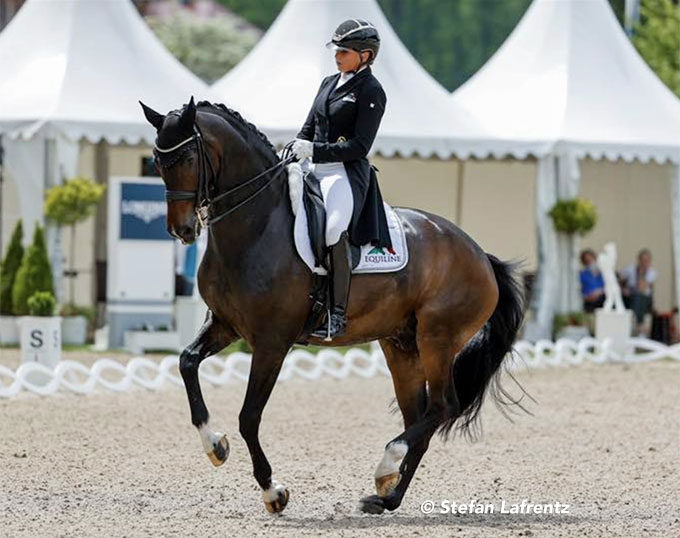 Werth also captured fourth place on Madeleine Winter-Schulze and Victoria Max-Theurer's 11-year old DSP stallion Quantaz (by Quaterback x Hohenstein). They posted 85.250% and edged out Helen Langehanenbeg on Günther Fielmann's 13-year old Holsteiner mare Annabelle (by Conteur x Linaro) who completed the top five with 83.475%.
"It was so exciting. I was truly very, very impressed how well the horses went," said team trainer Monica Theodorescu. "It's good to see how well they are after three days, motivated and fresh. They rode fantastically. All horses went three times. It's good and important that the three tests are asked and practiced. You can't do that at every show, but here it worked well.  The horses are at a high fitness level. Now they a break for a week and then they quietly prepare for Kronberg. And then we'll continue like that."
Photo © Stefan Lafrentz - LL-foto
Related Links
Scores: 2021 German Dressage Championships
Jessica von Bredow-Werndl Renews German Grand Prix Champion's Title in Balve
2021 German Olympic Dressage Team Selection Via Balve and Kronberg
Sönke Rothenberger's Cosmo Withdrawn from Olympic and European Team Championship Contention
Previous Winners
Jessica von Bredow-Werndl and Isabell Werth are the 2020 German Grand Prix Champions
Isabell Werth and Emilio Take Freestyle Gold at 2019 German Championships
Dorothee Schneider Puts on a Show and Wins Gold at 2019 German Championships
Rothenberger Grabs Kur Gold at 2018 German Dressage Championships
Sönke Rothenberger Wins 2018 German Grand Prix Championship
Isabell Werth Wins 2017 German Dressage Championships, 13th Career Title
Isabell Werth and Weihegold Win 2016 German Dressage Championships
Kristina Sprehe Scores Second, Consecutive Title at 2015 German Dressage Championships
Kristina Sprehe Wins 2014 German Dressage Championships
Helen Langehanenberg is First Violin at 2013 German Dressage Championships
Helen Langehanenberg Crowned Queen of Dressage at 2012 German Championships
Rath Secures National Title with Totilas at 2011 German Championships in Balve
Double Gold for Isabell Werth at the 2010 German Dressage Championships
Photo Report 2009 German Dressage Championships
Photo Report - 2008 German Dressage Championships 
Scores: 2007 German Dressage Championships