Germany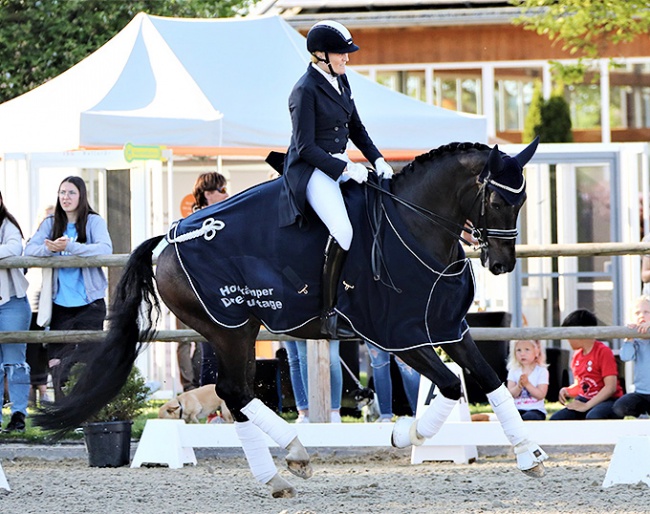 German Grand Prix rider Petra Stroetmann continues to produce Grand Prix hopefuls and sell them like hot cakes. She most recently sold Dancing Dream K to Swiss 
Dancing Dream K is a 2015 born Hanoverian gelding by Dancing World x Stedinger x Walt Disney.  He is bred by Herbert Krause.
Great Find
Stroetmann (née Epping) discovered Dancing Dream K as a 3-year old and first had her student Bettina Kappelhoff (née Weitkamp-Neuhaus) compete the horse as a 4-year old in 2019. 
In 2020 Bettina and the horsequalified for the Bundeschampionate, but chose not to ride in Warendorf. 
In the spring of 2021 Petra began competing the gelding herself, first at M-level. and by March 2022 she moved him up to S-level. 
Sold to Switzerland
The dark bay has been sold to Otto Hofer in Switzerland and has been listed in the FEI database as Donovan.
Hofer is a former Swiss team rider and his granddaughter Leonie Guerra is an Under 25 rider competing for Liechtenstein. 
Stroetmann's list of home produced FEI horses which she then sold is impressive: Her last sale was Daytona (Elisabeth Ehrnrooth, now in training with Daniel Bachmann), and she previously trained and sold Fidelio van het Bloemenhof (Anders Dahl), Weinzauber (Robert Acs), Dominion (Shelly Francis), Robin Hood (Pierluigi Sangiorgi), Ikaros (David Blake), Fiffikus (Fausto Puccini), Floratina (Lindsey Kellock), Exquis Rodenburgh's Alabama (Jeanine Fiechter), Inspire (Kelly Ann Klenk), Dior Rouge (Eva Senn), Roleander (Matthias Kempkens), as well as Cortino B, Believe It, Gag, Fashion, Giselle, and Fancy Free.
Related Links
Greatest Oldie: Limandus, The Happy Athlete
Léonie Guerra Declares for Liechtenstein
Daytona, New Grand Prix Hopeful for Elisabet Ehrnrooth
Hayley Beresford Relocates to Switzerland as Otto Hofer's Head Trainer
Brisbane, New Grand Prix Ride for Emma Hindle
Fiona Bigwood Acquires Fidelio van het Bloemenhof and Florina
Petra Stroetmann Not to Compete in 2005 Nurnberg Burgpokal Finals
Petra Epping's Giselle Passed Away