Danish Warmblood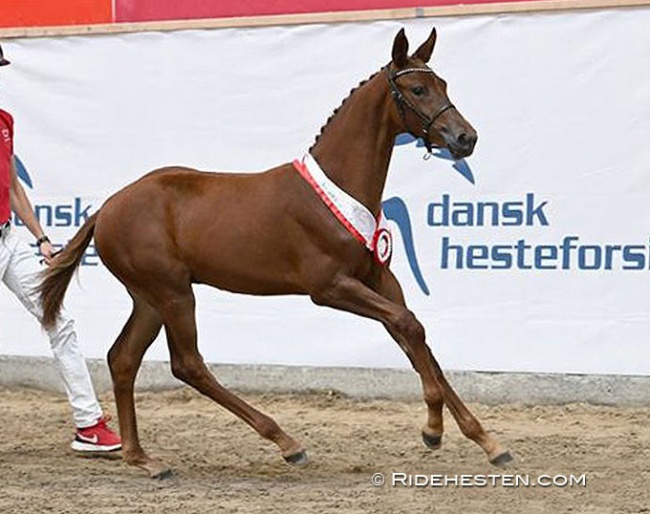 The filly Milena S By In Horses and the colt TH Vivaldo were the named the winners in their respective gender classes at the 2023 Danish Warmblood Elite Mare and Foal Championship in Vilhelmsborg on 2 September 2023. 
The foals were assessed by inspectors Vicky Nortvig, Jens Søgård, Karsten Petersen and Johnny Sørensen.
Fillies: Milena S By In Horses
Four fillies battled it out for the filly foal champion's title and it was Milena S who took highest honour. Her full name is "Milena S By In Horses" and she is by Revolution out of a Jazz x Stedinger dam, bred by Sara Juul, Ida Thomsel and Niels Lindberg. 
The judges praised her for  being an "excellent type, tall, long-lined  and three very good and ground covering gaits and, in particular, a light-footed and springy trot."
The other three finalist fillies were Lomus Fifty Shades of Love (by Fifty Fifty x Zackere x Farrell), bred by Lo Breiding and Sophie Wilson, Stærkjærs Diva (by Be Sure x  Tailormade Temptation x De Noir), bred by Stutteri Stærkjær, and Hold It Hesthøj (by Vitalos x  It's Me x Michellino), bred by  Jesper Holst Hansen.
Colts: TH Vivaldo
Seven colt foals were invited to the champion's ring to compete for the title and it was TH Vivaldo (by Vivaldos x Revolution x  Ferro), bred by  Thorhauge Horses, who took highest honour. 
The judges praised him for being, "a fantastic type with excellent movement in all three gaits. The walk is supple and ground covering, and both trot and canter are powerful, elastic and uphill." TH Vivaldo sold in the subsequent auction for the top price of 44,000 euro to Johanne Amby and Mette Risager of Nordentoft.
The other finalist colts were Elversøes Quality (by In My Mind x Tørveslettens Sylvester x  Ferro) bred by Pia Melgaard Elversøe, Springborgs Guapo (by Dynamic Dream x  Diamond Hit  x Heslegård's Rubin) bred by Per and Pernille Springborg, Baunehøjens Denver (by Dynamic Dream x  Jovian x Ampère) bred by Pia Gobert & Asger Lorentzen,  Facit (by Franzé x  Quaterback x Rosentau) bred by Henrik Hansen,  Giovanni Langholt (by Geronimo G x Quaterback x  Stedinger) bred by Ole Magnus Jensen and Bente Graasbøll, and Gørklintgårds Masseto (by Gørklintgårds Million x Blue Hors Zack x  Blue Hors Don Schufro) bred by Jørgen Ravn.
Baunehøjens Denver sold at auction for 33,500 euro to Helgstrand Dressage. The most expensive filly who was not in the champion's ring was Leda Á Fenris (by Jovian x Blue Hors Romanov) which sold for 17,000 euro to Carina Cassoe Kruth and her sponsor, Four Oaks. 
Photo © Ridehesten
Related Links
Dream Catcher A and Terpling's Tiffany Win the 2022 Danish Warmblood Foal Championship
Vilard's Frina and Grand Quest-Bell Named Danish Warmblood Foals of the Year 2019
Remember Me and Diaz Skovvang Named 2018 Danish Warmblood Foal Champion
Svalegards Hot Boy and Faretti Named 2017 Danish Warmblood Foal Champions
Francisca Lightfoot and Bogegardens Santiago Bernabeu, 2016 Danish Warmblood Champion Foals
Delicious, Mildura, Schwarze Schwalbe, Tebaldo Winners of 2015 Danish Warmblood Elite Show
Strandagergards Sirocco and JJ Sasha, 2014 Danish Warmblood Foal Champions
Horgaard Tabasco and Springborgs Gateway, 2013 Danish Dressage Foal Champions
JJ Filippa and Tailormade Attraction Named 2012 Danish Dressage Foal Champions
JJ Fuji and Ellely's Tornado Named 2011 Danish Dressage Foal Champions
Dancing Boy and Stigma, Danish Dressage Foals of the Year 2010
Bjerggaards Don Perignon, 2006 Danish Warmblood Foal of the Year and Top Auction Foal