2023 British Dressage Championships
Carl Hester picked up his 68th national champion's title and his 11th British Grand Prix Champion's title in his career at the 2023 British Dressage Championships at Somerford Park on 14 - 17 September 2023. 
Grand Prix Day: Hester and En Vogue in Front
At a sun-bathed Somerford Park, spectators took to their seats for a thrilling morning of competition as a high-class field, packed with team and nations cup riders, came forward for the 2023 British Grand Prix Championship. Fresh from the FEI European Championships in Riesenbeck, team gold medallist Carl Hester MBE took centre stage and the winner's sash with his Tokyo and 2021 European Championships ride, En Vogue. Their sensational performance for 76.73% made them the unanimous victors amongst the Grand Prix judges panel of Andrea Smith (E), Denmark's Christine Prip (H), Stephen Clarke (C), Clive Halsall (M) and Sandy Phillips (B).
British-based Australian, Jayden Brown set the early standard posting 70.95% with the Quaterback x Desperados nine-year-old, Willinga Park Quincy B, holding the lead going into the second break. First to go in the third group of riders, 2018 National Champion, Lara Butler put a score of 70.13% on the table, this time with Ursula Bechtolsheimer and Laura Tomlinson's 18-year-old Kristjan to go into second.
Becky Moody and Jagerbomb who, last month, moved into the top 50 of the FEI world rankings and were selected as a reserve combination for the British team in Riesenbeck, showed their potential to post 72.00% and go into the lead after their impressive performance. Jagerbomb has so many strengths and a confidence that belies his nine years. Certainly a bright prospect for the future.
Next up was Carl Hester with En Vogue (Jazz x Contango), who he co-owns with Sandra Biddlecombe, Charlotte Dujardin and Lady Anne Evans. En Vogue, now 14, was a direct reserve for last week's European Championships in Riesenbeck, where Carl rode the Bigwood family's Fame on our gold-winning British team. Today, however, was En Vogue's turn to shine.
After a slightly tentative start, the sensitive and powerful gelding grew in confidence as the performance progressed under the masterful guidance of Carl. Showing a winning piaffe-passage tour, expressive changes as straight as a die, superb canter pirouettes, including a 10 awarded for the one to the right, the performance concluded with a flawless final centre line.
With Carl at the top of the leaderboard and Becky sitting second, Lewis Carrier (26) and Diego V (by Spielberg), last combination to go, delivered a strong test to earn 71.37% for third place.
"It was a fairly clean test and he hasn't been out for a while," commented Carl afterwards. "The best bit about the National Championships is it signals the end of the season. It's always something to look forward to and I was looking forward to him (En Vogue) having something to do. At the Europeans, Fame got all the glory that he deserved, but I felt Vogue has been equal pegging all year.
"I feel he's really improved this year," continued Carl. "He's 14 years old, but this year has probably been the best he's gone over his career. He's just more relaxed, easier and happier about situations like this. It was amazing to see such a big crowd and there was a nice atmosphere in there, which is lovely. It feels like one of the biggest National Championship crowds we've experienced for many years, so that was nice.
"As far as my test went, he was a little bit nervous going down the centre line, and then he settled into it. The best bit about Vogue's tests really is the canter work - it's so secure and strong. That's where he picks up all his eights and nines and his pirouettes were brilliant today. There's a lot of double marks in there and he did those so well, so I was really, really happy with it. It was a pleasure to ride."
No Rest for the Weary
Immediately after arriving home from Riesenbeck, Carl was making final preparations for Somerford; "There was no turnaround for me because we drove home on Sunday night. Charlotte was flying back home Monday, because she was there with the baby. So I got home at three o'clock in the morning, had six horses to ride on Monday morning and four lessons to teach. This week as well, the people I help have needed some extra lessons here for the championships, so I haven't stopped yet. But it's fine because I'm going on holiday next week and I've just got that in the back of my head.
"We came back [from Riesenbeck] on a high and it would be easy to think that coming here would be a low, but Vogue deserves this just as much. I've just had to make sure that I was prepared and give him his best chance – this was my end of season goal."
Highlights from the Past 25 Years
British Dressage is celebrating its 25th anniversary this year. Have you a particular highlight from the past 25 years of competing at the Nationals? "It's always been my showcase. The past 10 or 15 years I've only competed at Grand Prix level - I tend to give all the other horses to Charlotte (Dujardin) and Lucy (Scudamore), my head girl. Lucy's riding my six-year-old in the Novice Silver. I've always said the past 15 years has been about giving those who work for me chances, so I've only really done Grand Prix. The highlight of my Nationals career would probably be about 20 years ago when I think I had nine or 10 horses here.
"I had to ride nine or 10 a day over the three days, as it was then, and it was just such a great time. I just spent more time in the ring waving and galloping around and it was great fun - and staying in the lorry and parties every night. And there was a lovely horse I had, Legal Democrat, that won three National Grand Prix titles in a row. That was my aim in those days - to get National Champion. Now, to come back here and have a go at a National title again is exciting for me. It's great to bring the horses here and I love to support the British shows."
Fame vs En Vogue
And how does En Vogue compare to Fame? "What Vogue struggles with, because he's very tense, is his rein-back, but today he's done the best rein-back he's ever done - which surprised me - but his walk does get quite hot because he's thinking about what happens next.
"Fame just has that slight edge over him on that technical side, but they're both brilliant with a great work ethic. They're not horses you just get on and go 'Oh I'm going go and do a Grand Prix'. You need to get out, you need to train them a bit in the morning and not work, just let them look at wherever they like and get relaxation, and I work that into their tests. They're talented, brilliant horses, so I couldn't pick which one I prefer to ride because they just both have the same work ethic, which is 'let me do it, let me do it.' And it's wonderful because it's just a question of steering and calming, which is how I like to ride, it suits me."
It's all to play for going into tomorrow's Kudos Grand Prix Freestyle Gold as riders compete for the 68th National Champion title.
Grand Prix Kur Day: Moody Wins, Hester Overall Champion
Moody Wins the Kur
Rounding off a sensational summer season, the Yorkshire-based combination of Becky Moody and Jagerbomb employed all their consistency and class to win this afternoon's Kudos Grand Prix Freestyle on an exceptional 77.925%, for Becky's first Grand Prix Freestyle win at the National Championships.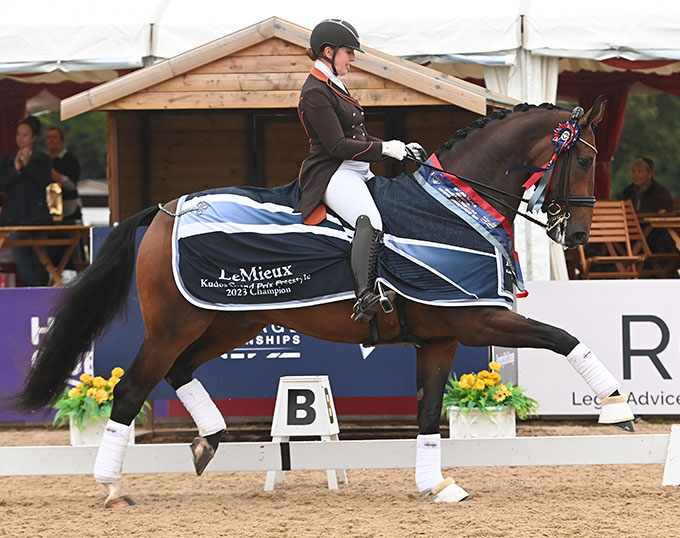 Becky (43) and her newest Grand Prix star have made a huge impression this year, Jagerbomb (by Dante Weltino x Jazz), at the age of just nine, looking so comfortable and happy at the level. This afternoon, as if born to perform, Jagerbomb delivered a technically demanding floorplan with fluency and confidence, accompanied by the catchy compilation of Tom Jones hits that matches the affable bay so well.
Grand Prix winners, Carl Hester and En Vogue  experienced a costly interruption into piaffe, in an otherwise flawless performance; an aggregate score of 77.100% from the judges panel of Leanne Wall (E), Clive Halsall (H), Stephen Clarke (C), Andrea Smith (M) and Fiona Wilson (B) putting them second, but comfortably securing the 11th National Grand Prix title of his career, 31 years after his first.
Third place on the Freestyle podium belonged to the British-based Australian rider, Jayden Brown with Willinga Park Quincy B on a score of 75.250%.
"It's great - he's just such a legend of a horse," said a delighted Becky afterwards. "I'm not going to lie - I was really lucky that Vogue had a little bit of a moment, otherwise it would have definitely still been Carl's! But you know, my horse was great. And I can't ask any more of him than that at the minute. He's only nine - he's really young - and it's his first season at Grand Prix, so he's just a baby."
About her music, Becky said; "I actually used Tom Jones first of all for my Inter I Freestyle last year, and it was after about 18 months of hassling from Kim (Masson) who's a really good friend and a show groom. She is a bit of a music aficionado and she said, 'use Tom Jones use Tom Jones' and I said, 'no, it's too cheesy!'. Then after 18 months I finally caved. And I'm very glad that I did because the first time I rode it, even for my Inter I, I loved it. And I just think it really suits his character. So when he was moving up to Grand Prix, we decided to keep the same music.
Becky has had several horses at Somerford competing across the levels this week; "It's a super venue. I think it gets a really good atmosphere in that arena. It gets good and buzzy - some of my horses cope with it better than others, but it's great experience for them. In terms of my results, I've had a real mixed bag - some really good ones and some that I want to go and do again, but we'll have to wait until another championship. Overall, I think all the horses are going to be going home with a good experience having learned a bit more."
Becky and Jagerbomb travelled to the FEI European Championships in Riesenbeck as travelling reserves. "It was just the most incredible experience," said Becky. "Some people think that it was a tough position to be in, but it wasn't because I just learned so much and the guys were amazing. It was incredibly inspiring. I definitely feel like I've come back a better rider and my horse has come back a better horse. It's fantastic.
About her plans for the coming months, Becky added; "Winter training, get better get stronger, and hopefully I might try and do London Horse Show, and just be ready to campaign next year."
Hester is the 2023 British Grand Prix Champion
For the 11th time in his career, Carl Hester is the British Overall Grand Prix Champion
"He (En Vogue) hasn't done one test this year where he hasn't been brilliant," said Carl afterwards. "So just to have a small blip in the middle... he's always got one eye on A the whole time because the music terrifies him. So he's nervous anyway, and then the fact that he's got a way out! But I've got all the good things he does too. His changes are amazing and when he gets it right, he's spot on with all those things.
"His whole year has been brilliant and that's a lot of tests he's done this year. His Grand Prix was one of the nicest I've had to ride, so the fact that he was so nice in the Grand Prix as well, of course makes it worthwhile because it's always, you know, these are fun!
"The horse hasn't had me ride him for eight days," said Carl, referring to his time away in Riesenbeck. "And then I can't suddenly school him loads when he's not done anything. So to then come here and do that is amazing. I've just been riding him so quietly at home for the week, so he had an excuse, but he'll go home tonight, get off the lorry and just go in the field so that'll cheer him up by tomorrow morning!
"At the end of the day I'm not going to dwell on that (the blip) because I wanted him to be a National Champion and that's what I got so I'm very happy.
During the prize-giving ceremony, Carl was quick to congratulate Becky on her Freestyle success; "I would like to say a congratulations to Becky. She's brought this horse on herself, she was travelling reserve, and she played the part so brilliantly. So, from all the team – you deserve it."
-- Text by British Dressage, edited by Eurodressage - Photos © Kevin Sparrow
Previous Winners
German Kathleen Kröncke Wins Grand Prix Title at 2022 British Dressage Championships
Emile Faurie is the 2021 British Grand Prix Dressage Champion
Charlotte Dujardin Cruises to 2020 British Grand Prix Champion's Title
Carl Hester is the 2019 British Grand Prix Champion
Lara Butler Wins the 2018 British Grand Prix Championship
Hayley Watson-Greaves is the 2017 British Grand Prix Champion
Carl Hester Wins 2016 British Grand Prix Championships
Charlotte Dujardin Wins 2015 British Grand Prix Championships
Michael Eilberg Wins 2014 British Grand Prix Championships
Carl Hester Brings Tally to 66 at 2013 British Dressage Championships
Carl Hester Wins 2012 British Grand Prix Championships
Bechtolsheimer, Woodlander Farouche and Carinsio Dominate Final Day of 2011 British Championships
Laura Bechtolsheimer Wins 2010 British Grand Prix Championships
Carl Hester and Liebling II Grab 2009 British Grand Prix Champions' Title
Maria Eilberg, 2008 British Dressage Champion
Spencer Wilton and Dolendo, 2007 British Dressage Champions
Sandy Phillips and Lara, 2006 British Grand Prix Dressage Champions
Laura Bechtolsheimer and Douglas Dorsey Win 2005 British Grand Prix Championships
Hester and Escapado Win 2004 British Grand Prix Championship
Richard Davison, 2003 British Dressage Champion with Ballaseyr Royale
Nicky Barrett Claims Her First Grand Prix Champion's Title at 2002 British Dressage Championships