2022 British Dressage Championships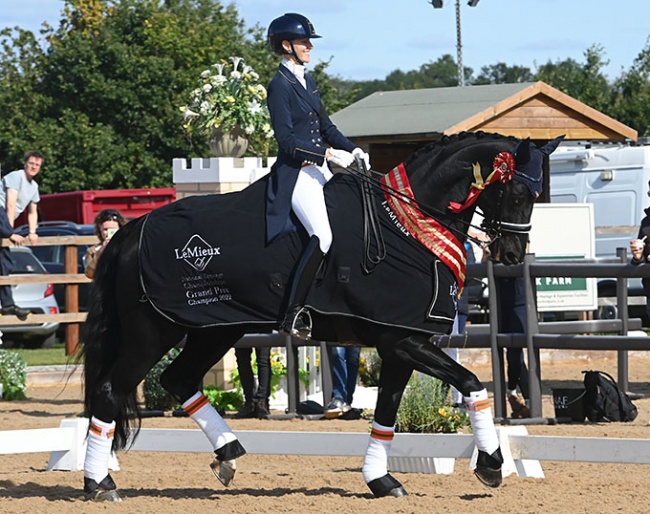 The German Kathleen Kröncke (née Keller) became the first non-British rider in recent years to win the Grand Prix title at the 2022 British Dressage Championships at Somerford Park on Saturday 17 September 2022. 
The Cotswold based Kathleen moved to the U.K. two years ago following her husband, German banker Nikolas Kröncke. This year she already won the 2022 Hamburg Dressage Derby and can now add a rather exclusive title to her list of achievements, British Grand Prix test Champion. 
Grand Prix Championship, Highlight of the Nationals
Saturday morning at the Nationals is the highlight of many a dressage fan's year as it's Grand Prix day. This year's GP field was a cracker with a varied range of horse ages and experience from 2017 National Champion WG Rubins Nite at 18-years young to Daniel Sherriff's ride, I'm Bayford Hall Incognito and stallion Indigro ridden by Andrew Gould, both just nine.
Top class competitions need world class judges and the combinations were treated to being under the watchful eyes of Isobel Wessels (E), Andrea Smith (H), Stephen Clarke (C), Richard Baldwin (M) and Peter Storr (B. 
It was the youngest horse in the competition who set the early pace, I'm Bayford Hall Incognito ridden by Dan Sherriff when they posted 69.89% so that set the bar for the others beat. The evergreen WG Rubins Nite and Hayley Watson-Greaves have targeted the Nationals this year keen to take the title for a second time and they threw their all at it and as ever his trademark extended trot was the highlight to garner the marks which totaled 71.67% and into the lead.  
The next contender was 2018 National Champion Lara Butler but her partner this time was Ursula Bechtolsheimer's home bred 17-year-old Kristjan. The duo was having their first run since Aachen in July and were in fine fettle today with the judges regularly reaching for their eight button – it was fairly mistake free and consistent to post 73.86% to take a strong lead. 
Next up was one of the pre-competition favourites, Gareth Hughes, who won the Grand Prix test title last year, while the overall champion's title went to Emile Faurie. Aboard Judy Firmston-Williams' Sintano Van Hof Olympia (by Sandro Hit), his 2021 European Team Silver medal partner, Hughes got off to a bright start but then the nerves crept in in the first passage piaffe tour and the marks reflected that but one the walk was behind them, the marks began to flow with the canter work with a raft of eights boosting the score. It was trending very similarly to Lara's when he exited so it was going to be close. The final score was confirmed as 73.10%, not quite enough but into second.  
Kröncke Rides High Score
Straight in after Gareth came Kathleen Kröncke for Germany riding the 15-year-old San Royal (by San Remo x Grand Royal), who is now incorporated in Kathleen and Nikolas' company K&N Stables Ltd. This duo has plenty of experience and have had a great 2022 with two international starts producing two second places in the Grands Prix and two wins in the Freestyle. The test itself was a picture of consistency with just marks being lost for the canter transition from passage and not quite a clean line of one time changes but such was the quality of the rest of the work, the judges unanimously put her first on a score of 74.47%. 
Andrew Gould is a rider back on his way up and in exciting young stallion Indigro (by Negro x Prali) he has the partner to get to the top. Owned by Tatiana Skillman, the nine-year-old certainly held his own in this company. The canter flying changes lacked a bit of security but the piaffe and passage is very strong and earned a number of nines. The final score was 72.23% which slotted into fourth but this is a horse with great talent and is certainly one to watch.  
Round One for Kröncke
In Great Britain, champions are named per class, but at Grand Prix level also an Overall Champion will be named at the end of the weekend.
So round one of the Grand Prix went to Cotswold-based Kathleen Kroencke, who trains with Spencer Wilton, and she was clearly delighted by her day's work and her horse.
"I'm really pleased with it, I am so grateful for every test I can do with him," she said "There were a few mistakes, which were my fault but we tried really hard and got such a good score. Super, super – I'm over the moon. He's quite tall but he's the most gentle soul I have ever known and he's so good in the ring he knows when he is on, picking his ears, he's an amazing and lovely horse. "
Kathleen loves her time in the U.K. and the lifestyle there.
"I am based over here with Spencer at the Cotswolds Club and I'm not going to change that. We really enjoy our time in the UK, I think we have been here for two years now, we really feel at home here now, it's been an amazing time. To ride in the UK, it's such an amazing country and the horses, I couldn't think of a better place.   
This show has certainly captured Kathleen's heart; "I think [the Nationals] are very similar to some of the international shows, it's got some amazing riders and combinations, everything is so professional. It's no difference between riding here or in Europe, as well as the High Profiles and Premier Leagues," she said. And what's next for the duo? "We're aiming for the London International Horse Show, that would be my huge goal if I could ride there but otherwise it's the Aintree High Profile in a couple of weeks," she concluded. 
It's all to play for tomorrow in the Grand Prix Freestyle and many will be looking to dance their way to the top plus which of the Brits will take 67th National Champion title?
Intermediate I Freestyle Champion and Small Tour Champion: Becky moody and Jagerbomb 
Becky Moody was welcomed back into the winners' circle one more time on Saturday afternoon claiming the Intermediate I Freestyle Championships and with it, the Intermediate I Supreme Champion spoils. With the gifted 8-year old Jagerbomb (by Dante Weltino x Jazz), Becky showcased her freestyle finesse to earn the highest score of the show so far – a magnificent 80.12%.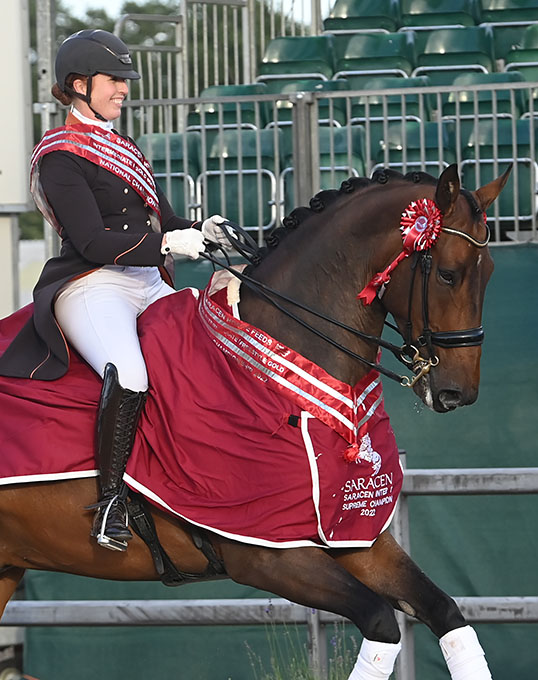 Talking about her performance, Becky was full of praise for brilliant Bomb, "that's pretty cool, isn't it! It's such a fun test to ride, it's pretty packed from one thing to another and it was mistake free. I didn't feel we had quite as much engine as we did it at Hartpury but some things were better, some things not so much, but it was just fun to ride and the music is really good. I'll put my hands up and admit the cheese was good.  
"He's answered everything I've asked of him this year with such an amazing effort," she continued on her latest superstar, a fitting successor for the marvellous Carinsio – who also enjoyed success in this class on his way to the top. "For eight years old, to have won that and come second to an Olympic medal winning horse, I couldn't ask any more than that. He's going to the NEXONE final next week and then some chill time before working towards becoming a proper Grand Prix pony next year. He finds the work easy; he has a real talent for it, it's just a case of getting him stronger so he can sustain it all the way through a Grand Prix test."   
The gelding has all the class to follow in the footsteps of his talented sire, Sweden's Dante Weltino, currently ranked number 13 in the FEI Dressage World Rankings. "I love his trainability," Becky spoke about what makes her home-bred so special, "I've got to the stage with training horses that I'd always take trainability over amazing talent. I don't think it matters how talented something is, if it isn't trainable, or doesn't want to do it, it's not nice for anyone, horse or rider. Whereas when you get one who wants to do it you can make it better and better. 80 might by the new 70 but if you can just do everything somewhere between fairly well and good, you're on 75% and that's a good enough mark to win most straight tests – so you don't have to have a nine or ten horse – it's nice to pick those up in some movements. It's much easier to have a 7.5 horse that's consistent all the way through and you can build and develop as he's done." 
The 8-year old Jagerbomb won the Intermediaire II at Grand Prix level on Thursday, the Intermediaire I on Friday and the Inter I Kur on Saturday. 
A splendid day in the office for Michael Eilberg saw another podium placing with his own and Nicola Hannam's MSJ Dante taking second in the Inter I freestyle with 77.62%, whilst local lady Sarah Higgins claimed third with Sarah Rao's Geniaal (74.25%). 
-- Text by British Dressage, edited by Eurodressage - Photos © Kevin Sparrow
Results - 2022 British Dressage Champonships
Grand Prix
1. Kathleen Kroencke - San Royal - 74.478
2. Lara Butler - Kristjan - 73.869
3. Gareth Hughes - Sintano Van Hof Olympia - 73.109
4. Andrew Gould - Indigro - 72.239
5. Hayley Watson-Greaves - WG Rubins Nite - 71.674
6. Laura Tomlinson - Fallatijn Van Kairos - 71.196
7. Daniel Sherriff - I'm Bayford Hall Incognito  - 69.891
8. Andrew Gould - Genie - 69.435
9. Lisa Marriott - Valucio DHZ - 68.739
10. Paul Friday - Hawtins Horatio -  68.413
11. Lucy Amy - Rudy - 67.587
12. Alice Oppenheimer - Headmore Diffinity -  66.891
13. Samantha Thurman-Pickett - Gerardo - 66.304
14. Dan Greenwood - Chevalier-O -  65.956
15. Matt Frost - Helga  - 65.696
16. Robyn Smith - Francesco -  63.783
Lewis Carrier - Diego V - RET
Intermediaire I Kur to Music
1. Becky Moody - Jagerbomb - 80.125
2. Michael Eilberg - MSJ Dante - 77.625
3. Sarah Higgins - Geniaal - 74.250 
4. Alice Oppenheimer - Headmore Dionysus - 73.075
5. Charlotte Lutener - Full Fusion BS - 71.650
6. Fenella Quinn -  Empire B - 71.025
7. Lucinda Elliot - Hawtins Soave - 70.600
8. Emma Jablonski - Higgens Van De Uilenhoek - 70.300
9. Dannie Morgan - Loxley's Optimism - 70.125
10. Elder Klatzko - Dior VIII -  69.950
11. Angus Corrie-Deane - Jack Johnson  - 69.600
12. Katie Bailey - Hillgrounds Wolkenhall  - 69.450
13. Nikki Barker - Iwan - 69.425
14. Alexander Harrison - MSJ Top Secret  -  69.350
14. Lisa Anne Hopkins - Liss La Belle - 69.350
16. Andrew Gould - Rockwood Virtue - 69.325
17. Olivia Oakeley - Rock Diva - 69.250
18. Emily Ormerod - Freya FST  - 68.875
19. Jennifer Martell - Integro - 67.200
Davey Harvey - Hawtins Rossana  -  ELI
Related Links
Moody In the Mood for Double Victory on Day Two of 2022 British Dressage Championships
Dujardin and Pidgley, Trainer and Student, Take First Titles at 2022 British Dressage Championships