2023 British Dressage Championships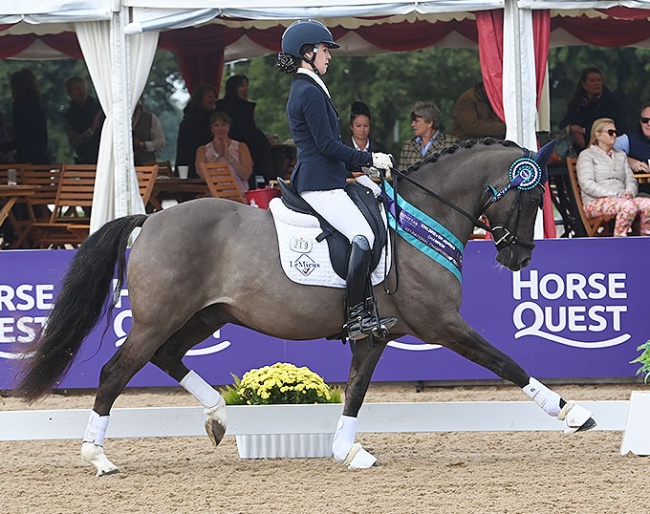 The action packed programme of the 2023 British Dressage Championships at Somerford Park featured youth championship classes. Unlike in other European countries, in Great Britain only one class determines the winner of the National youth title.
Pony rider Abigail Gray, children rider Darcey Blaze Marcus, junior rider Sophie Wallace and young rider Annabella Pidgley were the titlists.
Children: Darcey Blaze Marcus 
With a talented pool of Children riders, it's been nip and tuck between the four starters in this year's British National Championship all season – the winner of today's contest was Darcey Blaze Marcus and Hiedi Marcus' pony Tackmann's Dark Deluxe.
Violet Hawkins and DZL Royal Sunrise took the second spot, whilst Mimi Kempster followed in third, and Ella-Grace Dovey in fourth. All four riders scored about the 70% barrier.
Pony Riders: Abigail Gray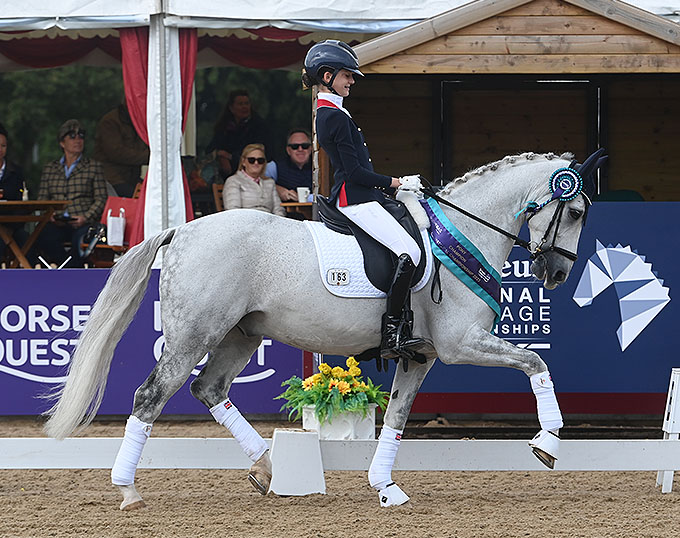 After a phenomenal appearance at the 2023 European Pony Championships, Abigail Gray presented her team partner George Clooney B.S in winning fashion to claim the Rotheras Pony National Championships with 74.476%. Two fellow team riders joined Abigail at the top of the leaderboard as Ella Glennon and Amden Supreme Golden Dancer took the runners up spot with 71.143% and Demi Howard-Cartwright took third with Fin C WE.
"It went really well and I'm really happy with George and he's such a showman," said Gray. "We're quite a new combination, we've been together around a year. We get on so well together and I'm very lucky to own such a wonderful pony."
"He's got a lot of character," Abigail said describing her superstar pony, "he loves the stage!" The duo will now aim to campaign for a place on the British Pony team again next year with the ultimate goal of the FEI European Championships; all whilst balancing competing alongside school work with the bright young rider detailing her favourite subject as art and least favourite...chemistry!
It's been an incredible breakthrough year for the teen who reflected on her amazing achievements, "the Europeans were the highlight, it was such a wonderful experience and it was such a privilege to go," before adding how inspiring it was to compete at the Nationals, "it's very cool to be around all the big top riders and even go up against them yesterday."
Junior Riders: Sophie Wallace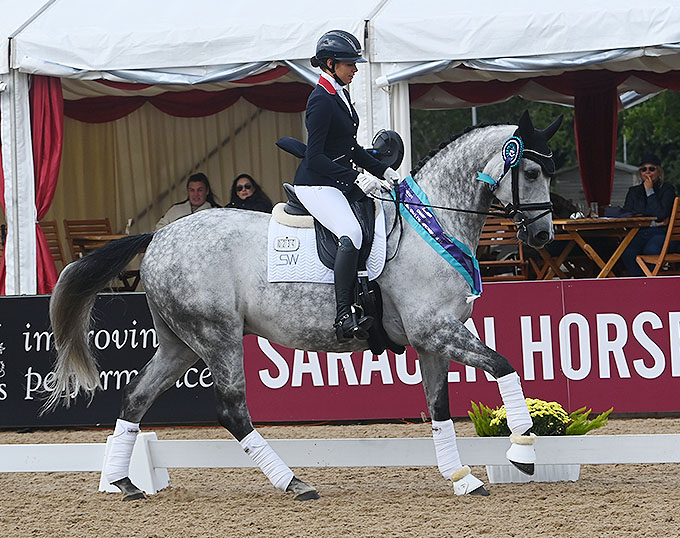 A competitive Junior fixture saw 2022 FEI European Championship bronze medallist Sophie Wallace take the top spot of the podium with First Light. The seven year old by Furstenball produced the standard Team test to earn 72.121%. Scoring a superb 70.154% for second place was Isabella Caldwell with Sarah Higgins' Don Geniro, whilst Megan Field took third with her own Bright Time FST.
"This is only our third or fourth competition so I'm really pleased with how he went. The warm up was great, I went in with a really positive feeling and that carried on throughout the test. There are a few things we still need to improve on which is really exciting, as we know we can hopefully improve our score again. Considering he's only seven I couldn't ask for much more."
Sophie is excited to aim for European selection in 2024 with the eye-catching gelding, "he's very cute, he has the cutest little face – he's so easy to do everything with! Hacking, going on the gallops, he loves it all and he's so easy to deal with on the ground as well."
"To be surrounded by them [Carl Cuypers and Lara Butler] every day and have their help and support is amazing," Sophie said about having a dream team around her; when asked what key learnings she takes from Carl and Lara into her learning, she continued, "I think it's just to work with the horse and be with them all the time, just encourage them to be themselves and do what they've got to do."
Young Riders: Annabella Pidgley
Annabella Pidgley completed a busy week with Espe in winning fashion, claiming her second title of the week in the Young Rider Championships. Their winning score was a superb 74.167%, rewarded by Claire Ballantyne (E), Jenny Ward (C) and Andrea Smith (M). Claudia Davis and Fergus RT were second, with Catherine Davis' Uphill-sired gelding scoring 69.314%, followed by Hermione Tottman and Niki Tottman's Exquisite in third.
Speaking of her test today "It was really good, I was really pleased with it and it was a great way for me to close the season. It was a lovely clear round. She stayed with me. I was really pleased. I just tried to work on what we've been working on all season and it really came together. And it was nice to take the win. We've been working on more collection in our canter, she's a very expressive mover, she's very free, so containing all of that energy has really been a focus and today it was much more contained. What a way to top off my season two gold medals and now to be the British young rider champion, it's just really come together this season."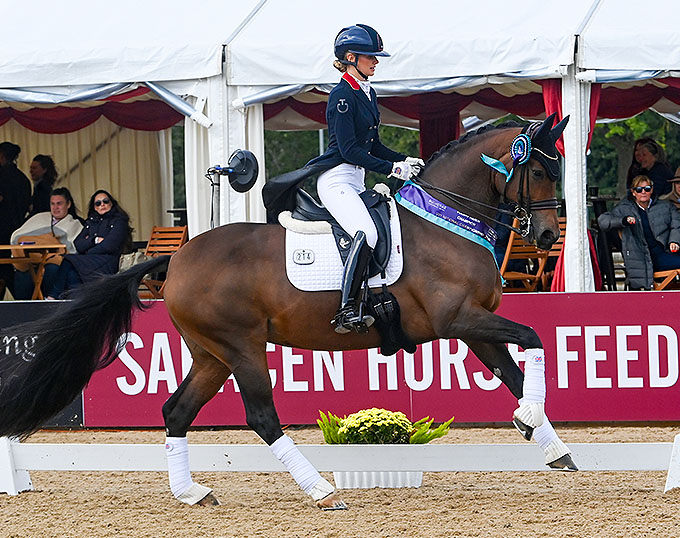 Annabella commented on being at the Nationals and riding both in the Young Rider class and the Grand Prix; "I just try to enjoy it and, you know, appreciate all this experience that I'm able to gain both at Grand Prix level and then also taking that into my Young Riders and be able to use that experience to help me with my PSG."
On what advice she would give to up and coming young riders, Annabella said "enjoy the journey. Enjoy the wins, enjoy the highs, even if it's not necessarily a win on paper, but if you showed any improvement or something that you've been working on has come up, I think you really have to appreciate that because it's so easy in the sport to be so critical of ourselves because we are and we're paying to be judged so is critical in itself, but to just appreciate when you do show improvement."
Reflecting on the success that she has had this year, Annabella said "it's been unbelievable. I mean this year, all my dreams have come true. To become double European Champion was surreal. I didn't believe it initially, I didn't believe it when I won gold in Hungary and it's just been incredible and to come here and to just really round off the Young Rider season. It's been more than I ever could have asked for and also to ride at Aachen and to win in the Aachen arena and the Young Rider classes was also another huge highlight of the season and we've had Espe since she was six years old so to see the development of the mare to now being nine and to be winning all over Europe. It's just incredible."
Annabella is now taking a gap year to focus on the horses, before going to King's College, London to study Business next year "I've applied to defer entry so I've just got a year out to be a real athlete and to focus on the horses. And to spend time improving myself as a rider, through gym work, nutrition and just through every lens that I possibly can now that I don't have school. I feel like although I carried on riding I almost missed out of two years with my horses; doing the yard work, just spending time with them. So now I'm really enjoying refocusing on all of that side of it.
-- Text by British Dressage, edited by Eurodressage - Photos © Kevin Sparrow
Related Links
Robinson-Long, Games, Pidgley, Mcdowall Win 2022 British Youth Championships
Dahl, Hughes, Kerslake, Burgess Win 2020 British Youth Riders Championships
Whitelaw Win 2018 British Pony Championships
Kuropatwa, Jesty, Lucas Win 2015 British Youth Riders Championships
Horobin, Blackmore, Thurman-Baker Win 2014 British Youth Riders Championships
Barton, Scruton, Knapton Win 2013 British Youth Riders Championships
Fry, Davis, Woodhead Win 2012 British Youth Riders Championships
Williams, Knapton, Woodhead Win 2011 British Youth Riders Championships
Harris, Bates, Cartwright, 2007 British Youth Rider Champions