2022 British Dressage Championships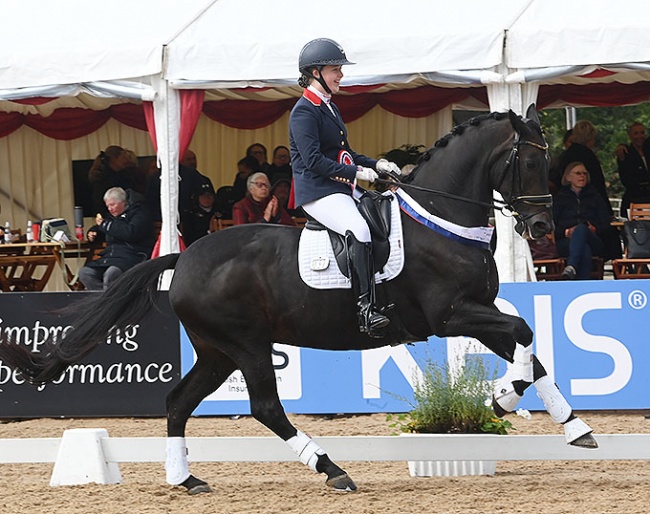 Children rider Crystal Robinson-Long, pony rider Sofia Games, junior rider Annabella Pidgley, and young rider Charlotte Mcdowall became the winners of the youth championship classes that took place on the final day of competition at the 2022 British Dressage Championships in Sunday 18 September 2022. 
The British Nationals were hosted at Somerford Park. The Youth Champions were decided by just one class, the team test in their respective divisions. All classes were judged by the same panel consisting of Claire Senior, Islay Auty, and Felicity Scott.
Children: Crystal Robinson-Long
Kent-based young rider Crystal Robinson-Long (14) claimed the British Children Championship title with her KWPN mare Evita Ronia (by Westpoint x Oscar). The duo, who represented Great Britain as individuals at the 2022 European Children Championships in Hungary last month, posted a fantastic score of 77.47% to take the win in a class featuring four riders.
"It [the performance] felt incredible today," said Crystal. "I didn't have the best warm-up, but she was incredible for my last Children test. I just went for it and it paid off!"
About the relative newness of their partnership, Crystal said; "Fran Newman found her for me in February, so we've not been together for very long. It has definitely been a big journey in a short time - I'll put it that way! Her trot work was amazing today - it felt incredible - and she always tries her best. There were some mistakes but it's a very good way to end the season, I'm very proud."
Also impressive were the performances of Natasha McDonald with her Welsh gelding Sauvey Golden Condor (by Triad Ricochet) and Evie Head with the Dutch bred Welsh pony Brouwershaven's Leonie (aka Brouwershaven's Diva), who completed the top three on scores of 72.82% and 72.65% respectively.
Pony Riders: Sofia Games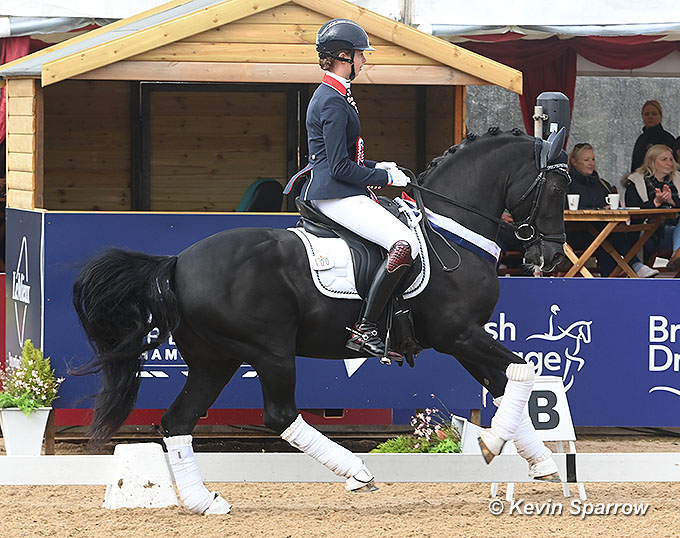 Just weeks on from their successful debut 2022 European Pony Championships appearance at Strzegom in Poland, Sofia Games and Next Black Magic (Nabucco R x FS Pour L'Amour) claimed the British Pony Championship in convincing style. The duo rode a test awarded a score just shy of 70% from the judges panel of Claire Senior (E), Islay Auty (C) and Felicity Scott (M). Six pairs competed at the Nationals in the FEI pony division.
"I thought he was amazing today – he was probably the most adjustable I've ever had him," said Sofia after the prize-giving. "It's great to continue after the Europeans and end the season on a high.
"Our partnership feels much stronger since we've been to the Europeans," continued Sofia. "We'll head into next year feeling good!"
Next Black Magic, or Totti as he is known at home, was sourced from Holland and was part of the Dutch Pony team last year. "He was a bit of a spontaneous buy," explains Sofia. "We met him, and he was perfect. He's such a character – he's quite sweet, but VERY sassy!"
Lauren Geraghty and WS Jackson (by Chiskin Jaguar x Highlight) , who also flew the flag for Great Britain in Strzegom, claimed second place this morning on 67.38%, while Beatrice Butterworth and Non Plus Ultra (by Noir de Luxe) completed the top three (67.00%).
Junior Riders: Annabella Pidgley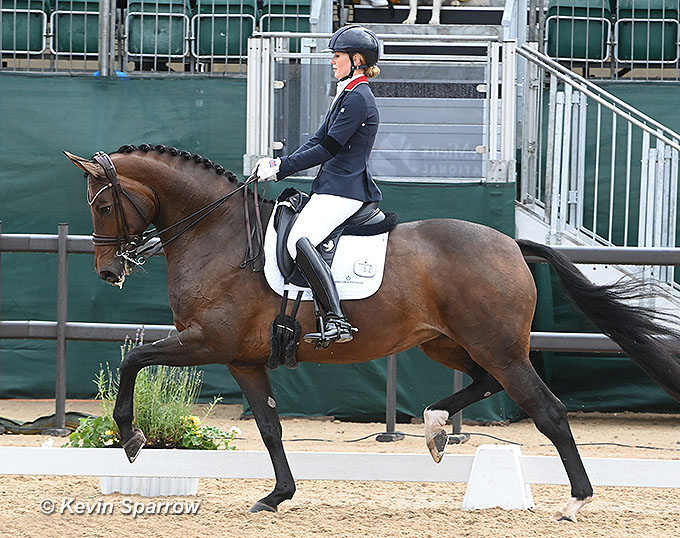 Adding to her Intermediate II title with Gio claimed on Thursday and concluding her outstanding 2022 season in style, leading British junior rider Annabella Pidgley enjoyed an emphatic win in the British Dressage Junior Championship. In a field of six combinations, with two of her European Championship team mates missing (no India Durman-Mills, nor Sophie Wallace), Pidgley raked in another easy victory.
With Sarah Pidgley's young mare Espe (Escolar x Dimaggio), the 17-year-old from Windsor posted a brilliant new PB of 76.11% for a performance showing all the power that earned them a brace of individual medals during the European Championships at Hartpury in July.
"She [Espe] was amazing – she really performed for me today," enthused Annabella. "It's a sad moment because this is our last Junior test before I step up to Young Riders, but it's a new personal best so it's more than I could have asked for as a big finish. I'm excited to be moving up to Young Riders and learning new things with her. She's only eight, so we're learning together - it's an exciting new journey.
"She surprised me in the prize-giving, and in the test she was quite hot, but she was excited and felt good following a little break after the Europeans," continued Annabella. "We'll do a few more shows but I love that she's feeling so happy and just wants to show her big trot off to everyone."
Myles Graham, also part of the bronze medal-winning team at Hartpury, achieved second place on a score just shy of 71% with his European Championships partner, Caroline Bell's Nibeley Union Hit (by Nibeley Union Jack), while Isobel Lickley and Mount St John Furstin Fugger (by Furst Heinrich x Weltmeyer) impressed to finish third on 70.70%.
Young Riders: Charlotte Mcdowall
Alive and Kicking, second in the Fairfax Saddles Prix St Georges on Thursday with owner Charlotte Dujardin, made a return to the arena on Sunday under Charlotte McDowall to claim the 2022 British Young Rider Championship in great style on a fantastic new PB of 72.35%. Five pairs competed in the division which was absent of all four British team combinations that showed at the European Young Riders Championships in Hartpury in July. 
The eight-year-old All at Once x Fürst Piccolo mare has been campaigned this year by Young Rider Charlotte, achieving promising results. Today's end-of-season win was the icing on the cake for this young partnership whose successes include top-three spots at Premier League Shows and a super second place in the Young Rider Individual test at Wellington CDI in June.
"I'm the luckiest girl alive!" was Charlotte's reaction following the lap of honour.  
Jessie McConkey and Wilson Stensvang (Wilkens x Don Schufro) took the runner-up position on a score of 70.53%, while Chloe Hill and Fort Knoxx (by Florencio x Brentano II) completed the Young Rider podium on 67.05%.
Text by British Dressage, edited by Eurodressage
Results - 2022 British Dressage Championships
Children - Team Championship Test
Judges: Claire Senior, Islay Auty, Felicity Scott
1. Crystal Robinson Long - Evita Ronia - 77.475
2. Natasha Macdonald - Sauvey Golden Condor - 72.825
3. Evie Head - Brouwershaven's Leonie - 72.650
4. Millie Caldecott - Beaurepaire Frodo - 67.975
Pony Riders - Team Championship Test
Judges: Claire Senior, Islay Auty, Felicity Scott
1. Sofia Games - Next Black Magic - 69.857
2. Lauren Geraghty - WS Jackson  - 67.381
3. Beatrice Butterworth - Non Plus Ultra  - 67.000
4. Demi Howard -Cartwright - Fin C  -  66.191
5. Ruby Hughes - Hilkens showgirl  - 65.857
6. Abigail Gray - Godrics Campeggio  - 64.048
Junior Riders - Team Championship Test
Judges: Claire Senior, Islay Auty, Felicity Scott
1. Annabella Pidgley - Espe - 76.111
2. Myles Graham - Nibeley Union Hit - 70.859
3. Isobel Lickley - Mount St John Furstin Fugger - 70.707
4. Ruby Hughes - Classic Bee Gee -  69.949
5. Megan Field - Bright Time FST - 67.273
6. Rose Foley - Corchapin -  66.111
Young Riders - Team Championship Test
Judges: Claire Senior, Islay Auty, Felicity Scott
1. Charlotte Mcdowall - Alive and Kicking - 72.353
2. Jessica Mcconkey - Wilson Stensvang -  70.539
3. Chloe Hill - Fort Knoxx - 67.059
4. Maddy Frewin - Blue Hors Dexter - 66.765
5. Claudia Davis - Fergus RT - 65.000
Related Links
Dahl, Hughes, Kerslake, Burgess Win 2020 British Youth Riders Championships
Whitelaw Win 2018 British Pony Championships
Kuropatwa, Jesty, Lucas Win 2015 British Youth Riders Championships
Horobin, Blackmore, Thurman-Baker Win 2014 British Youth Riders Championships
Barton, Scruton, Knapton Win 2013 British Youth Riders Championships
Fry, Davis, Woodhead Win 2012 British Youth Riders Championships
Williams, Knapton, Woodhead Win 2011 British Youth Riders Championships
Harris, Bates, Cartwright, 2007 British Youth Rider Champions