Klosterhof Medingen
The 4-year old Donnybrook became the price highlight of the 2020 Klosterhof Medingen auction, organized by stallion owner Burkhard Wahler on 26 September 2020 in Bad Bevensen, Germany. 
A collection of 22 riding horses and 26 foals was offered for sale. 20 horses and 24 foals ended up being sold. 
Denizli is Donnybrook
The best seller was the 4-year old Hanoverian gelding Donnybrook (by Danone x Hohenstein) which sold for 310,000 euro to Gestut von Bellin, where he will be trained by Belgian Bart Desender.
Donnybrook is bred by Horst Hestermann. This horse already appeared as a foal in the 2016 Klosterhof Medingen auction. He was then named "Denizli" and sold to the organizer, Burkhard Wahler.  
Big Prices
A sponsor of Swedish Jessica Lynn Thomas purchased Boots for Walking (by Borsalino x Quattro B) for 285,000 euro.
French buyers acquired Santa Clara (by Spörcken) for 182,000 euro and Dolce Gabbana (by Danone x Hohenstein) for 105,000 euro. 
Dane Andreas Helgstrand purchased the 4-year old Funrise (by Flanell x Bretton Wods) for 180,000 euro. 
A customer from Berlin secure Quenido (by Quantensprung) for 105,000 euro, while Queensberry (by Quantensprung) sold for 100,000 euro.  The same price of 100K was paid for Bailanda (by Borsalino x Laurentio). 
Dreambay, Best Selling Foal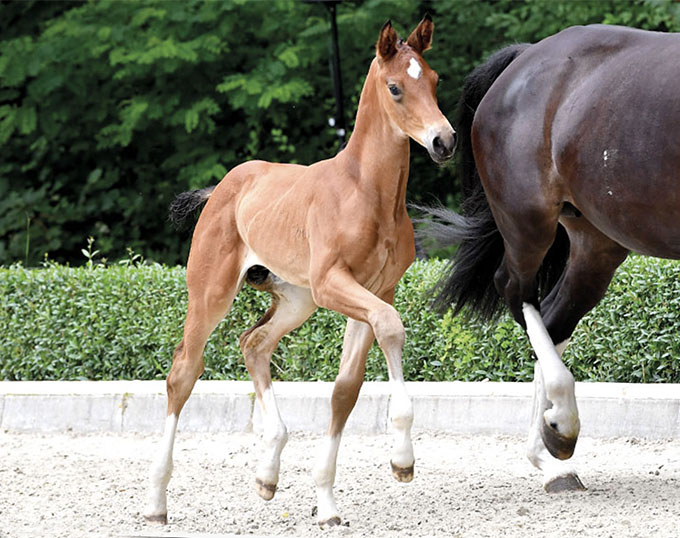 The most expensive foal was Dreambay (by Damaschino x Fidertanz x Gribaldi), which sold for 70,000 euro. 
The colt Dresscode (by Damaschino x Benetton Dream) fetched 38,000 euro and will move to the U.S.A.
Quel Soleil (by Q Sieben x Ampere x De Niro) moved to Baden Wurttemberg for 30,000 euro. 
The average price for a riding horse at this auction was 95,700 euro, for a foal 16,750 euro.
Related Links
Bellissima, Top Seller of the 2019 Klosterhof Medingen Auction
Dance with Me, Price Highlight of the 2018 Klosterhof Medingen Auction
Amazing Boy, Price Highlight of the 2017 Klosterhof Medingen Auction
Dexter, Price Highlight of the 2016 Klosterhof Medingen Auction
Descadero, Top Seller at 2015 Klosterhof Medingen Auction
Honduras, Top Seller at the 2014 Klosterhof Medingen Auction
Sommelier, Price Highlight of the 2013 Klosterhof Medingen Auction
Donatella Versace, Top Seller at 2012 Klosterhof Medingen Auction
Denino, Price Highlight of the 2011 Klosterhof Medingen Auction
Denina, Top Seller at the 2010 Klosterhof Medingen Auction
Duke of Oldenburg, Price Highlight of the 2009 Klosterhof Medingen Auction
Let's Talk About, Price Highlight at 2007 Klosterhof Medingen Auction
Du Commerce Price Highlight at the 2004 Klosterhof Medingen Auction
Dick Tracy, Price Highlight at 2003 Klosterhof Medingen Auction
Distelzar, Highlight of the 2001 Elite Trakehner Auction at Klosterhof Medingen