Trakehner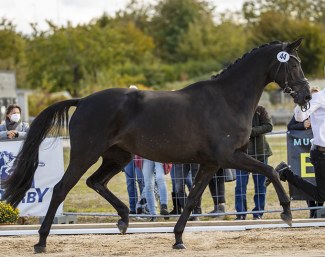 Helia became the price highlight of the Trakehner Mare and Foal Hybrid auction held during the Trakehner Stallion Licensing in Neumunster, Germany, on 17 October 2020. 
It was a premiere in the Holstenhallen of Neumünster: The hybrid format for  auctioning Trakehner mares and foals worked well at the 58th edition of Trakehner Hengstmarkt.  Either live on location, via phone or, new now, via the internet at the sales portal of Trakehner Verband, the bids came in fast and numerous and one top price following the next.
Helia
Highlight of the evening was the auctioning of impressive 4-year-old Helia (by Millennium x Induc), bred and owned by Soeren Nissen from Skals/Denmark. After a long and exciting bidding duel, auctioneer Hendrik Schulze Rückamp dropped the hammer at 105,000 euro for the reserve winner of the central mare registration of Schleswig Holstein in 2019. The bay mare sold to Staffelde stud in Berlin. She will move into a stall next to her full-brother, Helium.
Herbstrot (by All Inclusive) sold to Hessia for 68,000 euro. Couralie (by Schwarzgold) fetched 22,000 euro and moves to NRW.
The third ranked mare in the 2020 Trakehner Elite Mare Championship, Verheissung (by Helium) sold to Schleswig-Holstein for 26,000 euro. 
The exclusive collection features nine mares in total, which achieved an average price of 33,667 euro.
Halina and Emei Soleil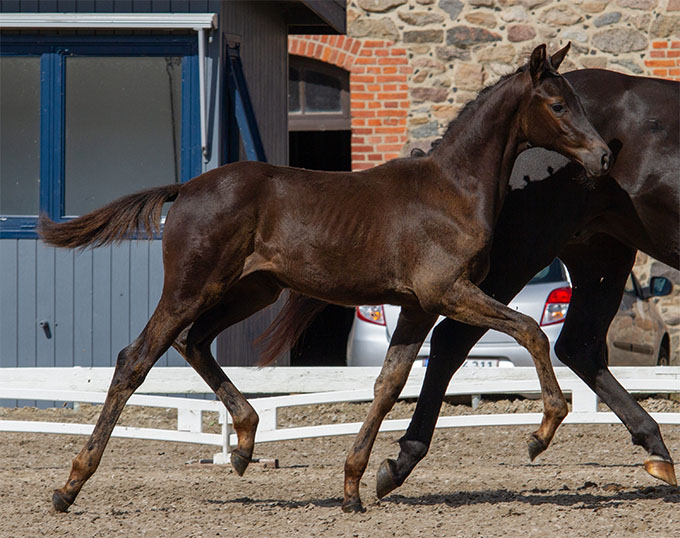 Fourteen foals formed the elite lot of youngsters. They were in high demand as well. The top price was paid for typey and very impressively moving Halina (by Millennium x Okavango), bred by Alan Nissen from Skals in Denmark, who is also the son of Helia's original owner. A breeder from Sweden paid 22,000 euro for this foal promising for breeding and sport.
For the Nissen family, this hybrid auction will stay a fond memory for a long time because the second most expensive auction offer came from their stables, too. Emei Soleil (by Millenium x Hibiskus) sold for 20,000 euro.
Colt Sam (by Hirtentanz) found a new owner for 15,000 euro.
Hot Spot (by Cook du Midour) sold for 12,500 euro to Hamburg. The same price was paid by a Luxembourg customer for Originell (by Davidas).
Haaland (by Helium) moves to NRW for 10,500 euro.
Altogether, the youngest Trakehner foals achieved an average price of 10,600 euro.  
Related Links
Inzaghi and Iniesta, Price Highlights of 2018 Trakehner Foal Auction
Greenwich Park, Top Seller of 2018 Trakehner Sport Horse Auction
Instagram Top Seller at 2016 Trakehner Elite Foal Auction
Hopkins, Top Seller at 2014 Trakehner Sport Horse Auction
Standing O' Vation, Top Seller at the 2013 Trakehner Elite Sport Horse and Foal Auction
Herzrouge and Cote d'Azur Shine at 2012 Trakehner Mare and Dressage Championship