Thoroughbreds in Dressage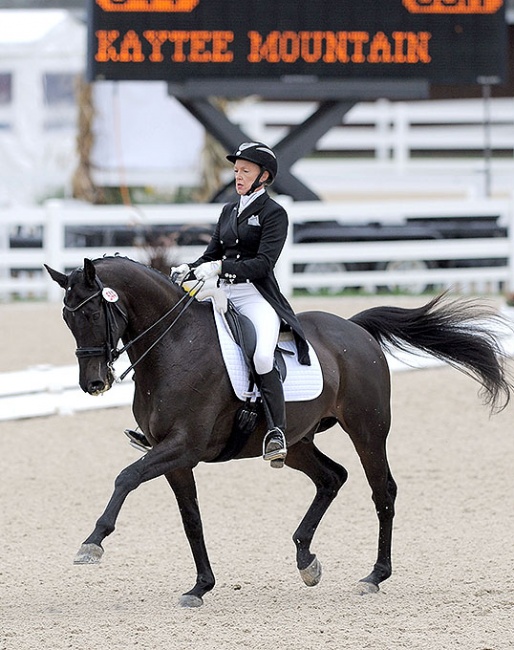 This interview is a continuation of the series "From Flying Past to Flying Change: Thoroughbreds in Dressage Competition."
Read Part I (introduction), Part II (TB between Wars), Part III (Post War, 1960s), Part IV (TB losing relevance), Part V (1970s), and Part VI (1980-1990s). Read an Interview on Thoroughbreds with Monica Theodorescu and Rozzie Ryan.
Being Successful with Thoroughbreds - Two Examples of Our Days
While there had been distinct thoroughbred dressage riders in the past, such as Sweden's Henri St. Cyr in the 1950s and early 1960s, these horses could also now and then be found in professional dressage stables in the first three decades after the war.
Nowadays to find a thoroughbred competing at advanced, let alone FEI-level is almost like finding the needle in the haystack.
Sue Gallagher and Kaytee Mountain xx
Eurodressage spoke with Sue Gallagher from the USA who competes her OTTB Kaytee Mountain xx (by Deniro - Mountain Lure) at CDI-level in the USA.
The native Australian had been no stranger to the breed when she bought "Tee" as an 4-year-old from a field in Pennsylvania where he was bred. Being raced, but too slow to succeed, the dark brown gelding was lucky to have finished racing without any physical or mental damage.
Both his rider and him were newbies to the discipline of dressage and within the years have worked themselves up the levels all the way to Grand Prix.
Their first ever CDI in Saugerties in 2015 began with a disaster with Kaytee Mountain refusing to continue after the first halt, but since then Sue Gallagher and her thoroughbred have never looked back and have already competed in Inter II and Grand Prix classes with percentages around 68%.
ED: When did decide on turning your ex race-horse to dressage and for what reasons?
Sue Gallagher: It was in 2010. I went to a dressage show where Kaytee Mountain and I were the complete outsiders and I got lots of negative comments about my thoroughbred. There I saw a lady riding a beautiful  warmblood horse, and I was just amazed at how they looked together. It was the first time I was really awestruck and I said to myself that I want to learn to ride like that. So my quest began to do that on my horse.
ED: What have been the reactions of your trainers, being a dressage newcomer riding a thoroughbred?
Sue Gallagher: I have had a couple of good trainers and a couple of awful ones who told me to sell "Tee", get rid of him and get myself a "real dressage horse". I chose to listen to the good ones and ignore all those who had negative things to say.
ED: Do you think it needs a trainer with some experience in training this breed in order to succeed?
Sue Gallagher: I truly believe it takes a particular rider and trainer to train a thoroughbred in dressage because of how sensitive and highly strung this breed is. You need someone who is going to work with you to come up with creative ideas and training exercises to access their active brains and tight bodies. My current trainer is Shannon Stevens of Elite Expression Dressage.
ED: Is a thoroughbred at a higher level, let alone at a CDI show, an "exotic" experience nowadays?
Sue Gallagher: Not exotic. I had my share of negative responses over the years and a bit of prejudice which has been very frustrating. However, I finally think that "Tee" has developed and we go into the ring with confidence as he can clearly perform all exercises with expression. I don't feel we are at such disadvantage. I truly believe that it is just honest good training.
ED: Today, quality dressage prospects require a lot of money to buy them. Is a talented thoroughbred an alternative and if yes, under which conditions?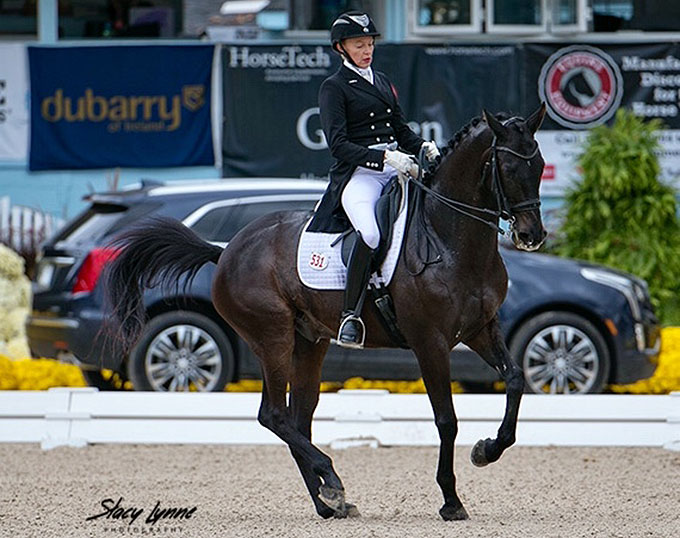 Sue Gallagher: They are indeed. I purchased "Tee" for 3500 dollars. However, I would not go for one who had 30 starts and won loads of money. Personally, I would go for one that has had limited starts and won very little, like "Tee" who had a few starts and came last every time. One that is no older than 4, has a huge walk and a big canter. Their trot is usually pretty flat and quick, but that can be trained into a beautiful gait.
ED: What are the successes you treasure the most which you and Kaytee Mountain achieved over the years?
Sue Gallagher: My most important success with "Tee" was training him from the race-track to Grand Prix and competing in the USDF national events in Grand Prix and being awarded the USDF Gold Medal. We did what so many people said we couldn't do, and that was beyond rewarding. But it was also an amazing moment to compete in CDIs. We were due to compete in our first CDI Grand Prix, but unfortunately with all events being cancelled due to Corona virus we have to wait.
But we will be training and improving, so we can really show just what the OTTB can do in the CDI ring.
Text © Eurodressage - Photo courtesy Stacy Lynn / Chronofhorse
Related Links
From Flying Past to Flying Change - Part VI: The Thoroughbred in the 1980s and 1990s
From Flying Past to Flying Change - Part V: The Thoroughbred in the 1970s
From Flying Past to Flying Change - Part IV: On Thoroughbreds Losing Relevance in Dressage
From Flying Past to Flying Change - Part III: The Thoroughbred from the Post-War Times into the 1960s
From Flying Past to Flying Change - Part II: Thoroughbred Champions Between the Wars
From Flying Past to Flying Change - Part I: Thoroughbreds in Dressage Competition