Danish Warmblood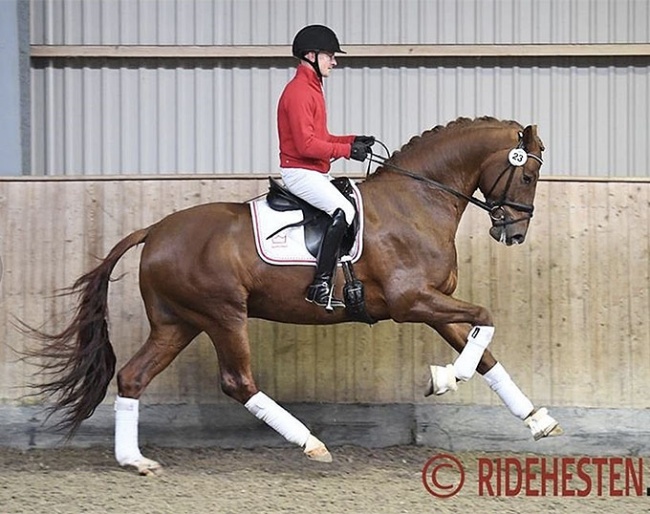 The KWPN bred My Vitality became the high scoring stallion of the 2020 Danish Warmblood Performance Testing which concluded in Torring, Denmark, on 22 November 2020. 
Three Drop Out
The tests riders for this autumn testing were Jeppe Houmann Petersen, Pia Thomsen, and the testing station manager Torben Frandsen. 
Three stallions dropped out of the testing, the Westfalian licensing champion Dynamic Dream (by Dream Boy x Sir Donnerhall), as well as Floss Dance (For Dance x Lordanos) and Teglovnens Sky Dancer (by Spörcken x Grenadier). One of them did not complete the testing and was sent home due to illness. 
The minimum score to pass the testing is 700 points. 
My Vitality
The liver chestnut stallion (by Vivaldi x D-Day) is the full brother to the highly popular breeding stallion Vitalis. Bred by Willeke Bos and owned by Andreas Helgstrand and Cathrine Rasmussen, My Vitality scored a total of 902.5 points. He earned 9.0 and 9.5 for rideability, 8.5 for walk, 9.0 and 9.5 for trot and canter as well as potential. 
The second highest scoring stallion was the Danish warmblood Iron (by Ibiza x Hohenstein), bred by Michelle Vicki Nedergaard and owned by Stutteri EVO in partnership with Helgstrand. He earned a total of 894.5 points with 9.0 for rideability, 8.0 and 8.5 for walk, 9 for trot and 9.0 and 9.5 for canter. 
The third best scoring stallion was Rockabye S (by Revolution x Belstaff) with 890.5 points. He got 9.0 and 9.5 for rideability, 8.5 for walk, 8.5 and 9.0 for trot and 9 for canter. He is owned by Helgstrandand SG Holding. 
The stallions completing the test were:
My Vitality (Vivaldi x D-Day) - 902.5 points
Iron (by Ibiza x Hohenstein) - 894.5
Rockabye S (by Revolution x Belstaff) - 890.5
In My Mind (by Ibiza x Fidermark) - 852
My Toto VDT (by Toto jr x Ferro) - 829.5
Slangerupgaards Flottenheimer (by Frankin x Scolari) - 827.5
Freetown (by Furst Wilhelm x Sir Donnerhall) - 815.0
Majestic Taonga (by Toto jr x Jazz) - 809.5
Total McLaren (by Totilas x De Niro) - 807
Hesselhøj Rock A Billy (by Revolution x Hertug) - 806.5
Gorklintgaards Royal (by Revolution x Sunny Boy) - 787.5
Stenagers Ben Hur (by Borsalino x Florenciano) - 786.5
Blue Hors Fortron (by For Romance II x Desperados) - 785.5
Kublitz TAF (by Prinz J3 x Imperio) - 745.5
Dashing Society xx (by Fly Society xx x Dashing Blade xx) - 703.5
Capri (by Antobello x UNO Don Diego) - 702,5
Complete performance test results here. Videos of all stallions here. 
Photo © Ridehesten
Related Links
Seven Premium Colts Named at 2020 Danish Warmblood Stallion Licensing
Atterupgaards Barcelo, High Scorer of the 2019 Danish Warmblood Autumn Stallion Performance Test
So Unique, High Scorer of the 2018 Danish Warmblood Autumn Stallion Performance Testing
Springbank II Wins 2017 Danish Warmblood Autumn Stallion Performance Test
Revolution Wins 2016 Danish Warmblood Autumn Stallion Performance Testing
Hesselhoj Donkey Boy Wins 2015 Danish Warmblood Autumn Stallion Performance Testing
Adrenalin Firfod, Dressage High Scorer of 2013 Danish Winter 35-day Stallion Performance Testing
Sezuan, Winner of the 2012 Danish Warmblood Autumn Stallion Performance Testing
Berlusconi Stands Out at 35-Day Stallion Performance Test in Denmark