Opinions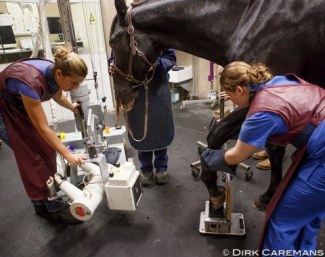 Guest column of this week comes from Danish born U.S. Grand Prix rider Charlotte Jorst, who recently took to Facebook and wrote about the insights she has gained over the years about trainers and being coached. She recently penned a column "On the Pitfalls of the Trainer - Student Relationship". Here is her next contribution.
On Your Relationship with the Veterinarian
Selecting a vet is very challenging. It's so emotional to own a horse and when they are sick or injured it's extremely hard. I hate when the vet comes out and looks with despair at the horse. Your stomach starts hurting and panic sets in. Sometimes I cannot even watch.
There's the vet who does not communicate, who does not not come when promised, or in others ways make you feel unimportant and needy. Owners probably also have a role in this. The ones who are needy, over protective of the horse, etc. so how do you manage this difficult relationship?
Know that conflicts will come. This relationship is hard and emotionally charged. This is what I've learned:
The vet has to be somewhat of a positive person, someone who gives me confidence that the horse will be ok. It needs to be someone who understands your goals and show schedule.
Once I had a horse with a quarter crack. The vet came out and told me that he needed 3 months off. Of course that might be the best solution but on the other hand it would have ruined the entire show year for me and the horse hated time off. I found a great shoer, fixed the crack and kept riding. The vet and I just had completely different goals and different perceptions of the situation. He's no longer my vet.
Ask questions. I'm overly information-seeking, especially in rehab situations. Make sure you understand the instructions thoroughly.
Be proactive, if you think something is wrong get a second opinion. Nobody knows your horse better than you. Be his protector and champion.
Related Links
Charlotte Jorst: On the Pitfalls of the Trainer - Student Relationship
Dr. Christina Russillo Appointed U.S. Dressage Team Veterinarian
Emile Welling Appointed Dutch Team Veterinarian
Hank van Campen Replaces Van Dijk as Dutch Youth Team Veterinarian
Jan Greve Resigns as Dutch Team Veterinarian
Dr. Geoff Vernon Appointed Canadian Dressage Team Veterinarian
2014 FEI Event Veterinarian Course to be held in Canada