Opinions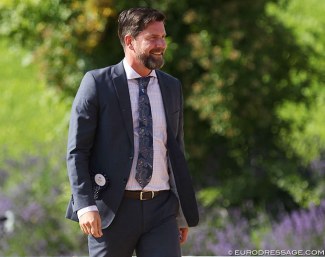 Guest columnist of this week is Hans-Christian Matthiesen, Danish 5* judge and president of the International Dressage Officials Club (IDOC). Due to the corona pandemic, the majority of competitions, training seminars and meetings were cancelled. Matthiesen gives an overview of the IDOC activities of 2020 and looks forward to 2021.
His end-of-the-year message to the IDOC members is our guest column of the week.
"No One Can Stand Alone in the World of Dressage"
Dear Members, dear Officials,
"Finally", you might say…2020 has finally come to an end! I hope this message finds you all safe, healthy and in good spirit. At the same time, I also know that some of you have had a more difficult year with loss, illness and even financially challenging times. I hope for all of you, that 2021 will bring more joy, good health and hope into your World.
Sadly, 2020 was also the year in which two of our board members, Alison and Cory, passed away. They are dearly missed, and I hereby send my warmest greetings out to their families during this time.
Corona Impact
The year started with news about an unknown virus in a faraway Chinese province. Soon enough, that virus has become a permanent fixture in our lives. In March, a large number of countries closed their border in an attempt to stop the propagation of the virus. So did the lockdown start, and non-essential activities were put on hold. That included our beloved dressage sport. Not for lack of trying – organizers, riders and officials did the utmost to comply with rules and restrictions –, nearly all shows and competitions had to be cancelled or postponed. This obviously also had an impact on IDOC and its members as there were very limited options to judge/steward this year.
In terms of Education, only a few Courses and In-Person meetings for stewards and dressage judges took place. Most of them were postponed and will hopefully take place in the year to come. We all took our CES early in 2020 and will have to do it again in 2021. Those who already attempted it can testify that there is a different set of questions for judges and stewards this year, which makes the test more relevant.  In the stewarding department, joint education for jumping and dressage stewards, which was developed under the impulsion of Jacques Van Daele, has proven a success. A task for the coming year must be to include and welcome many more stewards in our club. We still need many more stewards to participate in all the courses offered. 
At this time, we can only hope that the evolution of the pandemic will allow organizers to run as many seminars as possible in 2021. 
Competition
Despite the strict covid restrictions, brave organizers in some parts of the World have nonetheless managed to successfully run a number of international competitions, some in Western- and Eastern-Europe, including Russia, some in North America (USA) and a few in South America (BRA). With new covid protocols – the FEI one and the national ones –, quarantine, travel restrictions, testing requirements, questionnaires and forms to fill out, the officials have adapted to the situation and shown great solidarity. 
In Western-Europe, many competitions, including almost the entire indoor season, were wiped from the calendar due to covid-related lockdown. The situation is not much better in North America, where all CDIs in southern California for spring 2021 have been cancelled already. Fortunately, it looks like the Florida circuit is still on, though it will be run without spectators and under strict covid protocol.
In Asia, our new board member, Sunil Shivdas, has tried to reach out and get in contact with our members in the region. It is a difficult task when the region comprises no less than 21 countries (9 judges out of 7 countries and 144 stewards out of 20 countries). The region organized only one CDI, the CDI5* in Doha. Shivi conducted two judges' seminars, one in New Delhi and one in Bangalore. Besides that, only little activity has started due to the Corona situation, mostly club (national) level.
In the Latin America region, the FEI in person refresher seminar, which was first scheduled to take place in Sao Paolo (BRA) in April then postponed to November, had to be cancelled due to travel restrictions. In the meantime, the Mexican federation organized a national course, which was open to judges from Central and South America.
Recently, an online seminar was organized in cooperation with the FEI and Daniel Göhlen from the company Blackhorse. Maribel Alonso (5* MEX) was hosting the seminar together with Sandra Smith (4* ARG). Participants were FEI and national judges from 8 countries. Marian Cunningham, the IDOC regional representative, noted that some FEI judges in the region struggle to fulfil their activity requirements because organizers tend to always invite the same judge. Current travel restrictions further aggravate the problem. I have the feeling that it is the same problem for other regions outside the European and North American continents.
IDOC and FEI
It will be interesting to see how things will evolve in the near future and what the 2021 calendar will look like.  
As a stakeholder club, IDOC participated in October to the yearly meeting with the FEI Headquarters and Dressage Technical Committee, one of many online conferences in 2020. We also had a meeting in November with the FEI Legal department about our current Memorandum of Understanding (MoU) with the FEI, which is up for renewal. We are now working on a new MoU) and a better basis for the collaboration between FEI and IDOC.
Shortly, the new Code of Points (CoP), to which IDOC contributed actively, will show its huge potential. With its clear and visionary format, it promises to revolutionize the training of judges in a logical and transparent way. Hopefully, it will also make our sport more understandable to external stakeholders. 
The newly appointed Judges Advisory Group (JAG) will together with a boosted education system provide guidance to all judges and help them manage their careers.
This year, for the first time in the history of the Club, it proved impossible to organize an in-person General Assembly. Due to the covid situation and related travel restrictions, the Board decided to hold an on-line General Assembly instead – invitation will follow shortly – and to postpone the elections for President, Treasurer, Secretary and Western Europe representative until the 2021 General Assembly.  
2021
In 2021, IDOC will continue to work on better communication and develop new online education formats like webinars with exciting content and different panelists. We will work hard for better terms for all dressage officials and strive to get the best out of the current situation.
IDOC would again like to stress the importance of the collaboration between the FEI, IDOC and the other stakeholder clubs. The more we work together, the stronger we are! I would like to take this opportunity to congratulate the new board of IDRC and wish Isabell Werth, the newly elected President, good luck with the work.
I have witnessed a lot of solidarity between the officials during 2020 and we can look forward to a great 2021 and top sport at the coming Olympic Games in Tokyo.
No one can stand alone in the World of Dressage, especially now in these difficult times, where we all have to stand alone-together/side by side. We have to be open, see new opportunities, and discover new "best friends" and ways to get through this global challenge.
It is almost a cliché by now, but the "new normal" is not only closing doors behind us but also pushing us towards new borders and ways to cooperate and develop our sport into a new and better version in all due respect for our proud traditions.
The covid vaccine will progressively bring relief in the coming months and the world will slowly turn around and the Dressage scene will be set again.
Let's look forward and think about what Abraham Lincoln once said: "The best way to predict the future is to create it"
I think, we are on the right track.
Happy New Year!
- by Hans-Christian Matthiesen
Related Links
Matthiesen's 2019 End-Of-the Year IDOC Message: "We Must Act United"
Hans-Christian Matthiesen Reflects on 2017, Looks Forward to 2018
Hans Christian Matthiesen: "Eliminate the Need for Band-Aids for Dressage Judging"