The Netherlands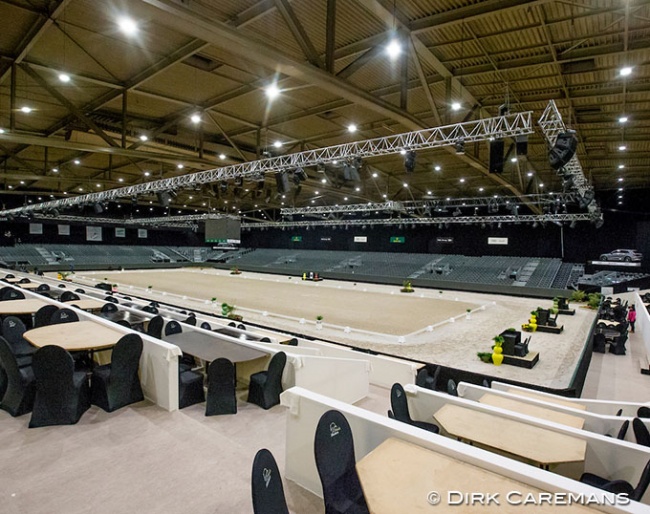 Today Indoor Brabant, the organizers of the World Cup qualifier of 's Hertogenbosch, announced that their competition is ago despite corona restrictions in The Netherlands. 
The 2021 CDI-W 's Hertogenbosch is scheduled for 12 - 14 March 2021. 
The event will take place in a heavily slimmed down version, with only the top classes in dressage and jumping being held. There will no audience and no trade fair. 
The Show Must Go On
"It is important to have some continuation in horse sport despite all the restrictions. This is essential for the horses, the riders and all those connected to the horse business," said Anky van Grunsven, who chairs the 's Hertogenbosch event. 
The event will take place in a corona proof environment. 
The Dutch Olympic Committee shoulders the staging of 2021 edition of the CDI-W Den Bosch. 
"It is important for horse sport that there are top competitions again. For the TeamNL (Olympic hopefuls) athletes it offers perspective to prepare for the Olympic and Paralympic games. This also counts for horse sport for which not only the riders but also the horses have to be in top shape. It is good that the show in Den Bosch can be organized, so that TeamNL athletes can prepare themselves optimally for the Games," said a spokesperson of the Dutch Olympic commitee (NOC*NSF). 
One of Three
In 2020 the CDI-W 's Hertogenbosch was the first event to be cancelled because of the corona outbreak.
The 2021 CDI-W Den Bosch will be the third of just three World Cup qualifiers that will have taken place for the 2021 World Cup Finals in Gothenburg. All other Western European League qualifiers were cancelled due to corona 
Photo © Dirk Caremans
Related Links
FEI Decides on 2021 World Cup Finals Participation, Three Extra Places for European Riders
2021 CDI-W Neumunster Cancelled, Alternative Model for 2021 World Cup Finals Sought
2021 KWPN Stallion Licensing Moves from Den Bosch to Ermelo
2020 CDI-W 's Hertogenbosch Canceled after Prime Minister Decides on Corona Clampdown
2020 CDI-W 's Hertogenbosch Closed to the Public, Show Goes On - CDI Dortmund Limited to 1,000 People
CDI's Dortmund and Den Bosch Jeopardized by Corona Virus