The Netherlands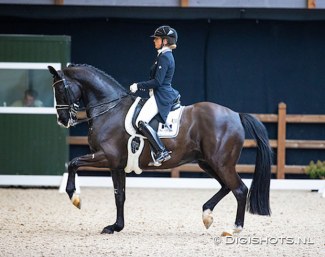 Dutch team trainer Alex van Silfhout has announced the five Dutch combinations that will compete at the 2021 CDI-W 's Hertogenbosch on 12 - 14 March 2021.
Last year 's Hertogenbosch was one of two competitions (Dortmund) that were cancelled last minute when the corona pandemic swept over Europe. The outbreak led to a mass cancellation of sport events in spring as well as lockdowns across Europe. 
This year 's Hertogenbosch will take place in a slimmed down version, with only two CDI-W classes and no 4* tour. The audience is not allowed, but the event will be streamed on the internet. 
Den Bosch will be the first CDI of the year in The Netherlands and is considered a Dutch Olympic team observation event.
Based on the performances of the Dutch riders at the National Championships in September 2020 and last week's CDN Tolbert, Van Silfhout selected five combinations for the show, which counts as Olympic team observation event. 
Van Silfhout's choice is interesting as it could be an early indicator of the Dutch team for Tokyo:
Edward Gal - Toto jr
Emmelie Scholtens - Desperado
Hans Peter Minderhoud  - Dream Boy
Marlies van Baalen - Go Legend
Thamar Zweistra - Hexagon's Double Dutch
Photo © Digishots
Related Links
2021 World Cup Qualifier in 's Hertogenbosch is a Go
2020 CDI-W 's Hertogenbosch Closed to the Public, Show Goes On - CDI Dortmund Limited to 1,000 People
CDI's Dortmund and Den Bosch Jeopardized by Corona Virus