Austria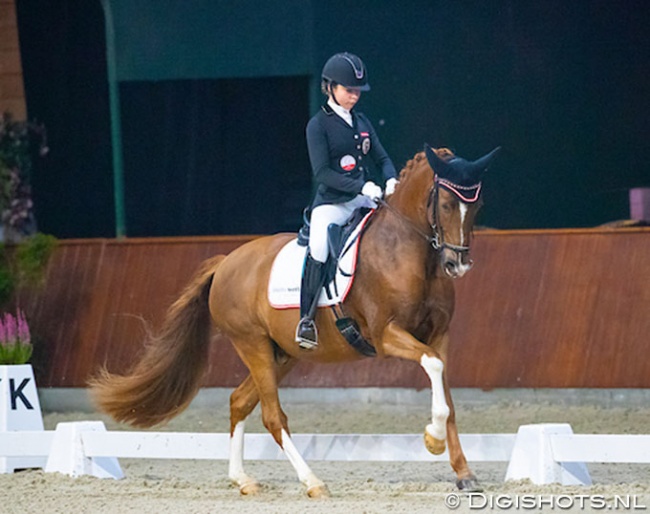 Austrian pony team rider Felicita  Simoncic has definitively ended her pony carer with the sale of her last two ponies: Chantre and Boogie de l'Aube. The 16-year old has reached the age limit and has moved on to horses and junior level.
Simoncic began her international pony career on Daria Hohenwarter's Candyman in 2018, which the family had leased for a year as a schoolmaster.
However, Boogie de l'Aube and Chantre became instrumental in the start of Felicita's dressage career. 
Boogie de l'Aube
Boogie de l'Aube is a 14-year old Belgian sport pont by FS Don't Worry out of Krizette (by Varello). He is bred by Belgian based Finnish Riika Koljonen.
He was originally owned by the Belgian based Danish Charlotte Thornby-Nielsen for her daughter Emilie Thornby Ffinch to ride. They competed internationally in 2016, Ffinch's last year in international dressage sport.
Boogie sold to Simoncic in Austria and they made their international debut at the CDI Wiener Neustadt in March 2018 with 69% scores. Their year culiminated with a 25th place at the 2018 European Pony Championships in Bishop Burton as well as winning the title at the 2018 Austrian Pony Championships. 
In 2019 Chantre became Simoncic's number one ride, but Boogie was also campaigned at CDI's in Wiener Neustadt, Mariakalnok, St. Marghareten and Exloo that year. The pair's last international was Exloo in October 2019 after they reclaimed the national title at the 2019 Austrian Pony Championships. 
Boogie did not appear in the international arena in 2020 and was recently sent to Dressage Stable van Baalen to be sold. The 14-year old Dutch Maddy Dijkshoorn has now acquired Boogie and will continue to train him with Marlies van Baalen. 
Chantre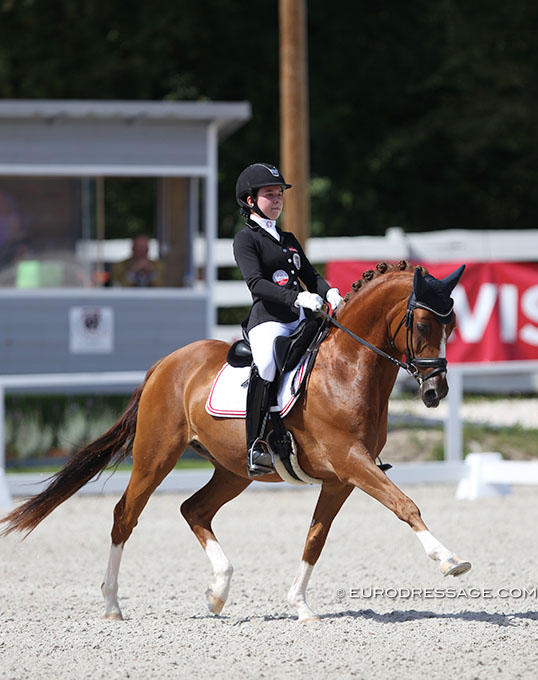 The 17-year old  Rhinelander stallion Chantre (by FS Champion de Luxe x Desteny) was Felicita's most successful pony.
Taking over the ride from Laura Stuhldreier in 2019, Felicita steered the liver chestnut stallion to two European Pony Championships. In 2019 they were 24th in the individual test at the Euros in Strzegom and in 2020 they finished 12th in the Kur to Music Finals in Pilisjasfalu. 
In the autumn of 2020 Chantre was offered for sale on Eurodressage. The pony sold as a birthday surprise to Italian pony rider Ludovica Camerlengo. 
Camerlengo trains with Marilia Vittone at the Mottalciata Equestrian Center.
Connery Junior and Korefan
Felicita has moved on to junior level with the 9-year old Hanoverian Connery Junior (by Connery x Rohdiamant), who was previously owned by Olga Artemyeva. They had their CDI debut in Mariakalnok in June 2020 and scored twice in the seventies. 
Most recently she has also been showing the 8-year old Russian bred Korefan (by Komandor) at the national show in Ebreichsdorf, Austria. 
Photos © Astrid Appels - Digishots
Related Links
Baumgürtel, Overnight Leader in Individual Test with World Record Score at 2020 European Pony Championships
Austrian Pony Team for 2020 European Youth Championships Selected
Simoncic, Ochsenhofer, Grabenwöger, Ahorner, Porsche, Bacher Win 2019 Austrian Dressage Championships
Stallmeister, Ochsenhofer, Wurzinger, Pengg, Valenta, Weinbauer Win 2018 Austrian Dressage Championships
Team Germany Starts Strong at the 2018 European Pony Championships