2021 CDN Ebreichsdorf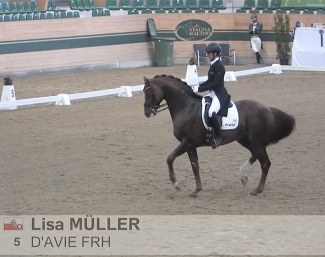 German Grand Prix rider Lisa Müller was a surprise guest rider at the Austrian CDI selection trial at Magna Racino equestrian centre in Ebreichsdorf, Austria, on 26 - 27 February 2021
Müller had chosen this big Austrian premier league show as her debut venue for D'Avie. 
Premium Stallion 
Bred by Dorothee Heitmuller, D'Avie is Hanoverian premium licensed stallion which Andreas Helgstrand bought at auction in 2014 for 620,000 euro. He sold a 50% ownership share to German Gestut Peterhof two months later. The chestnut moved to Germany but only briefly stood up for stud.
In 2017, the stallion moved to back to Denmark and under Spaniard Severo Jurado Lopez won the gold medal at the 2018 and 2019 World Young Horse Championships in Ermelo. With no time to waste, the young FEI horse was prepared for Grand Prix and made his national GP debut under Andreas in July 2020.
In August 2020, Müller acquired the now 9-year old D'Avie (by Don Juan de Hus x Londonderry x Walt Disney) at Helgstrand Dressage.
Debut with D'Avie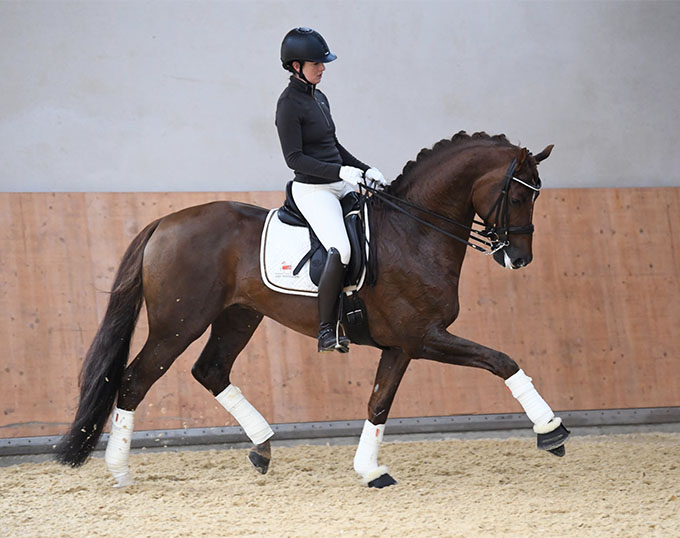 Müller made her show debut with D'Avie not in Germany, but across the border in Ebreichsdorf, Austria. 
She won the Intermediaire II with 72.105% and the next day finished second with 73.120% in the Grand Prix, which was an Austrian squad selection class.
Müller took to Instagram and said, "With just 9 years of age and knowing each other for half a year, he did his thing mega mega well, I couldn't have dreamt it. Of course not everything was perfect and here and there we had a few bobbles, but I believe it's just a matter of time, which we look forward to in a relaxed way."
Dual Citizenship
The show schedule stipulated that the Grand Prix was only open to Austrian riders. Müller rode at the show as a rider registered with Sissy Max-Theurer's Riding Club Castle Achleiten, but with the FEI she has declared for Germany. 
"My father is Austrian and my mom German," Lisa told Eurodressage. "So I was able to compete at the show, but I don't want to switch the "main" nationality."
As Werth is also the trainer of Victoria Max-Theurer and her life partner Stefan Lehfellner, Müller wanted to take the opportunity to premier D'Avie at their first show together with her coach by her side as well. 
"Isabell was in Ebreichsdorf because of a few students of her, so I decided to ride the show in Austria," Müller explained.
Former B-Squad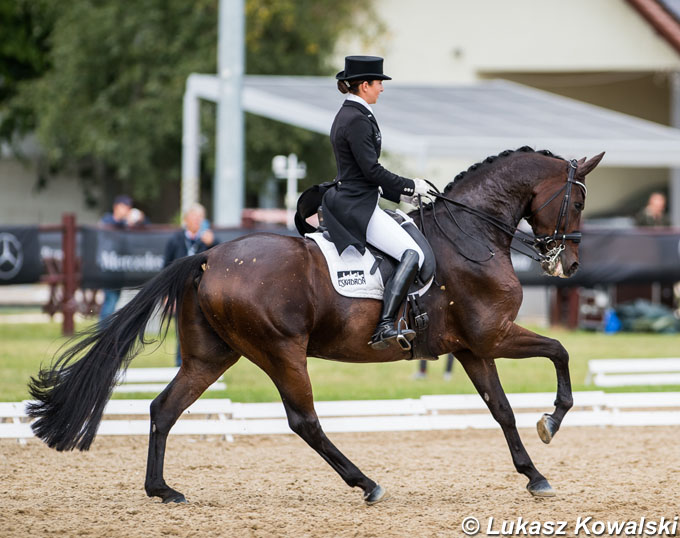 In 2017 Müller picked up training with the World number 1, Isabell Werth, and as training intensified Müller made a major surge on the score board.  
Lisa's breakthrough Grand Prix horse has been Stand By Me, a now 14-year old Oldenburg gelding by Stedinger x De Niro), which Müller bought from Sandra Nuxoll (née Kopf) in 2016. 
After Stand By Me went into training with Isabell in Rheinberg, Müller made her international Grand Prix debut in March 2019 in Dortmund with solid seventy percentage marks. In a few months time they improved that to 75% in the Grand Prix and at their last show together, the CDI Stuttgart in November 2019, they posted 75 and 76% in the Grand Prix and Special, whopping scores that promoted them onto the German B-squad. 
Stand By Me has no longer been competed since then and the pair lost their German squad spot going into 2021. 
Gut Wettlkam
The 31-year old Lisa and her husband Thomas have developed their gorgeous yard Gut Wettlkam in Otterfing, Germany, into a profession stallion station. 
For the 2021 breeding season are standing three of their own stallions (D'Avie, Bowmore, Four Roses) and exclusively represent the KWPN stallion Imposantos in Germany.
Photos © screen capture - private - Lukasz Kowalski
Related Links
German Dressage Squads for 2021 Announced
D'Avie, Double Young Horse World Champion, Sold to Lisa Müller
Juan Matute Guimon's Copernico Sold to Lisa Müller
Hermes and Müller Submitted to German B-Squad
Isabell Werth Schooling Muller's Stand By Me at 2017 CDI Munich
Lisa Müller Acquires Evergreen at 2018 PSI Auction
Lisa Muller Acquires Oldenburg Licensed Falcon
Lisa Müller's Anne Beth Becomes a Broodmare