Bits 'n Pieces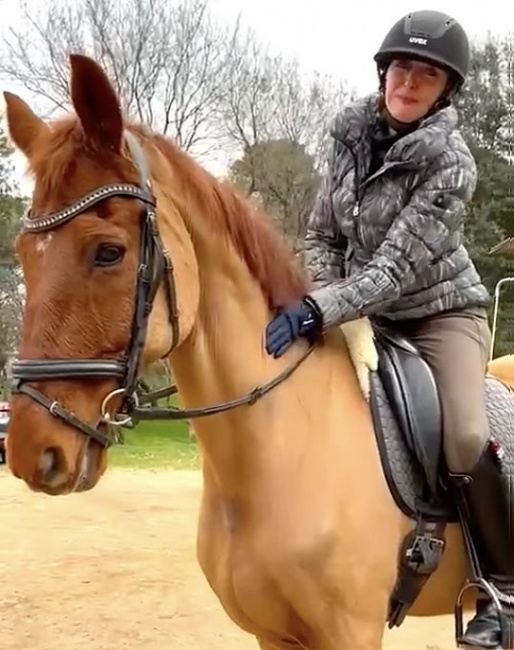 Spanish based Luxembourg Grand prix rider Isabelle Constantini is finally back in the saddle after a two month break due to a riding accident. She fell off a horse and sustained a triple fracture of her shoulder as well as some injuries to her knee. She was operated on and had a two month rehabilitation. Her first ride was back on her retired Grand prix horse Rimbeau, which she rode at the 2013 European Championships in Herning. "I was very emotional," said Costantini. "I have to admit that the first month I was afraid. An accident with such consequences doesn't pass by easily. Not only did my body lose all the muscles, but my head told me that the pain was great and became cautious. Rimbeau gave me my confidence back and I will soon ride other horses again."
Marlies van Baalen's nationally competed small tour horse Grace (by Bordeaux x Fruhling) has been sold to France. The 10-year old elite mare is bred by A. Goris-Janssen and sold as a foal to Van Baalen. She was first trained and competed by Van Baalen's assistant riders and in August 2020 Marlies made her show debut in Uden in a national Prix St Georges on the mare. 
After saying goodbye to Damiro, Charlott Marie Schurmann did not have to wait long to get a new top horse allocated by Hof Kasselmann. The former Under 25 Grand Prix rider has received the ride on Fine Deern, a 5-year old Westfalian mare by Formel Eins x Cornet Fever, which sold to Taiwan for 400,000 euro at the 2020 Hof Kasselmann Hybrid Auction.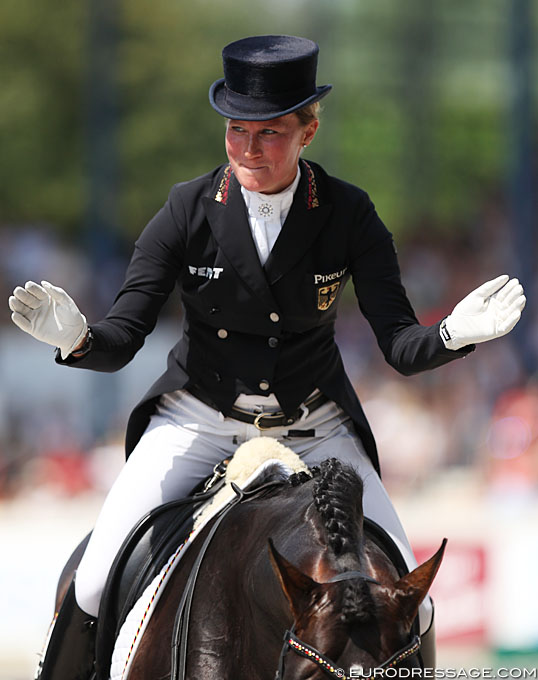 World famous natural horsemanship trainer Pat Parelli lost both his parents in a tragic traffic accident in Ocala, Florida, on 17 March 2021.  A speeding mini van hit Doris and Jack Parelli's car, which was pulling onto the road. The car caught fire and it was reported that the couple was killed instantly. Jack and Doris were on their way to celebrate Pat's birthday. 
New athletes' representatives have been elected for the German Olympic Dressage Commitee. For dressage Helen Langehanenberg will be replacing Hubertus Schmidt as the senior athlete representative, while Schmidt will her deputy. Young rider Lia Welschof and deputy Semmieke Rothenberger have elected to represent the youth riders. Klaus Roeser has been re-elected chair of the dressage selection committee. 
German international Grand Prix rider Jill de Ridder gave birth to a baby boy, Jannik Anton Hollweg. The 28-year old married her long-time partner last year. Her last international show was the CDI Doha in February 2020 on Whitney. Jill combines her riding with a professional career as director of Möbelhof Business Management in Aachen. 
Luxembourg Grand Prix rider Mandy Zimmer and her husband Portuguese Paulo Levi Cartaxo are expecting their first baby together. The couple married in October 2020 and didn't wait long to expand their family. They are thrilled to announce that they are expecting a boy.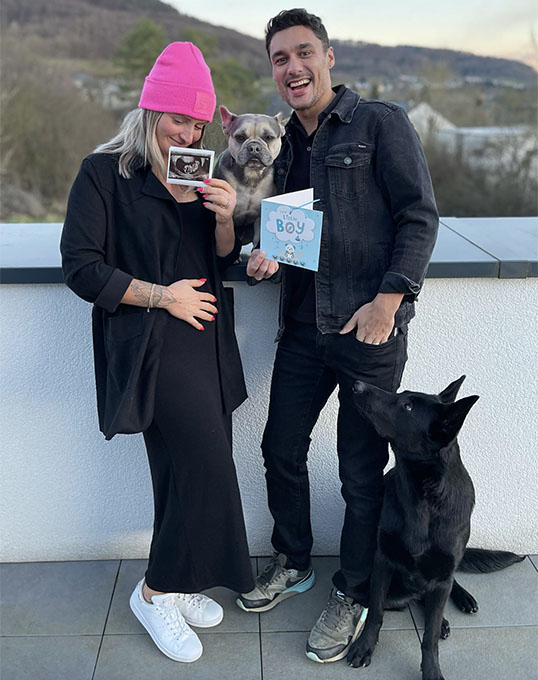 Well known Dutch farrier Olaf Kahmann passed away on 26 February 2021 following a heart attack. He was 58 years old. Aside from being a blacksmith he ran riding school Kahmann in Amstelveen. For many years was the farrier of Jumping Amsterdam.
De Hoefslag reported that in Canada the most famous breeder of Friesian horses, Harry Witteveen, passed away on 27 February 2021 at age 94. He was entered in the Hall of Fame for Friesian horse breeding in North America. He emigrated to Canada in 1947, where he first worked in a slaughterhouse and then established his own under the brand name "Witteveen Meats". He was considered the "Godfather of the Friesian Horse."
Horses.nl reported that KWPN breeder Jas Haak passed away on 14 March 2021 at the age of 90. Haak was proclaimed KWPN Breeder of the Year for the region Zeeland and is best known for having bred the KWPN keur stallion Rousseau (by Ferro x Roemer). Rousseau sold as a foal to Lamers and Van Der Goor and became the sire of three licensing champion's in a row (Wamberto, Zack, Ampere).