Interview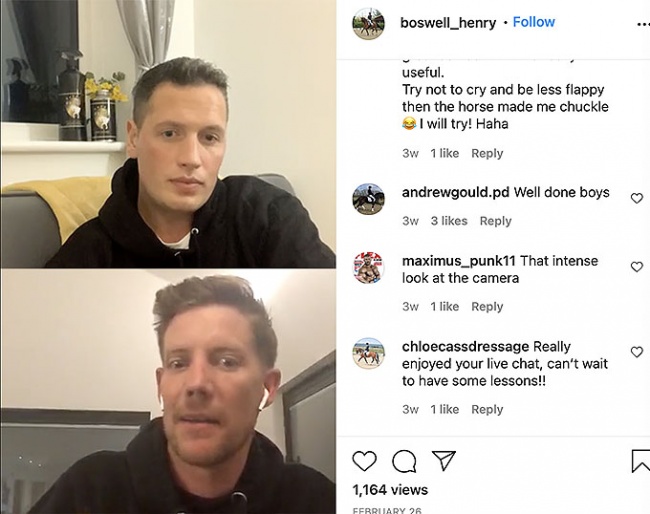 British professional dressage riders Henry Boswell and Matt Frost recently held a live Instagram session talking about their past year, their changed perspectives due to the corona lockdown and what it is like to be a professional, making a living in the world of dressage.
Here are a few of the interesting fragments:
On the lockdown and Competition Stop
Due to the corona lockdown, competition life in the U.K. ground to a halt and most riders stayed home, training their horses. It was no different for Henry Boswell and Matt Forst.
"They are probably sick of the sight of me," he joked about him being home so much with the horses instead of travelling, teaching, and competing. "When we first started lockdown I was a bit, "oh what I am doing"?" I had to keep them motivated whilst we didn't have competitions to do. I think, it's not just about goals, it's also about why you ride and why I got into horses because I like the animals. See them in the field, hack them a little more, spend more time with them. It's been brilliant to spend more time with them."
"In a way it has taught me a lot," Frost added. "Competitions are great, but look at your final goal. I won't compete as much as I used to. I want more time on four, five months training and spend time doing that.
"I used to beat myself up a lot about not having the time to do everything," he said, explaining that if he is away to a show the horses at home miss training. "And actually I've had that time. It feels like the lottery lifestyle, not winning the millions, but having the time to be able to do it."
"Of course we want to win, we are professional riders but it's been so refreshing not having to worry about winning," Boswell rung in. "Not having to run the rat race head to tail, although i would enjoy running that race again."
On the Controlling Nature of Dressage Riders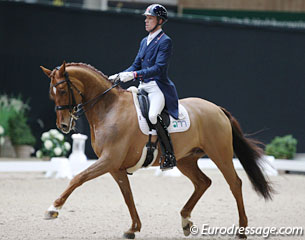 "It's a negative sport if you let it," said Boswell, referring to how dressage riders come home from a show and criticising all the bad bits that happened in a test. 
"Getting better takes time and it's a lifetime's work," Frost added. "I love it."
"Dressage attracts the perfectionists," stated Boswell, "the basic control is everything."
On being a Trainer
"I don't think it's easy, because you have to be a constant bundle of positivity," said Boswell. "You are constantly dealing with people's passion, the thing they love. It's very easy to be super critical and that doesn't actually make them better. You got to pick the things someone can do and can work on, with them, and make those small things better."
"There has to be that empathy that we have been there and we are there still," said Frost. "Look at Charlotte, she has won the medals (...) and is still constantly trying to improve. Therefore she is still in that gateway of, 'I need to be better, how do I get better' and that vulnerability of being like that. I think you can dash people's hopes. We've all made mistakes as trainers and probably been too hard on them, because we desperately want them to be better. It's experience of reading people and reading horses..and sometimes saying as a trainer, I don't know. Quite often I will say, go and have a couple of lessons with this person, because they are better with X, Y and Z. If that can make their journey easier, you have to drop the ego and try the best way for that person, because in that moment it's about that person and not all about you."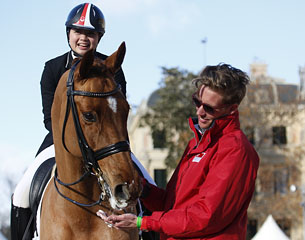 "It's easy to get caught up in your own goals as a rider and I've been guilty of that. You have a session and wonder, why I didn't go down that road. That's been more damaging and you didn't progress anymore," said Frost. "It's often better to go on a hack than that dead-end road and do the damage."
On Making a Living as a Trainer
"It's expensive to run (a lot of horses)," said Forst, who now has a small yard with 10 horses. "I'm self funding and I'm lucky enough to have some owners that help me towards the costs of the horse, but the million pound sponsorship deals aren't there, so I have to earn the money through teaching and having horses in training."
He added, "it's a manageable number because I had a yard of 32 stables and a massive mortgage, a big place, it nearly did me in. We downsized, made everything a bit smaller and it's much better for us."
When talking about horse sales and dealing, Matt said, "when I go looking at horses they are either ridiculously priced, or they shoot up when I come to see them."
On Starting a Business
"Good luck," said Matt, cracking a joke. "It's so hard. You have to go into it with open eyes. Don't make it too big. Keep everything small and do a good job. The cost of running a yard are huge and the profit margin is small."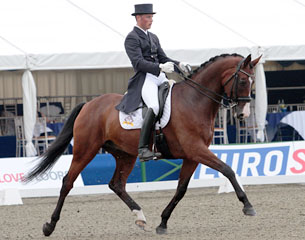 "It's the most rewarding sport and game to be in, but it is really hard and that is why it is so rewarding," he added.
Boswell said, "if you are starting your journey in business in the equestrian world, you got to find your own niche. Be who you are and enjoy it for your passion. Be nice to people. It's not hard to smile, say hello, because basically if you are doing business, you need people's money to fund you and the best way to do it is to be nice. And if you are not nice, then just pretend."
"Be realistic of what you want and take it step by step," said Frost. 
On Boswell's DHI Peppino
"He was an awesome little pony. We bought him through Ian Woodhead. He came to a show when I was 14 or 15 and basically said, 'you need to get the right pony and you can be a team rider,' so we said, "go on then, do your worst, we haven't got much money," said Boswell.
Ian found the 6-year old Peppino (by Power Man), which put Henry on the British team for the 2002 European Pony Championships.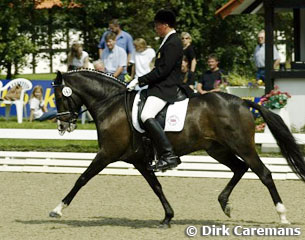 "With the help of Paul Friday and Ian, whom I trained with at the time, he turned into a little rockstar and got me on the team," Boswell continued.
"He was hot as hell. You never had to kick that pony, but he was so strong. Still to this day, of all the big horses I have ridden, I don't think I have ever been pulled the same as that pony. He pulled me in front of the pommel during my first extended trot. He pulled me off the saddle."
"He was an awesome pony and so reliable in the ring. And he went on to do a couple of mor teams for GB and then with Denmark and then some with Germany."
Listen to the complete interview here. 
Photos © Astrid Appels - Dirk Caremans
Related Links
Katharina Winkelhues and Dressman, 2002 European Pony Champions
Chew and Frost Swap Out Tribiani for Austrian CDI Spring Campaign
Jensen, Fokker and Heuitink Dominate 2002 CDI-PJYR Bilzen