Denmark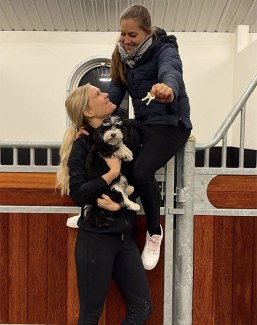 Denmark's number one Grand Prix rider Cathrine Dufour is moving house. She and her fiancee Rasmine Laudrup have invested in a new property and are moving in two weeks. 
Dufour and her horses have been based at Grønagergaard in Roskilde, Denmark. 
Grønagergaard
Her parents Mona and Peter, who run an industrial cleaning business, bought the property in 2015 to support their daughter's professional career in horses.
Grønagergaard was completely renovated and become the home base for Cathrine's training business. Around 40 horses are stabled at the yard and the hard-working Dufour gets up early every day to ride her own and clients' horses, her Helgstrand allocated sales horses, and then has a full programme teaching students. 
Fredensborg
One month ago, Dufour and her partner Rasmine Laudrup spilt the beans that they have purchased a new property in Fredensborg, north of Copenhagen. 
Dufour and Laudrup have known each other for a while, but only first met at the CDI-W Herning in October 2019 and it was love at first sight. They began dating and in January 2020 announced an equestrian business collaboration. Rasmine is an amateur show jumping rider and daughter of the world famous Danish soccer player Brian Laudrup.
In September 2020 Laudrup proposed in the stables after Dufour won the Danish Grand Prix Championships in Uggerhalne. 
The duo received the keys to their new property yesterday and will be moving the horses in two weeks. 
Fredensborg is best know for its landmark Fredensborg Palace, one of the official residences of the Danish Royal Family.
Related Links
Cathrine Dufour and Rasmine Laudrup Get Engaged
Cathrine Dufour and Jumping Rider Rasmine Laudrup Start Collaboration
Cathrine Dufour: "I Really Wanted to Quit When I Finished my Pony Years"