British Hanoverian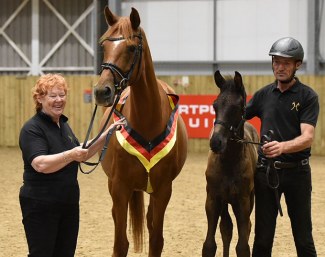 The busy summer show season for the British Hanoverian Horse Society (BHHS) was concluded on 3 - 4 September 2021 with the 2021 Annual Championship Show at Hartpury, Gloucestershire, UK.
The BHHS Committee was joined by Dr Ludwig Christmann of the Hannoveraner Verband for what was a very successful event especially following the difficulties of the previous year and the cancellation of the 2020 Show.
The Hanoverian foal Le Chef (by the KWPN sire Le Formidable and out of a Zack x Londonderry dam) was named this year's Supreme (Overall) Champion. He is bred by Carsten Sandrock and owned by Lynne Crowden and Carsten Sandrock
The overall reserve Champion was Flower Girl RMD (by Floriscount x Don Schufro x Sandro Hit), bred and owned by Rosie Moreton-Deakin and presented by Court Farm Stud.
Katy Holder-Vale Chairman of the British Hanoverian said " A great show and very interesting to have the feedback from Dr Christmann, proud to show him some of our best British bred Hanoverian horses."
The weekend started with the Mare Performance Test with Flower Girl RMD taking first place and was awarded the Premium Candidate status.
The full results of the show are as follows:
Mare Performance Test – Premium Candidate Status awarded to:
Flower Girl RMD (Floriscount x Don Schufro x Sandro Hit) – bred and owned by Rosie Moreton-Deakin and beautifully presented by Court Farm Stud
Fellini (Flammengold x Elroon x Donnerschall) bred and owned by Katy Holder-Vale and ridden by Victoria Gilbey
Fenella (Flammengold x Buddenbrock/T x Donnerschall) bred by Katy Holder-Vale owned by Peter Vousden and ridden by Victoria Gilbey
Flower Girl RMD was Awarded the Mare Performance Test Overall Champion
BHHS Youngstock Class (Yearling, 2 Year Old, 3 Year Old)
Best Yearling: Fosshey Bright Hope (Belissimo M x Der Lord x Woldenstein II) bred and owned by Sandra Tinker and Lucie Dunkeld
Best Two Year Old: Wild Heart (Wild Child x For Compliment x Longchamp) bred and owned by Lynne Crowden
Best Three Year Old: Foundations Gold NS bred and owned by Sandra Ogden and presented by RL Dressage
Champion Youngstock – Foundations Gold NS
Mare 4-5 Year Old
1st - Flower Girl RMD (Floriscount x Don Schufro x Sandro Hit) – bred and owned by Rosie Moreton-Deakin and presented by Court Farm Stud
2nd – Regatta De Blanc (Revolution x Zack x Don Schufro) Bred by Lynne Crowden and owned by Zahra Sadry
Filly Foal Championship
Champion Filly - Rita (Revolution x Songline/T x Connery/T) bred and owned by Sylvia Tainton and presented by Woodlander Stud
Reserve Filly - Vivacous Gu (Vitalis x Apache x Rousseau) bred by Ben Ambrose of Rookery Stud
Colt Foal Champion
Champion Colt Foal – Le Chef (Le Formidable x Zack x Londonderry) bred by Carsten Sandrock and owned by Lynne Crowden and Carsten Sandrock
Reserve Colt Foal Voce Viva RL (Viva Gold x Rubin-Royal x Waldsee) bred by Lucinda Bellis RL Dressage
6 – 9 Year Old Mare
1st Zsa Zsu (Zack x Londonderry x Benz/T) Bred by Sara Lucas and owned and presented by Carsten Sandrock
2nd – Hawtins Floresta (Follow Me x Weltmeyer x Bolero) bred by Judith Davis and presented by Hawtin Stud's Gijs van Vooren
10 Year Old Mare
1st - St Pr For Your Love (For Compliment x Longchamp x Davignon) bred and owned by Lynne Crowden
2nd Magic Megane/T (Songline/T x Connery/T x Consult/T) bred by Hans-Wilhelm and owned by Sylvia Tainton
Mare Championship
Champion Flower Girl RMD
Reserve St Pr For Your Love
Mare Families
1st – RL Dressage (Lucinda Bellis) with Royal Fee (Rubin-Royal x Waldsee x Woermann) – Donner Fee (Don Nobless x Rubin-Royal x Waldsee) – Voce Viva RL (Viva Gold x Rubin-Royal x Waldsee)
2nd - Sandra Tinker with Delta (Der Lord x Wolkenstein II x Wandersmann xx) – Fosshey Bright Hope (Belissimo M x Der Lord x Wolkenstein II) bred and owned by Sandra Tinker and Lucie Dunkeld – Fosshey Dreamcatcher (Damaschino x Der Lord x Wolkenstein II)
Supreme Champion 2021
Le Chef (Le Formidable x Zack x Londonderry) bred by Carsten Sandrock and owned by Lynne Crowden and Carsten Sandrock 
Reserve Champion for 2021
Flower Girl RMD (Floriscount x Don Schufro x Sandro Hit) – bred and owned by Rosie Moreton-Deakin and presented by Court Farm Stud 
Related Links
Newton Double Take Gets Highest Score Ever Awarded by British Hanoverian Society
Duke of Britain Wins British Hanoverian Dressage Award of 2019
Loriston-Clarke Gets Lifetime Achievement Award at 2019 British Breeders' Award Dinner
Dancing Queen, Supreme Champion of 2011 British Hanoverian Horse Show