Bits 'n Pieces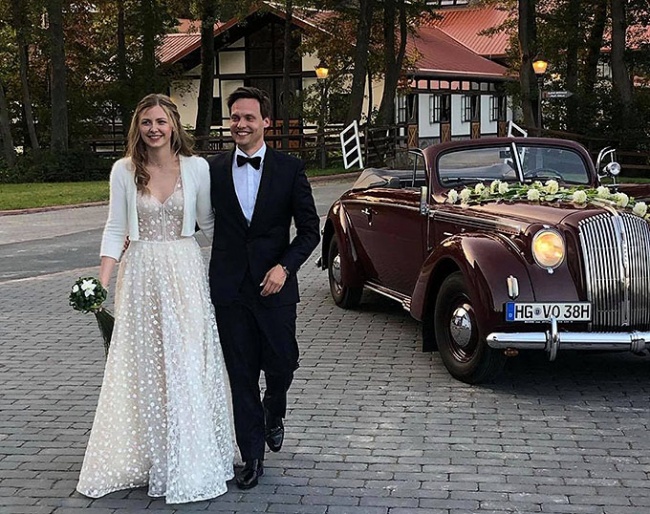 Sanneke Rothenberger, the 2016 European Under 25 Championships, married her long-time partner, Jan Schubert, in a lavish weekend ceremony on 17 - 18 September 2021. The couple held a civil ceremony on Friday and a big church wedding on Saturday 18 September. The wedding party took place at Rothenberger's Gestut Erlenhof in Bad Homburg, where the indoor arena was revamped into a gorgeous white party hall. Sanneke's fellow rider colleagues, such as Charlott Maria Schurmann, Annabel Frenzen, Florine Kienbaum and many more were in attendance. The bride wore two different wedding dresses, a very elegant simple white gown with cape for the ceremony and an etherial feminine shorter gown for the party.
Born in a family surrounded by dressage horses, Rothenberger  had a long, highly successful career as a youth rider from ponies to Under 25. She has put her riding career on the back burner though and currently works in real estate. Since 2017 she has only competed twice at a national show with Sankt Anton.
Danish Olympic team reserve rider Charlotte Heering went shopping in Holland and acquired the 8-year old Dutch warmblood Idool D (by Jazz x Ferro). The bay was bred by PJ van Zijl and trained and competed up to small tour level by Stefanie Koks. Heering went to Tokyo as Danish team reserve with Bufranco. She also owns former French team horse Badinda Altena (by Tolando x Goodtimes), which she bought in February 2019. The pair made its international debut in October 2020 in Aarhus, their only CDI so far.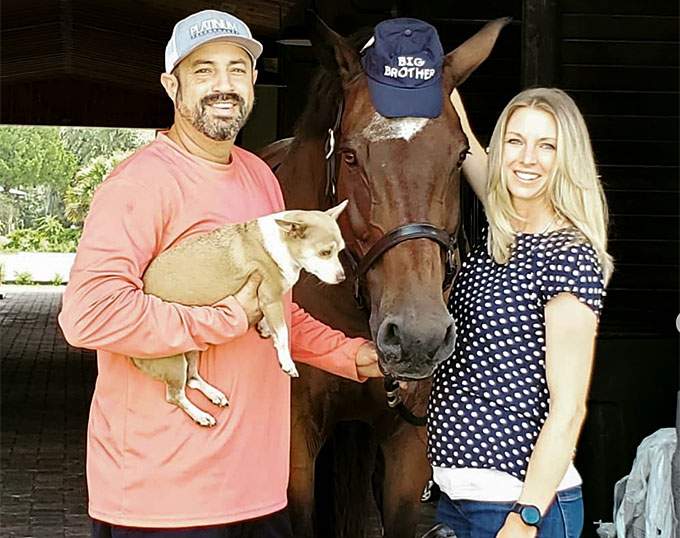 Former American team rider Laura Graves and her husband Curt Maes announced that they are expecting their first child together, a baby girl. The baby is due in December 2021. The 34-year old Graves married Maes in October 2020 after almost nine years together. 
The entire female part of the 2016 U.S. Olympic dressage team, which competed in Rio, is now expecting or just had their baby. Allison Brock gave birth to Noah Anthony Siegbert, on 20 July 2021, while Kasey Perry is expecting her first child with husband Dana Glass also in December 2021. 
Anita Adendorff, an FEI dressage judge, trainer and member of the South African equestrian federation, has sadly passed away on 22 August 2021. The 69-year old lost her two year battle against cancer. She will be greatly missed.
Dutch dressage professional Kirsten Beckers has been operated on on 26 August 2021. Beckers fractured her shin bone falling off a horse. It required surgery which led to Beckers missing out on the World Young Horse Championships where her student Francisco Benitez and co-owned horse Lord Platinum competed.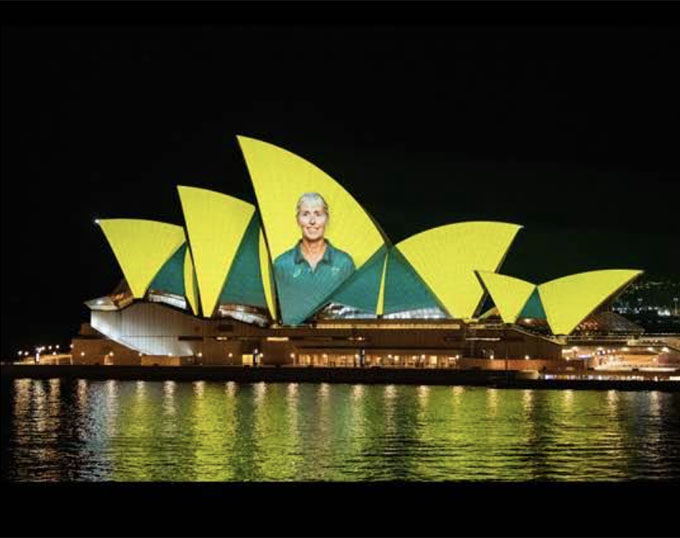 Australian Olympian Mary Hanna took to Facebook: "Thank you to the AOC and the NSW Government, for recognizing the contribution of all our Olympians in this unique way. Never thought I would see my face on the Sydney Opera House!"
Belgian international small tour rider Inge Heylen has acquired the Dutch Grand Prix horse El Dorado (by Painted Black x Jorn x Torad). The black was previously trained and competed up to medium tour level by Paulette Kral, but most recently stood at Van Baalen stable where Heylen discovered him. 
American dressage rider Melissa Palmer lost her 9-year old Oldenburg mare Reagan (by Belissimo M x San Amour), bred by Clemens von Merveldt. The bay mare was the 2016 Oldenburg Young Horse Champion in the 4-year old division under Shereena Satzer and competed at the 2017 Bundeschampionate under Helen Langehanenberg and finished 14th in the consolation finals. Reagan moved to the U.S.A. to join owner Palmer and became USDF regional champion at First level.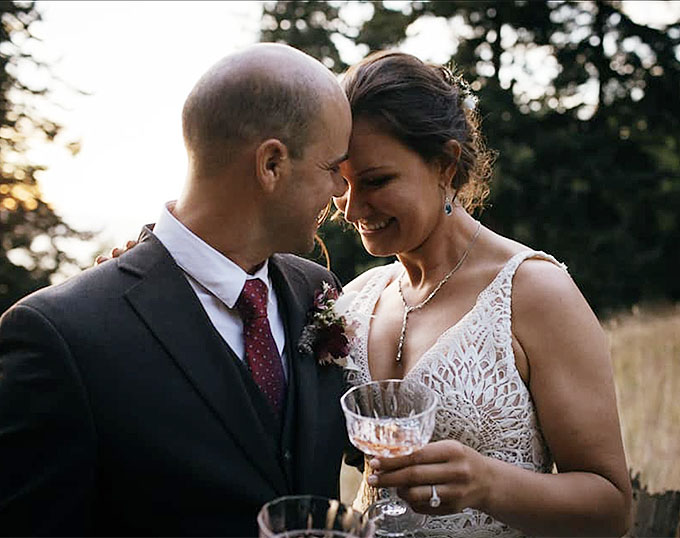 U.S. Olympic team silver medal winner Adrienne Lyle got married to her fiancé, veterinarian David Da Silva, on her family's farm on Whidbey Island the first weekend of September. The couple was supposed to get married in 2020 but corona meddled with the plans to hold a celebration. "What a magical weekend, celebrating with friends and family," Lyle took to  Facebook. "I am so incredibly lucky to be marrying the most loving, humble, supportive, fun, great guy. I can't wait to tackle all of life's adventures together."
It's Baby Time
Argentinian Grand Prix rider Florencia Manfredi (39) has given birth to baby Mateo in August. Manfredi celebrated incredible achievements on the Belgian warmblood Bandurria Kacero (by Wonderboy x Candil Varuna), competing at the 2014 South American Games (5th), the 2015 Pan American Games (13th), the 2017 World Cup Finals in Omaha (13th) and the 2018 World Equestrian Games (51st). After spending much time in Wellington, Florida, Manfredi returned home to Buenos Aires, Argentina and has not competed internationally since the spring of 2019. She now runs her own dressage breeding and training facility there.
Swedish Grand Prix rider Emilie Nyrerod delivered her first child, a baby girl named Lykke Paula Nyreröd, a week ago.
Luxembourg Grand Prix rider Mandy Zimmer and her Portugese husband Paulo Cartaxo became parents of a boy, Levi, on 14 September 2021. "A baby fills a place in your heart you never knew was empty," said Zimmer on the day Levi was born.