Germany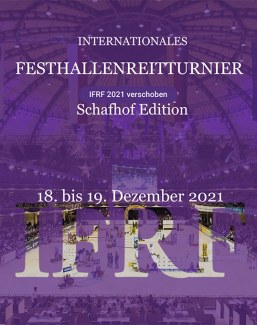 The 2021 CDI Frankfurt has been cancelled as new corona measures have made the hosting of a big indoor event unviable. The Piaff Forderpreis, Nurnberger Burgpokal and Louisdor Cup Finals will move to Schafhof. 
"In the past few weeks we have really worked at full throttle and with great euphoria for the Festhalle horse show," said show director Matthias Alexander Rath. "But the pandemic is actually throwing a spanner in the works again. A good three weeks ago, when we had the opening press conference for Frankfurt, I would not have thought it possible that the situation would worsen again."
The 49th edition of the CDI Frankfurt will now take place from 15 - 18 December 2022.
While the CDI classes are cancelled, the three important German national finals - Piaff Forderpreis (U25), Nurnberger Burgpokal (Developing Prix St Georges Horse) and Louisdor Cup Finals (Developing Grand Prix Horse) will take place at Gestut Schafhof in Kronberg on 17 - 20 December 2021.
"Like last year, we will hold the finals at the Schafhof," said Rath. "It's not a Festival Hall Horse Show (like Frankfurt), but we are very happy that we can give riders, trainers, horse owners and, last but not least, the horses the opportunity to compete on a somewhat smaller stage, but still be able to compete in their finals."
Unfortunately no spectators are allowed at the Schafhof Edition, but the event will be streamed live. Sport 1 will also be producing a program from the Schafhof Edition that will be broadcast at a later date. The 2G rule will apply to all participants or directly involved at the Schafhof.
All tickets already purchased for the 2021 edition of the CDI Frankfurt will remain valid for the next edition in the coming year 2022.
Related Links
Firlefranz and Finley Drop Out, Salvina and Caracciola MT Step in for 2021 Nurnberger Burgpokal Finals
Superb Drops Out, Morricone to Substitute in 2021 Louisdor Cup Finals
Weihegold to Retire from Sport in Frankfurt or Leipzig
Oceanside Events Celebrates Exciting Summer of 2021 with Two CDI's and an Olympic Selection Trial
2020 CDI-W Frankfurt Cancelled - Louisdor Cup, Burgpokal, Piaff Forderpreis to Kronberg