Spain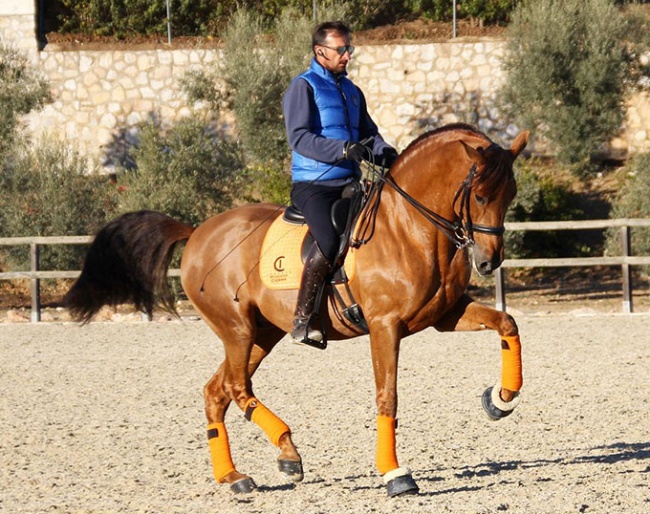 Spanish Olympian and former team rider Jose Daniel Martin Dockx has welcomed two new FEI level dressage horses into his barn in Malaga, Spain. 
Yeguada Mendoza Cadema in Jaén (ESP) has sent Gaucho CAD and Perdido CAD in training with Dockx.
Maria Montes
Cadema's horses were ridden by Maria Del Carmen Montes Montoro  in the past. On Perdido CAD she won the 2016 ANCCE Cup for 5-year olds and with Gaucho CAD she was third at Prix St. Georges level. Corsaria CAD won bronze as a 4-year old at SICAB in 2020.
In 2017 Montes rode Perdido in his first CDI in Segovia in the 5-year old classes. In 2019 she premiered both Perdido and Gaucho at small tour level at the CDI Granada. 
Both Gaucho (by Efusivo VII x Torero XI) and Perdido (by Jinete IX x Oficial XXIX) are 11 years old. 
Dani Dockx
After a successful time on the Spanish PRE circuit with SICAB as highlight competition in the closed-circuit Spanish breeding world, Cadema is now stepping out of the box and entering the elite dressage sport world by putting their horses in training with a former Spanish team rider and 2012 and 2016 London and Rio Olympian.
The horses arrived in Dockx' barn in September 2021.
"The long-term goal is to debut them in the Grand Prix next season, Dockx told Lilyforado.com. "Both school all the Grand Prix movements, but it still needs polishing and putting everything together. Our intention is to make the jump to Grand Prix somewhere next year but time will tell when."
Source: Lily Forado
Related Links
Beatriz Ferrer-Salat's Double at the 2021 CDI Las Cadenas, Dockx Impresses
Jose Daniel Martin Dockx to Select Spanish Team for 2021 World Young Horse Championships
Jose Daniel Martin Dockx' Career Starting Horse Encanto XI Passed Away