Germany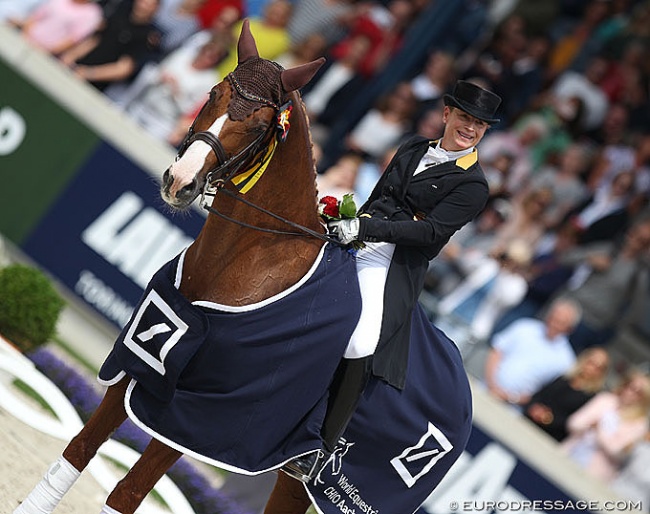 Isabell Werth's European and World Champion horse Bella Rose will be celebrating her official retirement in a "Ciao Bella" gala evening hosted at the 2022 CDIO Aachen on 1 July. 
Bella Rose was supposed to be honoured in a retirement ceremony at the 2021 CDIO Aachen. This got cancelled as the 17-year old mare suffered from a sudden colic attack and underwent surgery on 8 September. She recovered fully from this bout of colic, so her send-off party will be held in Aachen next year. 
Bella Rose (by Belissimo M x Cacir AA) won team gold at the 2014 World Equestrian Games, team and individual gold at the 2018 World Equestrian Games, triple gold at the 2019 European Dressage Championships, and team gold and individual silver at the 2021 Olympic Games. 
The "Ciao Bella" gala evening at the 2022 CDIO Aachen will be Bella Rose's last performance in front of an audience. 
"This is going to be a fantastic setting on 1 July 2022, when Bella Rose enters this dressage arena for the final time and Isabell Werth saddles her light-footed dancer for the last time," said Birgit Rosenberg, Head of Sport at the CHIO Aachen. "A final floodlit performance in the Deutsche Bank Stadium, a final performance in front of the crowd in Aachen. A final performance, when the pair's joint sporting journey comes to an end at the showgrounds of the Aachen Soers."
Photo © Astrid Appels
Related Links
Bella Rose Undergoes Colic Surgery
Bella Rose to Compete One Last Time at 2021 CDIO Aachen, Then Retired from Sport
Bella Rose Back on German A-Team, Werth Nominated with Four Horses
Smooth Return for Werth and Bella Rose, Win 2021 CDI Mannheim Grand Prix for Special
Bella Rose to Make Come Back at 2021 CDI Mannheim
Heike Strunk, Breeder of Bella Rose, Passed Away