Danish Warmblood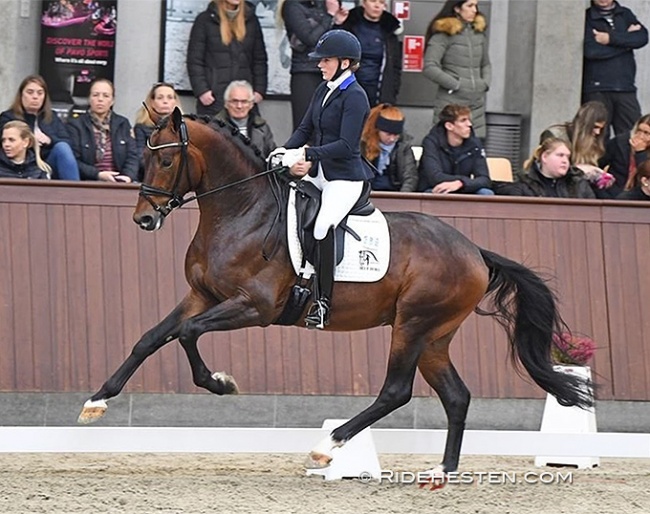 The Danish Warmblood's breeding numbers for 2021 have been released and Blue Hors Monte Carlo turned out to be the most used stallion by breeders based in Denmark.
Unlike German breed societies, Danish warmblood is transparent about the amount of coverings stallions have in their country. KWPN in the Netherlands also issues annual numbers of coverings. 
Blue Hors Monte Carlo, Most Used Stallion in Denmark
The KWPN bred and registered stallion Blue Hors Monte Carlo (by Dream Boy x United) became the most used stallion in Denmark in 2021. 
The bay stallion, bred by Tim Coomans, topped the ranking with 168 coverings, registered in Denmark; 142 of them were Danish warmblood mares, 26 of them were mares registered with other breed societies.  The stallion was already number two in 2020 with 118 coverings and convinced even more breeders to use him in 2021. 
"It is great to see that the breeders have maintained and strengthened their enthusiasm for Monte Carlo through the last two breeding seasons," said Blue Hors breeding director Martin Klavsen. 
Blue Hors Monte Carlo was a premium stallion at the 2020 KWPN and Danish Warmblood stallion licensing. He finished second in the 2021 KWPN stallion performance test and won bronze in the 2021 Danish Young Horse Championships for 4-year olds under Nanna Skodborg Merrald. 
Iron Runner-Up
The number two in the ranking of most used stallion in Denmark in 2021 is Andreas Helgstrand and Stutteri EVO's young stallion Iron (by Ibiza x Hohenstein), bred by Vicki Nedergaard. He covered 98 DWB registered mares and 19 from other breed societies, bringing his total of mares covered in Denmark to 117. 
The black colt was literally the dark horse of Helgstrand's collection of 2021, not having been bought for an astronomical amount of money at auction. He scored 894.5 points and placed second in the 2020 stallion performance test. At the 2021 Danish Young Horse Championships he was ninth in the same division as Monte Carlo. 
Revolution Third
The rising Grand Prix stallion and former young horse World Champion Revolution (by Rocky Lee x Rouletto) placed third in the ranking with 109 coverings in Denmark, 89 of them on Danish mares and 20 of them on mares from other studbooks.
Revolution was the most used stallion in Denmark in 2016 but then dropped in the ranking. In 2021 he attracted more breeders again now with his first offspring making their mark at licensings and in young horse sport.
The bay stallion, who is owned by Hanni Kasprzak, Soren Grønborg, and Helgstrand Dressage, was acquired at an auction price of 1.2 million euro at the Hanoverian Stallion Licensing, although rumours never disappeared that the horse was purchased privately beforehand for a much lower price. 
Blue Hors vs Helgstrand Dressage
Blue Hors stud, which stood approximately 12 stallions with fresh semen in 2021, has four stallions in the Top 10 of most used stallions in Denmark in 2021.  Their biggest rival on the market, Helgstrand Dressage, with a roster of more than 30 stallions offered fresh in Denmark and Germany, had five stallions in the Top 10. 
Blue Hors Farrell (by Furstenball x Dacaprio) placed fourth with 85 Danish warmblood mares covered. However, adding the 29 mares of other breeds he totals 114 mares, which is more than Revolution. 
Gorklintgaards Million Fifth
Impressively, Gørklintgårds Million (by Millennium x Sunny Boy) was able to work his way up into fifth place amongst stallions that are heavily marketed at mega stations Blue Hors and Helgstrand. He bred to a total of 106 mares, 80 of them DWB registered, 26 of them for other breed societies. 
Jørgen Ravn's Gørklintgård is not the smallest, privately owned breeding yard, but only stands four stallions at stud. Gørklintgård Million is home bred and owned. Million was offered for sale on Eurodressage as a foal in 2018 for 15,000 euro, but was not picked up by a buyer. He was licensed in 2021 for Danish warmblood.
Top 15 Most Used Stallions in Denmark - 2021
The top 15 of most used stallion in Denmark for 2021 looks as following. First number is DWB registered mares, second number is mares from other studbooks. 
1. Blue Hors Monte Carlo Tc    142    26
2. Iron    98    19
3. Revolution    89    20
4. Blue Hors Farrell    85    29
5. Gørklintgårds Million    80    26
6. Blue Hors Kingston    79    20
7. Hesselhoej Donkey Boss    78    18
8. Blue Hors St. Schufro    70    24
9. Jovian    62    14
10. Fynch Hatton    51    9
11. Blue Hors Zackorado    49    8
11. Hesselhøj Donkey Boy    49    9
11. Vitalis    49    4
14. My Vitality    46    10
15. So Perfect    45    7
Photo © Ridehesten
Related Links
Janeiro Platinum, Most Popular Breeding Stallion in Denmark of 2020
Don Romantic Most Used Danish Breeding Stallion in 2007
Newly Licensed KWPN Colts Monte Carlo and Maddox Mart Sell Abroad