Germany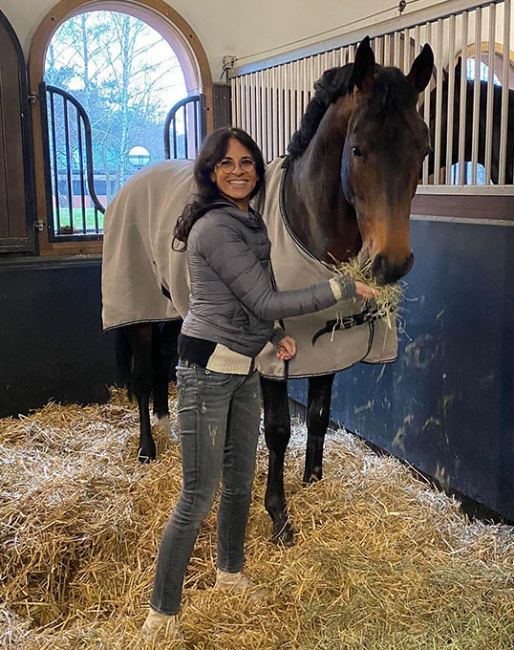 The German dressage and breeding world has tragically lost a prime figure much too soon. Gestut Bonhomme's owner and managing director Rebecca Gutman (54) died on 14 May 2022.  She succumbed to a short and serious illness.
Gutman was an entrepreneur, stallion owner, breeder and horse lover to the bone. She ran one of the most beautiful stud farms, Gestut Bonhomme, in Werder, Germany, with a heart for horses.
Real Estate Power Woman
Rebecca followed in her father's footsteps as a real estate developer and manager of commercial properties in the best locations in western Berlin.
German magazine St. Georg wrote that Gutman was financially independent and had the breed societies at her finger tips. She was one of the few private stallion owners who could literally hold her own against the major monopoly-driven stallion owners. She often won bidding duels at auctions and secured, for instance, the Oldenburg licensing champion Morricone (by Millennium x Rubin Royal) and Confess Color (by Cadeau Noir x Licosto).
From Bramsche to Werder
Rebecca fulfilled the dream of her mother Evelyn and run one of Germany's leading stallion stations with a real heart for horses. 
Gestut Bonhomme was founded in 1987 in Bramsche, Germany, and later relocated to Werder, where a state of the art facility was built.  The property is iconic in its architecture and a jewel amongst horse facilities in Germany.
Making a Mark in Dressage
While initially it was a bit of a rollercoaster to keep a head rider firmly based at Bonhomme, the stallion station in the end thrived in the partnership with squad listed rider Lena Waldmann.
Fiderdance was Rebecca's most successful stallion in sport, competing successfully at international Grand Prix level.  Morricone and Cadeau Noir were both finalists in the Nurnberger Burgpokal and Louisdor Cup finals.
Heart for Horses
Gutman had a vision that stallion keeping and top sport can be combined when a horse is treated with respect and has the appropriate training.
St Georg wrote that she often said,  "Our animals," when she talked about her stallions at stallion shows. Some people in the stands smiled when they heard the word "animal," but the deep love for her animals, the horses on Bonhomme, her dog and others, were one of her great engines."
Rebecca Gutman was disappointed by people who sold her stallions that turned out not as healthy as hoped and documented for in the health records at the time of purchase. She was very aware that many young colts going to the licensing were overworked just to rake in the big bucks. She would go from box to box and tell the entire vet record of a stallion she owned. 
Zuchterforum added that with Rebecca Gutman, "the high standards she and her mother postulated in terms of animal and age appropriate horse-keeping, always fair in the training, were never just lip service loaded with PR." 
Sad Passing
Gutman was diagnosed with an incurable degenerative disorder which led to her tragic demise on 14 May 2022. 
Bonhomme posted on social media that "it is with deepest sadness that we say goodbye to our beloved boss, friend and confidante Rebecca Gutman. After a short, serious illness, her life was taken unexpectedly and far too early. Our thoughts are with her closest family."
Zuchterforum paid tribute to Rebecca with the strong words that, "with her great expertise, her dynamism, determination and ability and will to see, think and act beyond borders, Rebecca was able to earn lasting respect, recognition and appreciation in a breeding world that is still very male-dominated."
Bonhomme Continues
Rebecca's cheerfulness, her visionary strength, steadfastness and her special sense of humour will be greatly missed.
The stud farm will be continued in Rebecca's spirit. Her extraordinary personality will live on in her horses, Bonhomme Stud and her special philosophy of dealing with the creature horse."
Related Links
Confess Color's Sport and Breeding Career on Hold after Lyme Disease Diagnosis
Von und Zu Crowd Favourite, Confess Color Sells for 1,890,000 euro at 2019 Hanoverian Licensing
Maracana and Franco Nero, High Scorers of the 2019 Verden Stallion Sport Test
D'Egalite, Champion of the 2015 Westfalian Stallion Licensing
Morricone, Champion of the 2014 Oldenburg Stallion Licensing
Falk Rosenbauer Leaves Gestut Bonhomme
Holga Finken and Gestut Bonhomme Part Ways