2022 German Dressage Championships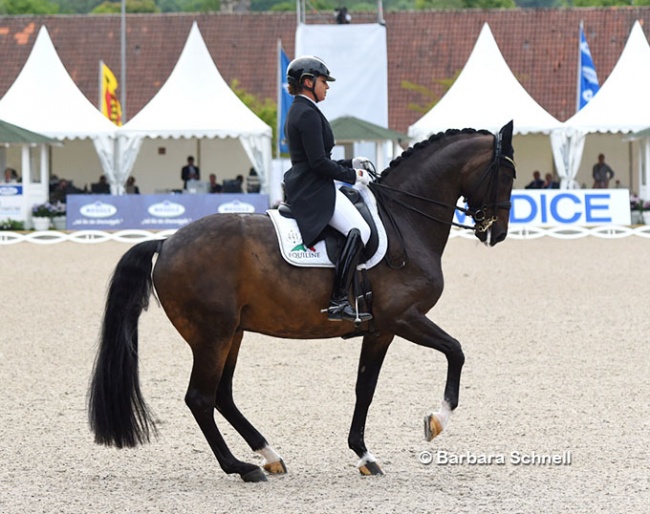 Dorothee Schneider and Isabell Werth became the big winners and titlists at the the 2022 German Grand Prix Championships held in Balve, Germany, on 10 - 12 June 2022.  
The German Championships for senior Grand Prix riders consists of two rounds. The Grand Prix test is a warm-up class, the Special counts for a set of medals on a technical level and the Grand Prix Kur to Music is used to determine the Freestyle medals. 
Third Title for Dorothee Schneider
German Olympian Dorothee Schneider made her long awaited come back on Gabriele Kippert's 16-year old Hanoverian Showtime (by Sandro Hit x Rotspon), who has now been since in public since the 2021 Tokyo Olympics almost a year ago. The pair returned with a bang, receiving top scores from the all-German judges panel.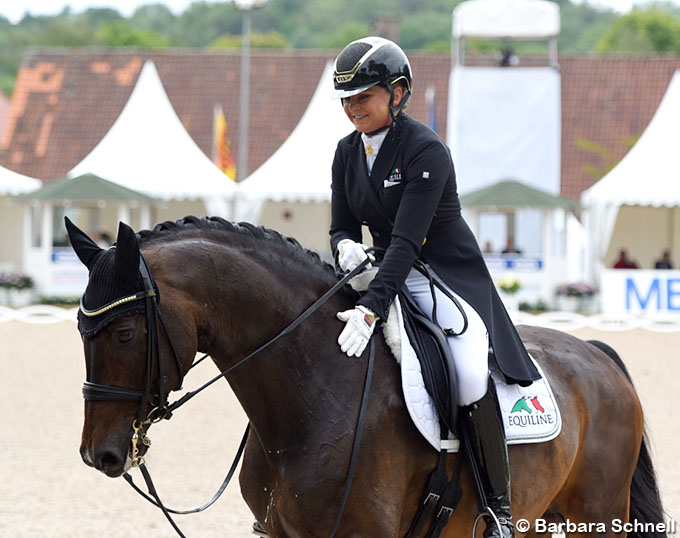 Schneider and Showtime won their third gold medal at a German championships after producing a 83.686% winning Grand Prix Special ride. She stayed well ahead of the competition with German who seems to be in a transition year after Jessica von Bredow-Werndl pulled out due to her pregnancy and Isabell Werth retired her two top horses Weihegold and Bella Rose. This left a big space open for Schneider to become the new ruling number one in her country. 
"He is motivated, wants to dance with me and we have fun together," said Schneider who won her first title in 2016 before the Rio Olympics. "He felt grandiose. It's hard to describe in words. I'm so grateful to this horse. We learn from each other. We are both a bit introvert and holding back, but we developed together and are proud of it. Showtime goes with ears pricked according to the motto 'I'm here, I can do it and I present myself.' It's a sensational feeling and I love to celebrate the sport with this horse."
The silver medal went to 35-year old Frederic Wandres whose 15-year old Hanoverian gelding Duke of Britain (by Dimaggio x Rubinstein) seems to have come of age this year. After an already strong performance at the CDI Hagen where the horse showed a better piaffe than ever before, the pair is now on an upward trajectory and scored a personal best of 79.980% for silver.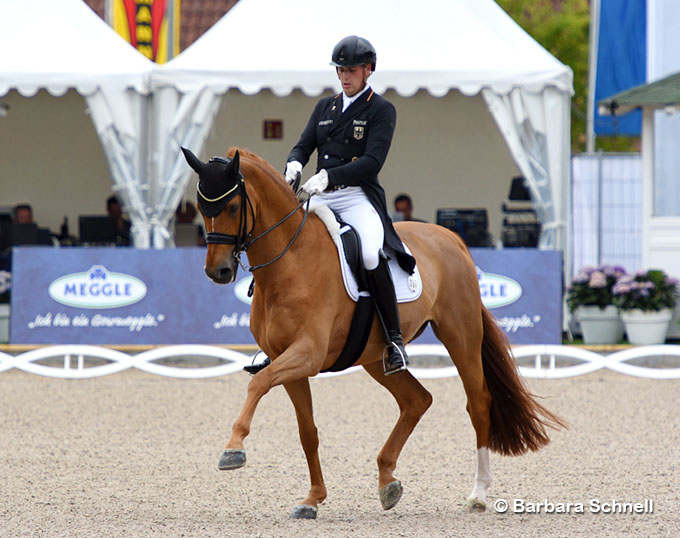 "This is phenomenal," said a beaming Wandres. "All good things come in threes. In 2020 I was here for the first time. Duke bit his tongue and was had to stop our run. We didn't give up and battled on. I'm so happy with this horse, because he deserves it and is consistent. He's earned it!"
The bronze medal went to Isabell Werth and Victoria Max-Theurer's 12-year old DSP stallion Quantaz (by Quaterback x Hohenstein). The bay stallion is still very much in development at Grand Prix level and although the scores are always high, is not yet able to prove consistency in the arena, often going against the bit and showing tongue (CDIO Compiegne) and this time making mistakes in both tempi lines. In Balve the pair still got a big 78.216% for the bronze medal. 
"It was a pity because Quantaz has developed himself super well," Werth commented. "We couldn't fully bring it to the table and didn't find the rhythm in the canter tour. It's a pity for the horse because Quantaz got a lot lighter, much more harmonious. This macho is showing more relaxation. I learn from it and will focus more on the Special in the preparation towards Aachen."
Seventeenth Title for Isabell Werth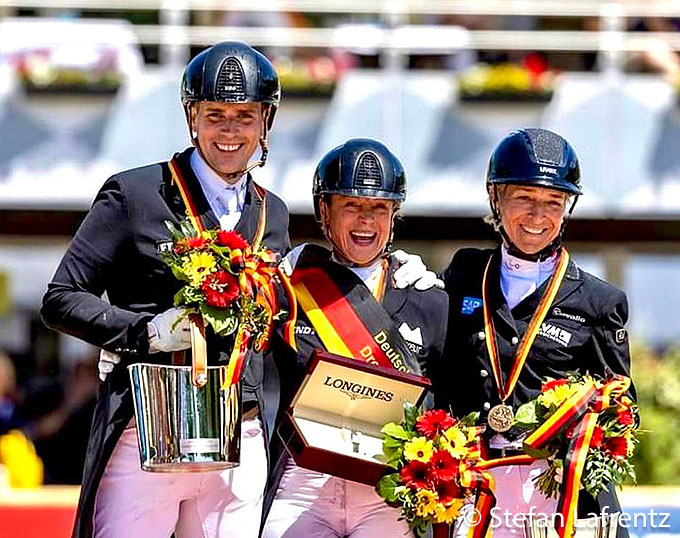 Werth has well established her reputation as Queen of Kur after Anky van Grunsven hung up her shadbelly in 2012. Isabell is always able to find that next gear in the Kur to Music and it was no different in Balve. The duo won the freestyle with 85.450% which gave Werth her 17th gold medal at the Nationals in her career!
"This morning Quantaz thought something was not right in the arena, so I hoped that the Holy Spirit would still catch up with him. We weren't quite into the music as he didn't like one corner that much. We haven't had optimal relaxation yet, but Quantaz is getting better and safer," Werth stated. 
Wandres continued on strong form and with his poppy freestyle based on Evelyn Thomas' 1984 track "High Energy" he and Duke of Britain had the crowds and judges on his side. The pair posted 83.375% for a second silver on the weekend. Not only were the double medals a career highlight for Wandres, who is head rider at Hof Kasselmann in Hagen but it now strongly positions him in favour of a team spot for the 2022 World Championships Dressage in Herning. Balve was the first of two German team selection trials for Herning. The next one is in Aachen at the end of the month.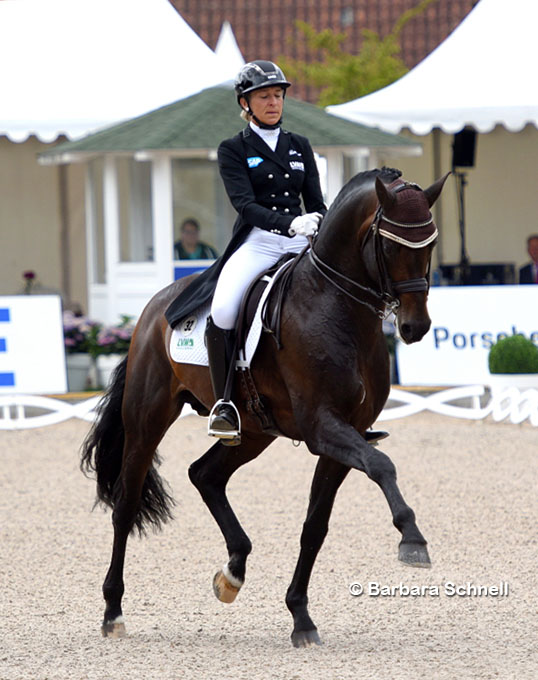 "This entire weekend was phenomenal," said Wandres who went home from Balve to Hagen to attend the Aachen Dressage Days competitors' party at Hof Kasselmann, where he was thrown into the pool with clothes and all to celebrate his medals.
The freestyle field in Balve was heavily thinned out with just 9 starters in total. Schneider withdrew fro riding the kur as Showtime just came back from injury, and Fabienne Lutkemeier pulled out as well due to personal illness. The A-squad listed rider has two top contenders in Valencia As and Valesco and with the latter she was Germany's shooting star of 2021 after massive scores in Aachen, but unfortunately could not hold on to that level and scoring potential in 2022. 
This created room for Ingrid Klimke to move to the fore aboard Wilhelm Holkenbrink's 14-year old Hanoverian stallion Franziskus (by Fidertanz x Alabaster). The decorated Olympic eventing rider proves her versatility in the dressage arena and worked herself onto the podium for bronze with an 82.825% earning freestyle. 
"Franziskus was outstanding," said Klimke who is the five-time German Eventing Champion. "He presented himself outstandingly and was very focused."
Photos © Barbara Schnell - Stefan Lafrentz
Related Links
Scores: 2022 German Dressage Championships
German Team Selected for 2022 CDIO Aachen
German Dressage Squads for 2022 Updated, Schmidt and Lutkemeier Dropped
Previous Winners
Von Bredow-Werndl Makes it a Double, No Surprises on Kur Podium at 2021 German Dressage Championships
Jessica von Bredow-Werndl and Isabell Werth are the 2020 German Grand Prix Champions
Isabell Werth and Emilio Take Freestyle Gold at 2019 German Championships
Dorothee Schneider Puts on a Show and Wins Gold at 2019 German Championships
Rothenberger Grabs Kur Gold at 2018 German Dressage Championships
Sönke Rothenberger Wins 2018 German Grand Prix Championship
Isabell Werth Wins 2017 German Dressage Championships, 13th Career Title
Isabell Werth and Weihegold Win 2016 German Dressage Championships
Kristina Sprehe Scores Second, Consecutive Title at 2015 German Dressage Championships
Kristina Sprehe Wins 2014 German Dressage Championships
Helen Langehanenberg is First Violin at 2013 German Dressage Championships
Helen Langehanenberg Crowned Queen of Dressage at 2012 German Championships
Rath Secures National Title with Totilas at 2011 German Championships in Balve
Double Gold for Isabell Werth at the 2010 German Dressage Championships
Photo Report 2009 German Dressage Championships
Photo Report - 2008 German Dressage Championships 
Scores: 2007 German Dressage Championships
Schrader and Erbe Win Gold at the 2021 German Under 25 Championships