Ireland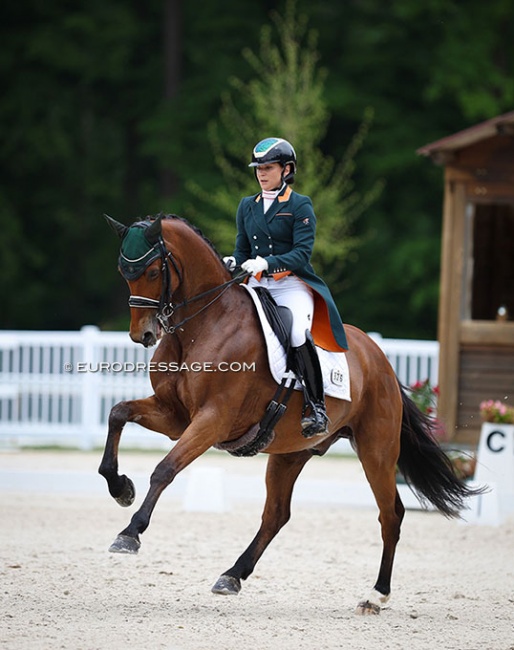 Horse Sport Ireland has announced the team that will represent Ireland at the 2022 World Championships Dressage in Hering (DEN) on 4 - 11 August 2022.
After not fielding a historic first-ever dressage team at the 2021 Olympic Games and upsetting the entire Irish dressage scene, prompting lawsuits, Ireland's team trainer Johann Hinnemann decided to nominate a group of four riders for the World Championships.
In an official HSI press release, Hinnemann stated, "the selected combinations are a mix of seasoned experience in Anna Merveldt, and upcoming pathway athletes, in Sorrell Klatzko, Abigail Lyle, Alex Baker together with a squad contingency, Dane Rawlins (another experience athlete) named as a non-travelling reserve. I'm incredibly pleased to see new combinations make the championship squad."
Hinnemann continued, "my programme design is simple, I want to encourage talented home grown athletes into dressage top sport and compete on the world stage. We have seen the biggest growth in new combinations competing for Ireland in the past year or so.
The German born Irish team trainer continued, "I push for athletes to be confident in their performances and excel at the highest level. The aim in Herning is a top 12 finish with each combination performing their best with a view to improving as we move towards the Europeans in 2023, and the ultimate objective of qualification for Paris 2024. I would like to extend a sincere thanks to the HSI Dressage High Performance Committee for their support and guidance."
The Irish squad includes:
Alex Baker with Dutchman – owned by Daniel Champion & Alex, Carol & Tim Baker
Sorrell Klatzko with Turbo – owned by – Sorrell Klatzko & Janine Shoffner
Abigail Lyle with Giraldo – owned by Abigail Lyle or Farrell – owned by Fenella Quinn
Anna Merveldt with Esporim – owned by Mario Greco, Eleonore Higgins, Michael Higgins & Giovanna Mazza
The non-travelling reserve is Dane Rawlins with Espoire.
Ireland's mainstay Heike Holstein was not selected with her home-bred Sambuca as she has sold the horse. 
Photo © Astrid Appels
Related Links
Baker Withdraws, No Irish Team at 2021 European Dressage Championships
Rawlins and Connors Lodge Appeal Against HSI's Decision not to Send Team to Tokyo
HSI Makes U-Turn after Legal Pressure: Rawlins and Connor Get Certificate of Capability
Horse Sport Ireland Decides not to Send Team to Tokyo, Three Spots Released
Irish Senior Dressage Squads for 2021 Announced, Pixio/Zoom Training with Hinnemann