Denmark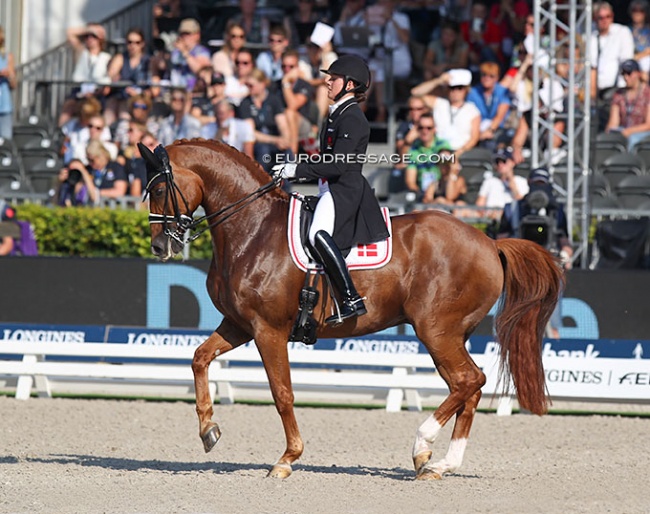 Cathrine Dufour will be officially retiring her career making horse Atterupgaards Cassidy from competition sport in a special ceremony during the 2022 World Championships in Herning.
Atterupgaards Cassidy is a 19-year old Danish warmblood gelding by Caprimond out of Doreen (by Donnerhall). He is bred by Kristine and Michael Sinding at Stable Atterupgaard.
Danish Young Horse Success
Under Sanne Henningsen Cassidy won the 4-year old Danish Young Horse Championships. Under Sabine Petersen he competed at the 2008 World Championships for Young Dressage Horses in Verden, where he finished 12th in the 5-year old finals. A year later he qualified for the 2009 World Championships but did not show there. 
In the spring of 2010, the Dufour family bought Cassidy from owner Brian Christensen as her new junior rider's horse. 
Dufour and Cassi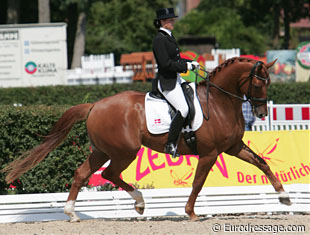 Trained by Rune Willum, the pair immediately qualified for the 2010 European Junior Riders Championships, where they won silver in the Kur finals.  
At the 2011 European Young Riders Championships in Broholm, they won team silver and Kur bronze. In 2012 and 2013 they won individual and kur gold at the European YR Championships in Berne and Compiegne. 
Cassidy had already achieved his mission as a youth riders horse for Cathrine and it was not immediately expected for him to become a top Grand Prix horse. In 2014 they made the transition to Under 25 but took their time and only once showed in a CDI that year. In 2015 they gained more U25 mileage and by the end of the year moved into the senior ranks. 
Cassidy fulfilled Dufour's dream and took her to the Olympics: Rio in 2016, where they were 13th in the Kur finals. He upped the ante and at the 2017 European Championships in Gothenburg put her on the podium for team silver and double bronze.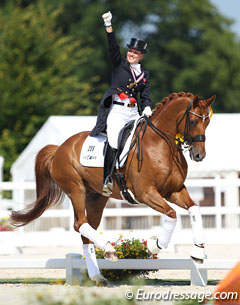 In 2018 the pair missed out on the World Equestrian Games in Tryon due to an injury, but they returned in 2019 coached by Nathalie zu Sayn-Wittgenstein and Kyra Kyrklund. At the 2019 European Championships in Rotterdam they got another, Grand Prix Special bronze. 
Cassidy showed only once internationally in 2020 and once in 2021 at the CDI in Herning in October, where they won the short Grand Prix. It was his last competition in his career.
On a national level the pair was five times Danish Grand Prix champion. They scored the title in 2016, 2017, 2018, 2020, and 2021.
Retirement
Dufour will celebrate Cassidy's retirement from sport in Herning.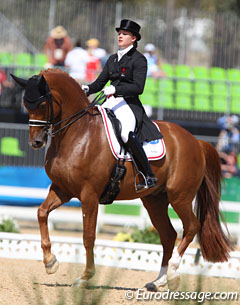 "It's going to be very emotional for me, and I cannot quite understand that it will be my last ride with Cassidy in front of an enthusiastic audience - which he loves. I hope he gets the farewell he very much deserves," said Cathrine.
The farewell will take place on Monday 8 August after the Grand Prix Special medal ceremony of the 2022 World Championships.
Photos © Astrid Appels
Related Links
Eurodressage Photo Report: Atterupgaards Cassidy
Dufour and Good Old Cassidy Steal the Show at 2021 CDI-W Herning
Dufour and Cassidy Return to Winner's Circle at 2019 CDI Herning
Dufour and Cassidy Withdraw from 2018 World Equestrian Games
Cathrine and Cassidy, Journeying to Grand Prix Together, Reaping the Fruits at 2015 CDI Odense
Atterupgaards Cassidy Sold to Danish Junior Cathrine Dufour
Atterupgårds Cassidy, Polka Hit Nexen and Horsebo Smarties Win 2007 Danish Young Horse Championships