Germany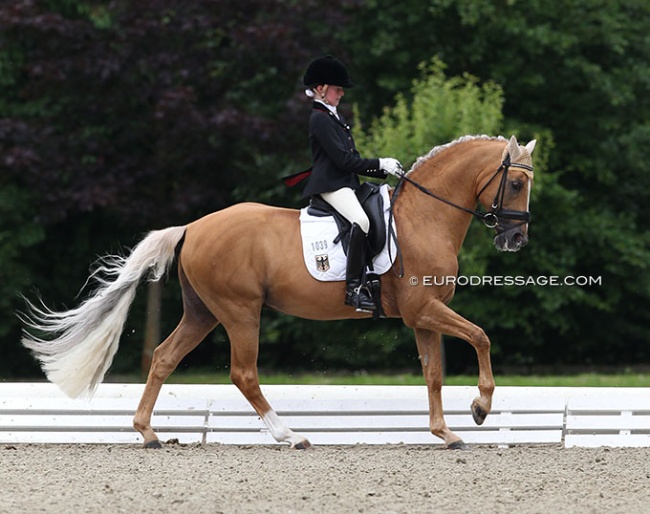 Domino Dancing, a triple European Pony Championships participant and German team gold medal winner, has passed away suddenly following a colic attack on 6 September 2022. He was 29 years old. 
Domino Dancing was born in 1993 at Hans-Georg Bönninger's yard. He was by Derano Gold out of Valerina (by Valentino x Downland Chevalier x Downland Romance). 
Licensed Stallion
His career started in the breeding arena as he was licensed at the Rhinelander pony stallion licensing in Aachen in November 1996. He completed his stallion performance test requirements through sport in 2002.
The palomino only covered a very limited amount of mares in his life and has just four offspring registered for sport in Germany. 
He was gelded to be focused on sport halfway through his sport career.
First Successes with Four Riders
Domino Dancing fulfilled his role as FEI dressage level pony and schoolmaster with great style, carrying no less than seven riders to national and international competition success. With two of them he competed at three European Pony Championships (2007, 2008, 2011).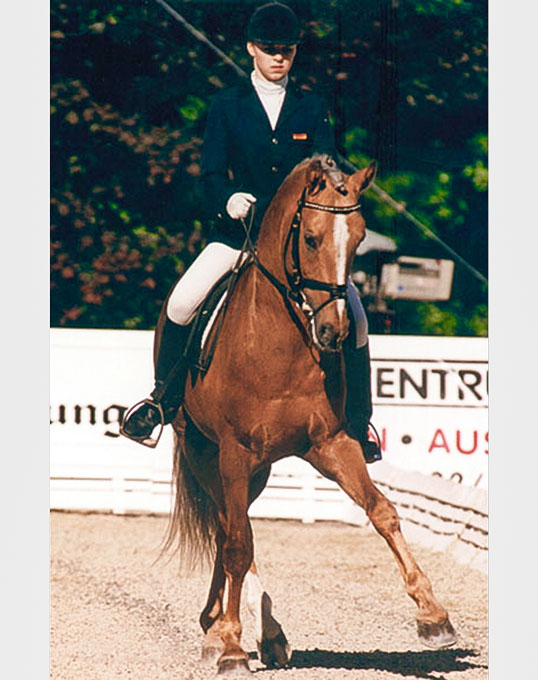 His first successes were achieved at national level. Adult Stefanie Meyer-Biss first presented Domino Dancing in the 3-year old riding pony tests in 1996. She rode the stallion to a fourth place at the 1996 Bundeschampionate. 
In 1997 pony rider Alice Fengels took over and a year later she got bronze at the 1998 Bundeschampionate with him. Their first semi-international start was at the invitational in Beek in 1999, not an official CDI competition but riders from Belgium and Germany were invited to this show in Holland at the time. At the 1999 German Pony Championships at FEI level, Fengels and Domino Dancing were fourth and at the 1999 Bundeschampionate they got bronze again.
In 2000 Linda Illmer competed Domino once, but Fengels was the principal rider who kept on building the career and mileage of this pony and they went to the CDI Lanaken, where they won all three rounds. They were 9th at the 2000 German Pony Championships in Vlotho and finished third in the 2000 Hamburg Pony Derby.
In 2001 it was the turn of Wendy Wehmeyer (now Wendy Liebenstein) to compete Domino at FEI Pony level. They were 10th at the 2001 German Pony Championships in Elmlohe. In 2002 they campaigned at the CDI Freudenberg and were short-listed for German team selection for the 2002 European Pony Championships in Hagen, but did not make the cut. They rode in Hagen though in parallel classes. They were 8th at the 2002 German Pony Championships. Both Fengels and Wehmeyer trained with Leonie Bramall at the time. 
As of 2003, Domino Dancing had a new rider: Maria Theussen, but she regularly swapped rides with Alice Fengels. Theussen only competed nationally.
Sanneke Rothenberger and Alexandra Barbançon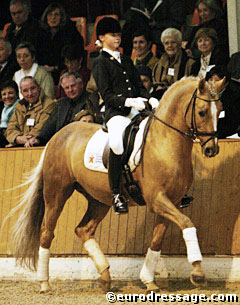 In 2004 Domino Dancing sold to the Rothenberger family and joined Sanneke Rothenberger's string of ponies which included Winchester, Dornika, and Konrad. 
In her first year on Domino, Sanneke gained experience at national shows and finished 8th at the German Pony Championships in Steinfeld. Their CDI starts were in Freudenberg and Beek that year and in 2005 they rode their first international abroad in Travagliato, Italy. Konrad was Sanneke's better scoring pony and was the one she got selected with on the German team for the European Championships but Sanneke kept Domino ticking at shows until 2007. They were fifth at the 2007 Preis der Besten.
In the autumn of 2007, Domino Dancing was leased to the young Spanish pony rider Alexandra Barbançon Mestre, the younger sister of Spanish/French Olympian Morgan Barbancon, who ended up showing him for two seasons.  The new pair competed at the CDI's in Addington and Bonn before heading to the 2008 European Pony Championships in Avenches (SUI) where they were 21st in the team test. They did not ride the consolation.
At the 2009 European Pony Championships in Moorsele (BEL), Barbancon and the then 16-year old Domino Dancing were third in the consolation.
Semmieke Rothenberger
Domino Dancing returned home after the 2009 Euros and became the schoolmaster for Semmieke Rothenberger who made her show debut on him at age 10 in 2010.
In 2011 the 11-year old Semmieke was selected on the German team for the 2011 European Pony Championships in Jaszkowo, Poland, as youngest rider at the show and won team gold. They 8th in the individual test but did not make it to the Kur. They won bronze at the 2011 German Pony Championships in Freudenberg
Retired as a Professor
Domino Dancing was retired from high level competition sport at the end of the 2011 show season. He was 19 at the time. 
He spent his retirement at Rothenberger's Gestut Erlenhof leading a life of luxury and pampering. Still top fit in the past few years he was a professor to some of Semmieke's pony students. 
Domino was still given small kids a fun ride on the gallops a week before his passing. On 6 September 2022, he suffered from a sudden, severe bout of colic, which turned out to be fatal.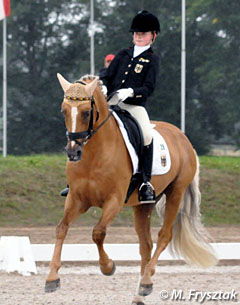 "He was so fit and happy and everything went way too quick," a heart-broken Semmieke told Eurodressage, adding "last week he still played professor with 29 years of age for a small girl and this morning he suddenly suffered from a severe colic. We tried everything to save him. He was so fresh, so happy. He really loved his best life! He passaged his way to the field every morning while impressing the mares on the way."
Semmieke praised Domino's golden character. "Whoever had the luck to meet this pony, was completely in love by his soft character," she said. "He has never done a wrong step in his entire life. He has never had a bad day or a grumpy mood. He was always so gentle and caring."
Text by Astrid Appels © Eurodressage
Photos © Astrid Appels - private - Malgorzata Frysztak
Related Links
Eurodressage Photo Database: Domino Dancing
Walterscheidt, Voigtlander, Rothenberger Win 2011 German Youth Riders Championships
Linnemann and Cinderella Team Up For Individual Test Gold Medal at 2011 European Pony Championships
German Team Untouchable in Nations' Cup at 2011 European Pony Championships
Semmieke Rothenberger: "Hagen is Sacred Ground for My Family"
Rothenbergers Dominate the South German Preis der Besten Qualifier
Scores: 2007 Preis der Besten
Scores: 2004 CDI-P Beek