Germany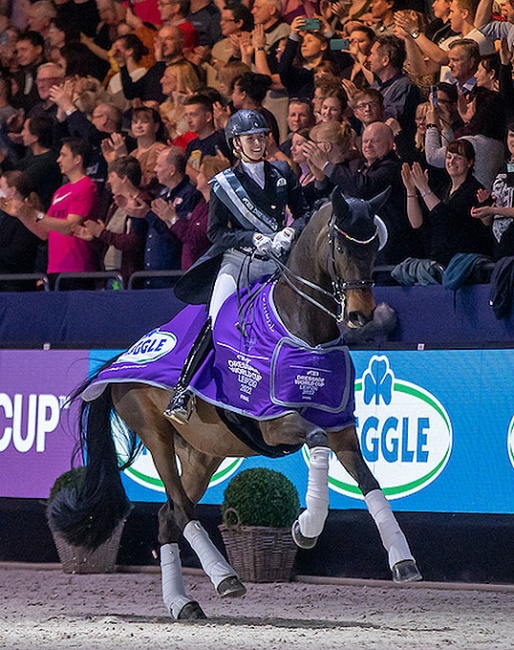 After welcoming baby number two, Ella Marie von Bredow, on Thursday 11 August 2022 Olympian and European champion Jessica von Bredow-Werndl is back in the saddle and has scheduled her come back to the CDI show ring. 
In just two weeks, on 22 - 25 September 2022, the beautiful estate Monrepos will host the 2nd International Ludwigsburg Dressage Festival, and it promises to be a more than exciting competition. The nomination deadline ended this week and an impressive 130 riders from 17 nations will be participating in the second edition of the dressage event, including Jessica von Bredow-Werndl. 
Fierce Competition
Jessica will celebrate her come back in Ludwigsburg and will straight away meet strong competition, among others from her own family. Benjamin Werndl, freshly motivated by his excellent performance in Herning, is nominated for the CDI1* and 4* Tour. With Ingrid Klimke (Münster), Isabell Werth (Rheinberg) and Frederic Wandres (Hagen a.T.W.), the entire bronze medal-winning German team will be present in Ludwigsburg. 
The German Champion Dorothee Schneider (Framersheim) is just as happy to return to Monrepos as is the Swede Patrik Kittel and Baden-Württemberg rider Ann-Kathrin Lindner. 
New Faces
In addition, there will be many Ludwigsburg "first-timers" such as Olympic rider Victoria Max-Theurer and her partner Stefan Lehfellner from Austria, the Belgian Grand Prix rider Laurence Vanommeslaghe, or the riders competing for the USA, Susan Dutta and Jennifer Hoffmann. 
Not only the nominations in the international tour are impressive, the national competitions are also bursting with talent. 36 entries in the NÜRNBERGER BURG-POKAL speak for the quality of the young dressage talent. 
Season Highlight
"With such an incredible top-class line-up, this year's Dressage Festival will be an absolute highlight of the season. The recipe is simply right here in Ludwigsburg - the conditions, the atmosphere, the competition - word gets around," said Francois Kasselmann, organiser and managing director of Horses and Dreams Entertainment GmbH.
"It is very exciting that we can welcome the top riders to Baden Württemberg so soon after the World Championships and I think we are all looking forward to seeing who will be on the podium in the end," he added.
Entry is free on all four days of the event. ClipMyHorse.TV will also be broadcasting all competitions live.
Related Links
Jessica von Bredow-Werndl Gives Birth to Baby Girl
Jessica von Bredow-Werndl Not Aiming for World Championships, Welcoming Baby Nr. 2.
From Goose Bumps to World Cup Flair – Ludwigsburg features Dressage Sport in All Facets
Dorothee Schneider and First Romance Win 2021 CDI Ludwigsburg Grand Prix Special
First International Ludwigsburg Dressage Festival with Golden Line-up
Dressage Next to the Castle: A Touch of CDI to the 2011 CDN Ludwigsburg