2022 British Dressage Championships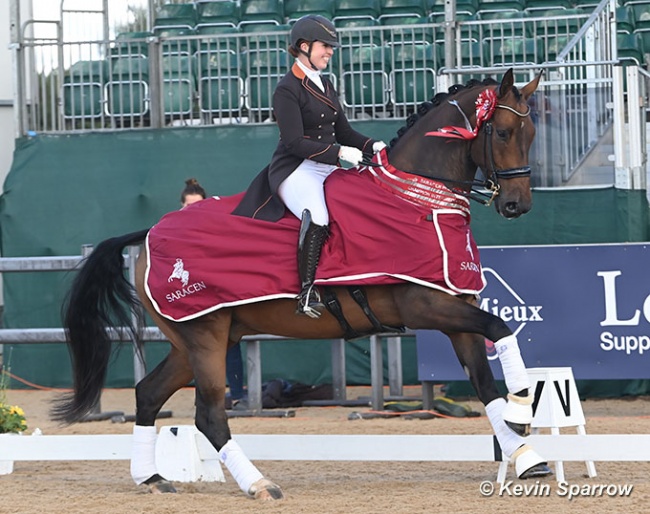 It was a magical Moody moment on day two of the 2022 British Dressage Championships as the Yorkshire rider claimed two small tour wins on Friday afternoon 16 September 2022. Often the bridesmaid, today Becky made it a fantastic Friday of her own.
Intermediaire I: Becky Moody and Jagerbomb
On Thursday Becky Moody and the 8-year old KWPN bred Jagerbomb (by Dante Weltino x Jazz) were the reserve champions in the Intermediaire II class. On Friday they dropped down a level to contest the Intermediaire I and won the title. 
It was round two of the Moody Dujardin tussle which began in in the Fairfax Prix St Georges yesterday when Charlotte took the honours with Sarah Pidgley's talented 10-year old Hilius MBH when Becky was partnering Jo Cooper's Jack Diamond. But today, with the level difficulty turned up a few degrees, it was Becky, who's not a full fitness owing to a collapsed lung less than a month ago, and her ever-consistent eight year old Jagerbomb who claimed the title by the tightest of margins.
The class was judged by an all British panel, including Sandy Phillips, Claire Ballantyne, Isobel Wessels, Fiona Wilson, and Sue McMahon. Three of them saw the winner in Moody while two placed her second but overall the scores were quite in unison. The judging of Charlotte Dujardin painted a very different picture as some saw a clear winner in the decorated rider, while others were more sceptical of the test. Wessels and McMahon considered her the best of the class with scores between 77.794 and 78.088%, while Philips, Ballantyne, and Wilson were much lower with the low score being 72.647%. The high and the low score were both sitting on the long side but had a 5,441% difference in their assessment.
Becky and 'Bomber' didn't get off to the best of starts as she found him 'boring' as a young horse and it was only on sister Hannah's advice he wasn't sold. But once the difficulty level of his work went up did the talent and aptitude for dressage made an appearance. And the Dante Weltino x Udysee gelding has ensured Becky's decision to keep him was worth it once again.
Becky said about her Inter I victory; "I mean there is always room for improvement as that's my thing, you never think it is quite good enough but he tries his heart out. I haven't had the best prep for these championships and he was brilliant in the Inter II yesterday. He was a little bit tired today but he's just so solid and dependable, he just ties always."
With a broad smile of delight, despite the lingering pain of her lung injury, Becky added; "I'm doing ok, I really am doing ok now. I had to do ten days of no riding and only just started riding again on Sunday, a little tiny bit. So, it hasn't been great but my team has just been amazing! He goes in there, stands still for the prize giving and gets all excited but he's just like I'll do whatever you tell me."
Prix St Georges Freestyle: Moody and Jack Diamond
It's no secret that Becky Moody is something of a freestyle specialist, and true to form she hit the high notes once again today – with her second win of the day coming in the Fairfax Saddles Prix St Georges Freestyle Gold Championship, this time with successor supreme Jack Diamond. The eight year old gelding oozes presences and put his best hoof forward to take the title on 78.30%, an impressive feat for Becky's latest exciting prospect.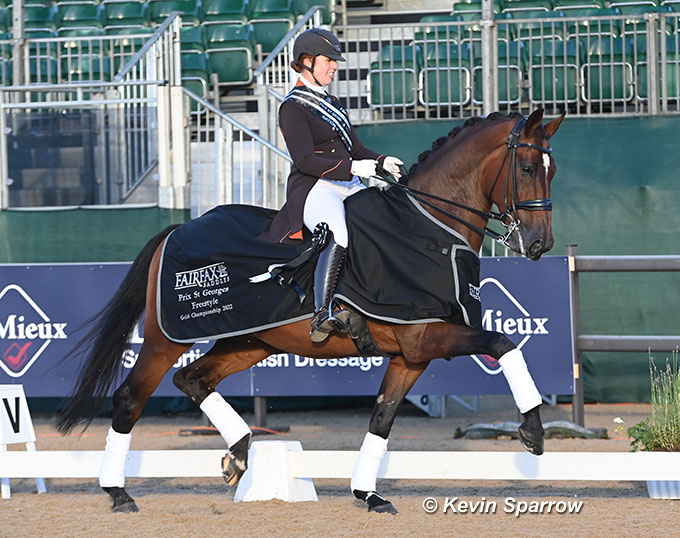 "He was a total babe," Becky said about her winning ride after an electric prize giving, "he's by Electron, which is an Ampere, out of a Diamond Hit mare – owned by Jo Cooper and Pat and David Webster. We've had him since he was three, he did a couple of four year old classes but he was a stallion at that point, quite tricky, deposited me at Carl Hester's feet at the semi-finals at Hartpury in the warm up for the four year old class! He was swiftly gelded after that...but he's a really interesting horse, I spent two and a half years where I genuinely struggled to get him on the big. He's so big moving, he was weak and he put so much effort in but in the wrong way. It's taken time but he's just starting to really come good."
In front of Jane Critchley (E), Paul Hayler (H), Peter Storr (C), Caroline Tupling (M), Leanne Wall (B), Becky rode to her popular compilation of the BBC's Sherlock and Last Tango in Halifax, "I love that music and I've used it with so many horses but I thought it would be fine. I'm super pleased with him that was his first ever freestyle. I practiced it once, he was supposed to have his own but because I've been ill I didn't have time to put a floorplan together. We ran through it once!"
The test's quality was reflected across the score sheet, with 9s for flying changes and extended trot in the technical marks, whilst the same marks fell in great number across the artistic review with music and interpretation of the music, harmony and choreography all receiving high numerical praise. Becky concluded by reflecting on her personal highlights from the winning test, "the trot half passes, actually the floorplan really suits him because he's really good in the big scopey work – so the big half passes and good extensions, not the pirouettes they're a work in progress!"
Next up for Becky is "a nap and a good night's sleep!" before a busy day three for the Sheffield-based starlet, who aims to add more titles to an already impeccable LeMieux National Championship record.
Katie Bailey and Heather Bryson Izonic took second place on 74.525% whilst Harriette Williams completed the top three with her own mare Creto.
-- Text by British Dressage, edited by Eurodressage - Photos © Kevin Sparrow
Results - 2022 British Dressage Championships
Intermediaire I
Judges: Sandy Phillips, Claire Ballantyne, Isobel Wessels, Fiona Wilson, Sue McMahon
1. Becky Moody - Jagerbomb - 75.677
2. Charlotte Dujardin - Hilus MHB  - 75.618 
3. Michael Eilberg - MSJ Dante  - 72.853
4. Sarah Higgins - Geniaal  - 72.235
5. Becky Moody - Jack Diamond  -  72.177
6. Davey Harvey - Hawtins Rossana  -  72.147
7. Alice Oppenheimer - Headmore Dionysus  -  71.912
8. Lucinda Elliot - Hawtins Soave -  71.529
9. Katie Bailey - Hillgrounds Wolkenhall  - 70.824
10. Henriette Andersen - Zackery  - 70.559
11. Lisa Anne Hopkins - Liss La Belle  - 70.353
12. Fenella Quinn -  Empire B  -  70.294
13. Andrew Gould - Rockwood Virtue  -  69.618
14. Dannie Morgan  - Loxley's Optimism  -  69.353
15. Charlotte Lutener - Full Fusion BS  -  68.912
16. Sarah Higgins - Sirius Black  - 68.853
17. Olivia Oakeley - Rock Diva  - 68.735
18. Nikki Barker - Iwan  - 68.647
19. Emily Ormerod - Freya FST  - 68.618
20. Emma Jablonski - Higgens Van De Uilenhoek  - 68.588
21. Jennifer Martell - Integro  - 68.500
22. Alexander Harrison - MSJ Top Secret  -  67.706
23. Michael Eilberg - Figlio  - 67.441
24. Elder Klatzko - Dior  - 67.382
25. Jackie Siu - Brioso  -  67.206
26. Angus Corrie-Deane - Jack Johnson  - 66.941
27. Fiona Brennan - De Angelis  -  66.824
28. Tyler Bradshaw - Gijsbert -  66.500
28. Rebecca Hughes - Classic Goldstrike - 66.500
30. Hannah Esberger-Hancock - Iggy Pop BEK  -  66.471
31. Elizabeth Allen - Heraldik  - 65.588
32. Natasha Rumble - Dragon Fly VCG  -  65.206 
33. Zoe Sleigh - For Rome  - 64.853
34. Anu Sironen - Fiori Weltino  - 64.206
35. Lucy Cliff - Gestion  -  61.324
Prix St Georges Kur to Music
Judges: Jane Critchley, Paul Hayler, Peter Storr, Caroline Tupling, Leanne Wall
1. Becky Moody  - Jack Diamond  - 78.300
2. Katie Bailey -  Izonik  -  74.525
3. Harriette Williams - Creto  -  72.900
4. Sarah Higgins - Samuel -  72.250
5. Andrew Gould - Active Solaris  - 71.850
6. Sara-Jane Lanning - Hawtins Lirica  - 71.675
7. Hannah Esberger-Hancock - Iggy Pop BEK  - 70.475
8. Daniel Bremner - Frederico  -  69.625
9. Nikki Barker - Dan Icarus  - 68.975
10. Angus Corrie-Deane - Jack Johnson  - 68.775
11. Olivia Oakeley - Rock Diva  - 68.100
12. Natasha Rumble - Dragon Fly VCG  -  67.800
13. Angus Corrie-Deane - Don Darius II  - 67.100
14. Beth Bainbridge - Toska Too  - 66.800
15. Dannie Morgan -  Loxley's Optimism  - 66.625
16. Nikki Barker - Iwan  -  65.700
17. Jennifer Martell - Integro  -  59.100
Related Links
Dujardin and Pidgley, Trainer and Student, Take First Titles at 2022 British Dressage Championships
Emile Faurie is the 2021 British Grand Prix Dressage Champion
British Dressage Championships Move from Stoneleigh to Somerford for 2020-2022