2022 British Dressage Championships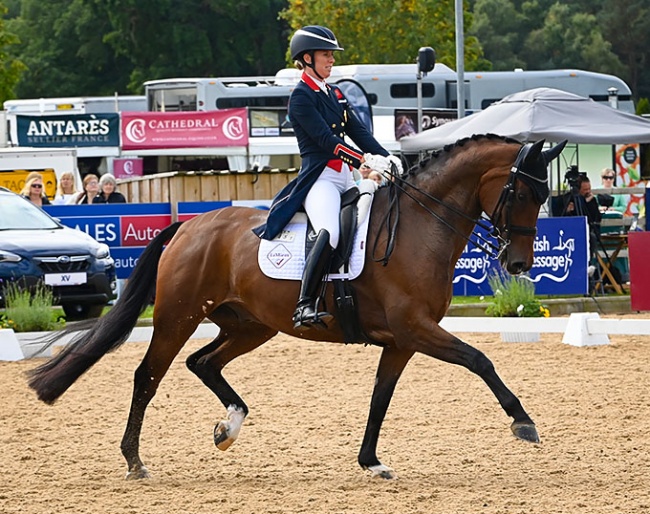 The 2022 British Dressage Championships kicked off at Somerford equestrian centre on Thursday 15 September 2022 with the Prix St Georges and Intermediaire II classes amongst other divisions.  In the absence of World Champion Charlotte Fry, Britain's prima donna Charlotte Dujardin continued to rule the roost. Her student Annabella Pidgley won her first Inter II title on Dujardin's Olympic ride, Gio. 
In Great Britain titles are to be earned in individual classes and not so much an "overall champion" although at Big Tour level they name a champion alongside individual class winners. 
Prix St Georges: Charlotte Dujardin and Hilus MHB, 74.00% 
Charlotte Dujardin has retained the Fairfax Saddles Prix St Georges title won last year with Imhotep, with a fantastic victory aboard Sarah Pidgley's Hilus MHB. Charlotte and the 10-year-old Johnson x Don Primero gelding, who've competed together this year with much success, scored 74.000% from the judging panel comprising Richard Baldwin (E), Debby Lush (H), Nick Burton (C) Andrea Smith (M) and Jenny Ward (B).
The victory concludes a super summer for this partnership, which has enjoyed double wins this season at both Hickstead Premier League and Wellington CDI. Dujardin took over the ride on Hilus from Danish Cathrine Dufour who trained the horse up the levels for Pidgley.
Not only did she win, but Charlotte, who is expecting her first child, claimed second spot with her young mare Alive and Kicking (73.647%) and fifth with her own and Carl Hester's Hawtins San Floriana (72.412%).
Nervous
"I've had Hilus for this year just to bring him on a bit more and bring him up the levels," explained Charlotte. "He's working towards Inter II at home. He's a really exciting horse and would be the most experienced of the three in this class.
"He's quite a nervous horse believe it or not - he's nervous of everything," continued Charlotte. "He's the sort of horse that feels like I've got to give him confidence all the way through – hold his hand a little bit and tell him he can do it. I was really pleased with his test today, as everything's quite close in there.
"Before, his eyes would have been on stalks, but today I felt he stayed with me. So, I was really pleased with his test, and he's got the Inter I tomorrow to build on."
Video Buy
About Alive and Kicking, or 'Audrey' as she's known at home, Charlotte said, "She's just a sassy little minx – she's so much fun though. I was really pleased with her, it was just a shame with the changes. I missed the last change in my fours, and in the threes I just lost the canter a little bit and didn't keep the momentum – she probably would have won otherwise. She thought she'd let Hilus win today! I've done two Premier League PSGs on her, that's all. I've let Charlotte McDowall do Young Riders on her so now I need to get going. She's a definite Grand Prix horse, she has so much talent, I'm really excited about her future.
Dujardin bought Alive and Kicking in Sweden off a video.
Talking about Hawtins San Floriana, Charlotte said, "I love that horse – she's absolutely incredible to ride – out of the three, she's the nicest to ride of them all. She's got so much scope, so much ability but is so green. She's done two shows this year, this is her second PSG ever so I can't complain. She has hot, green moments and is very onward bound!
"She's one for Grand Prix because one thing's for sure, I'm never going to tire her out, she'll go to the bitter end. By the Freestyle, she'll still have energy. She gives you the most incredible ride and I'm so proud of her, and to come here and get a respectable score is great. I'm really, really happy with all three horses today." 
Intermediaire II: Annabella Pidgley and Gio, 79.11% 
British based German rider Kathleen Kröncke set the pace in the Intermediaire II Championship on her first ride, Kiriakos TSF with 71.58%.  It was the turn of one of the most exciting young combinations in dressage, 2022 triple Junior medalist Annabella Pidgley and 2021 triple Olympic and European medalist, Gio, formerly ridden by Charlotte Dujardin. Annabella and 'Pumpkin' have had a great debut year together – just six tests but all with wins on 70%+ scores so the omens were positive.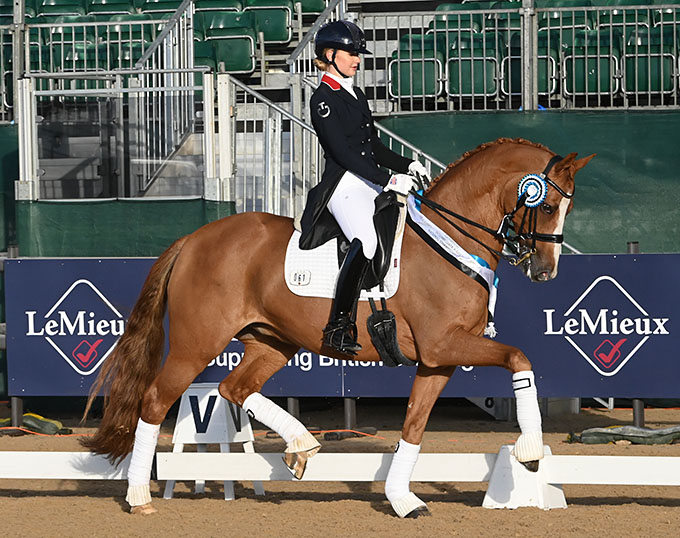 Their test was assured and polished – with the strength of the partnership really beginning to build. It was a strong start with two nines straight off for the halt and the eights then flowed throughout the test with Apache x Tango gelding building to a fantastic end with the final passage tour getting three nines and a ten and a square halt. It was a fine performance and certainly looked worthy of 80% but what did the judges think? The confirmed score was 79.11% - so near to that magic barrier.
Becky Moody and the super consistent Jagerbomb always give their all in every performance and today was no different, the Dante Weltino x Jazz offspring tried his best for his rider. The test earned 75.11% which would have been enough to take the coveted title in past years but today it would be enough for second spot. The just 8-year old Jagerbomb was the winner of the 2021 British 7-Yo Championship.
Third went to longtime leader Kathleen Kröncke but on her second ride, Uniteds Maerchen (by United x Heraldik xx), with 72.76%. She was eventual fifth with her first horse with Lewis Carrier and Diego V separating them on a score of 72.17%.
"Focus on Details"
After the prize giving, Annabella explained, "I was really pleased with him today, we took a small break from competing just to really focus on the details and fine tune everything and I think today it really paid off. I was really pleased with him especially in his passage as we got ourselves a 10! He just really gives me everything. I am so pleased with how we have continued to grow and improve. Of course, I always hope to well but I hadn't competed him for a while, so I wasn't sure if we'd be a bit rusty. As Inter II is still quite a new level for me, I just practiced it at home plenty and he felt amazing today."  
The Berkshire rider was quick to pay tribute to her trainer and mentor, Charlotte Dujardin, "I couldn't do it without her, she's been with me through every step of the way with Pumpkin. I just love having her support and improving under her guidance.  We might be stepping up to Grand Prix but we're just seeing how it goes, I would love to make that jump but it's a big jump and it's a new level for me, so we'll just train at home and see."
She may still be in youth teams, but Annabella has been to a few Nationals now but loves Somerford as a venue; "I think they have stepped up the show really nicely, obviously we were in one of the smaller arenas but the atmosphere was so amazing having everyone around supporting. It's always nice being on home ground like the Europeans, having everyone supporting and it makes it more fun."
Tips from Annabella
So what would be one of her tips for taking on a championship test?
"I always stick to the same process whether it is a small show or a big Championship like this I always try and be prepared as I can be and I like to watch my training videos so that I can really learn from my training, not only when I am training but also afterwards. Making sure to appreciate every moment and every up, and medal and every win and just making the most of it because it's not every day you win at the Nationals," she explained.
Well, such is the talent of this youngster, it's almost a certainty that we'll be seeing the name Annabella Pidgley on the winners roster for many more Nationals to come. 
-- Text by British Dressage, edited by Eurodressage - Photos © Kevin Sparrow
Results - 2022 British Dressage Championships
Prix St Georges
Judges: Richard Baldwin, Debby Lush, Nick Burton, Andrea Smith, Jenny Ward
1. Charlotte Dujardin -  Hilus MHB - 74.000 
2. Charlotte Dujardin - Alive and Kicking -  73.647
3. Becky Moody - Jack Diamond - 73.206
4. Henriette Andersen - Zackery - 72.794
5. Charlotte Dujardin - Hawtins San Floriana  - 72.412
6. Calum Whitworth - Damaris S - 70.912
7. Katie Bailey - Hillgrounds Wolkenhall - 70.706
8. Sarah Higgins - Geniaal - 70.382
9. Davey Harvey - Hawtins Rossana - 69.765
10. Katie Bailey - Izonik - 69.765
11. Sara-Jane Lanning - Hawtins Lirica - 69.618
12. Sarah Higgins - Samuel - 69.471
13. Nikki Barker - Iwan - 69.206
14. Hannah Esberger-Hancock - Iggy Pop BEK - 69.118
15. Lisa Anne Hopkins - Liss La Belle - 68.765
16. Fiona Brennan - De Angelis- 68.765
17. Harriette Williams - Creto - 68.588 
18. Sarah Higgins -  Sirius Black - 68.529
19. Daniel Bremner - Frederico -  68.118
20. Jennifer Martell - Integro -  67.324
21. Dannie Morgan - Loxley's Optimism - 67.176
22. Olivia Oakeley - Rock Diva - 67.000 
23. Alexander Harrison - MSJ Top Secret - 66.971
24. Andrew Gould - Active Solaris - 66.912
25. Angus Corrie-Deane - Jack Johnson - 66.735
26. Michael Eilberg - MSJ Dante - 66.588
27. Michael Eilberg - MSJ Distinction - 66.030
28. Natasha Rumble - Dragon Fly VCG - 65.706
29. Nikki Barker - Dan Icarus - 65.324
30. Angus Corrie-Deane - Don Darius  - 65.206
31. Elder Klatzko - Dior VIII  - 64.441
32. Beth Bainbridge - Toska Too  - 63.794
Lucy Cliff -  Gestion - EL
Intermediaire II
Judges: Leanne Wall, Fiona Wilson, Peter Storr, Debbie Wardle, Sandy Phillips
1. Annabella Pidgley - Gio - 79.118
2. Becky Moody - Jagerbomb  - 75.118
3. Kathleen Kroencke - Uniteds Maerchen  -  72.765
4. Lewis Carrier - Diego  -  72.176
5. Kathleen Kroencke - Kiriakos TSF  -  71.588
6. Lucy Amy - Rudy  - 69.677
7. Jess Bennett - JB Dukaat  - 69.618
8. Alice Oppenheimer - Headmore Bella Ruby  - 69.176
9. Alice Oppenheimer - Headmore Dionysus - 68.883
10. Michael Eilberg - Figlio  - 68.412
11. Kimberley Alice Siddorn - Dutch class  -  68.147
12. Fay Lai - Bengal  -  68.029
13. Samantha Thurman-Pickett - Gerardo  -  67.735
14. Jackie Siu - Ekitof  - 67.706
15. Sara-Jane Lanning - Sigurd  - 67.206
15. Serena Pincus - Sheepcote Corelator  - 67.206
17. Anne-Marie Cowan - Woodcroft Royal Charter  - 66.118
17. Daniel Watson - Aster Berlin  -  66.118
19. Anne Marie Bork Eppers - Zeilinger Firfod  - 65.676
20. Robyn Smith - Francesco  - 65.412
21. Fenella Quinn - Empire B  - 64.618
22. Lizzie Murray - Timolin  - 63.294
23. Zoe Sleigh - Finero - 62.912
Related Links
Emile Faurie is the 2021 British Grand Prix Dressage Champion
Hughes and Dujardin Win FEI Level Titles on Day Three of 2021 British Championships
Dujardin and Imhotep, 2021 British Small Tour Dressage Champions
Dujardin and Woodhead Win First Titles at 2021 British Dressage Championships
Becky Moody and Jagerbomb Win 2021 British Championship for 7-Year Olds
British Dressage Championships Move from Stoneleigh to Somerford for 2020-2022