2022 CDI Ludwigsburg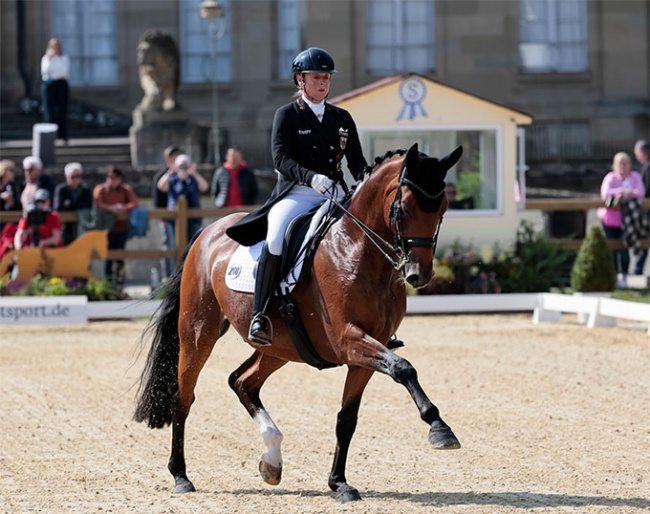 The second International Ludwigsburg Dressage Festival attracted approximately 12,000 visitors to Schloss Monrepos, and this number marks a significant increase from the premiere year in 2021 with around 8,000 guests over four days. Riders from 17 nations were present at the CDI4* in front of Schloss Monrepos. The top dressage event in front of the picturesque castle backdrop will return from 21 - 24 September 2023.
The final highlight on Sunday afternoon was set by the team bronze medallist of the World Championships, Frederic Wandres (Hagen a.T.W.) with Bluetooth OLD. With a personal best of 77.14 percent, the 35-year-old squad rider won the Grand Prix Special, presented by the City of Ludwigsburg as part of the ALMASED Wellness GmbH CDI4* Tour. Bluetooth OLD is owned by Hof Kasselmann and was bred by Gestüt Lewitz (Paul Schockemöhle). "It is a special connection - at the beginning I was a little sceptical. I took him over from a colleague and was not quite sure how far and how quickly we would connect," Wandres recalled the beginning of the human-horse partnership.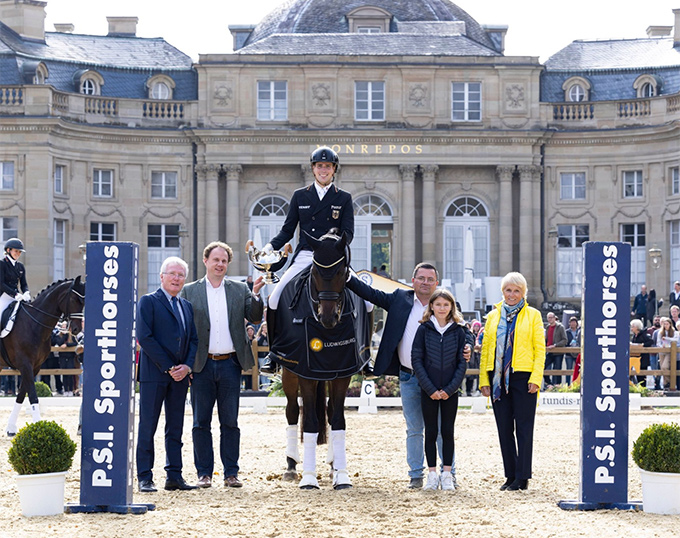 "Initially things were a bit rough around the edges but all of a sudden it clicked," said the Grand Prix Special winner, "and then I believed in the horse so much and I still do." Wandres is sure that there is more to come and is looking ahead to the 2023 European Championships.
Great trio at the front on Sunday afternoon
It was a real "Kasselmann podium" that lined up in the first three places: Behind Wandres were his colleagues Anna-Christina Abbelen, who has only been part of the Kasselmann team for a few months, with her own Sam Donnerhall and Evelyn Eger (Hagen a.T.W.) with Westminster, who is also owned by Hof Kasselmann. "It is simply nice that we see each other every day and that we can learn from one another," says 26-year-old Anna-Christina Abbelen. The Kasselmann team will continue practically the same way on Monday.
Compliments for the city and the organisers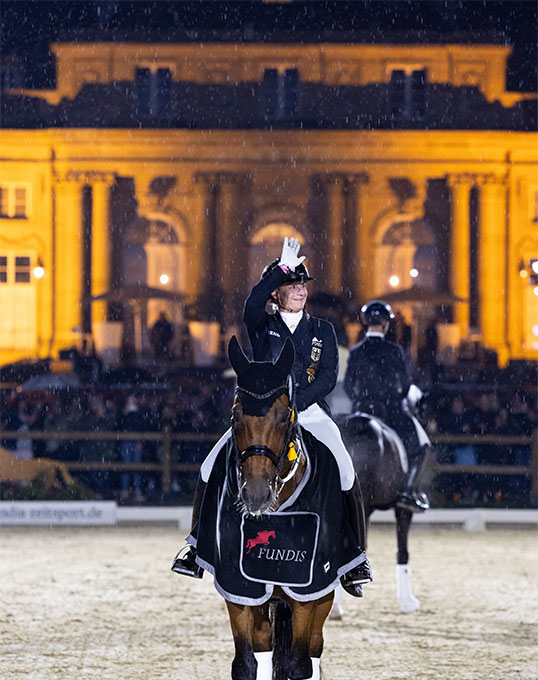 "Ludwigsburg is a sports city, known for basketball, dancing, water polo - but also for equestrian sport, and this is largely due to the commitment of the RV Ludwigsburg. There is a lot of warmth for the guests," emphasised Lord Mayor Dr. Matthias Knecht. The International Ludwigsburg Dressage Festival is another building block, a seal of quality for the city, but also for the surrounding region, because horse fans from all over Baden-Württemberg actually came to Monrepos Palace. Francois Kasselmann also had a huge compliment for the RV Ludwigsburg: "Without all the helpers from the club, this event would not have been possible. The feedback from the competitors to the show organiser was positive: "They were very happy here, the event has great potential," said Francois Kasselmann, "we still have to make one or two adjustments and then this should be one of the best events in Germany." 
Dr. Werner Hildenbrand had great news in store for the members of the riding club, who were in action with around 100 helpers over the four days of the event: "We have bought the floodlight system used here for the freestyle, so in future - when it gets dark earlier - our riders will still be able to ride outside under energy-saving LED light. We like to give something back to our club members for their great efforts."
Isabell Werth wins FUNDIS Grand Prix Freestyle on Saturday
A trio of medals made up the "podium" of the FUNDIS Grand Prix Freestyle. Isabell Werth, Benjamin Werndl and Dorothee Schneider were the top three in the last event of the competition on Saturday.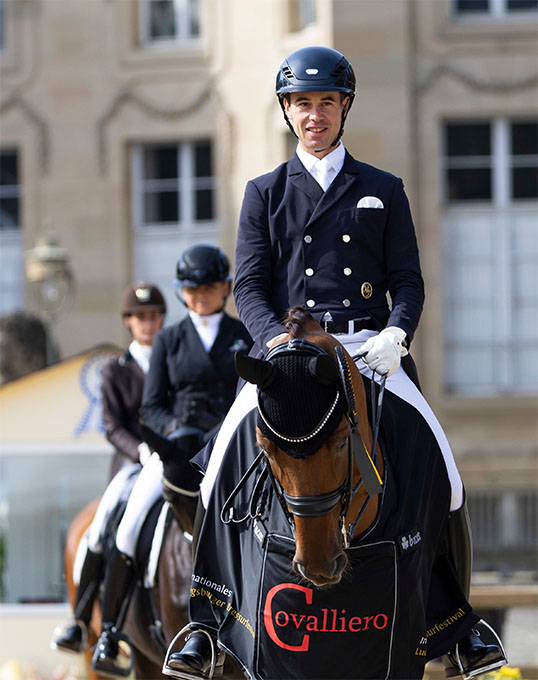 "I am very very pleased with him," declared a visibly satisfied Isabell Werth after her victory under floodlights in front of Monrepos Palace. Several thousand spectators persevered despite a few raindrops to witness the six-time Olympic gold medallist from Rheinberg with the 16-year-old Emilio. The audience was treated to an excellent and entertaining evening in Ludwigsburg, where four combinations alone achieved scores of over 80 per cent. 
Emilio's freestyle routine, which included a number of top difficulties, was awarded 84.12 per cent by the five judges. " Today he was also on and motivated. I haven't ridden the freestyle for a while and I had to find my way into the music," Werth said. On Sunday the successful rider will be in demand as a trainer in Ludwigsburg and will support her students.
Benjamin Werndl, who was part of the WEG bronze team in Herning, had saddled his 18-year-old Daily Mirror for the freestyle. "He was a bit shy at the beginning," Werndl had registered, "I don't know if it was the floodlights or something else, but he always fights for me and I am incredibly grateful for that. But I also realise that our journey together in competitive sport won't go on forever." Daily Mirror had been his "door opener" to the big stage, just as Unee BB once was for his sister Jessica. The elegant pair finished second with 82.15 per cent.
For Dorothee Schneider from Framersheim and First Romance, called Roman, the FUNDIS Grand Prix Freestyle was indeed the very first one, not to mention the first under floodlight, and it ended with 80.43 percent. "I think Roman is proud of himself," laughed Schneider, who already had the gelding with her at the Ludwigsburg Dressage Festival in 2021. "The freestyle was also only finished recently, but he does have his own ideas in the arena sometimes," Dorothee Schneider said, "so I was already curious to see what to expect." In this respect, First Romance surprised his trainer in the most pleasant way.
Schneider Wins Nurnberger Burgpokal Qualifier
Team Olympic Champion Dorothee Schneider (Framersheim) with Quaterline won the last ticket to be awarded for the NÜRNBERGER BURG-POKALS Final.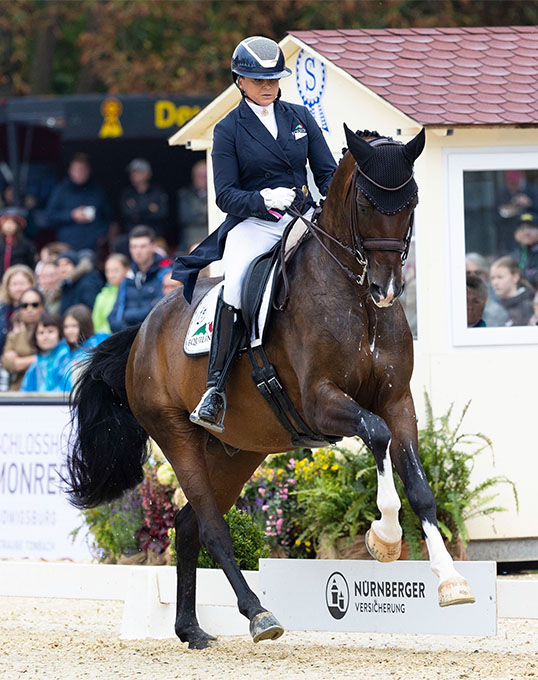 The fact that Dorothee Schneider is one of the most successful dressage riders in the world is always underlined by her training performance. At the International Ludwigsburg Dressage Festival, the Olympic and European Team Champion won the NÜRNBERGER BURG-POKAL Final Qualifier with the nine-year-old Quaterline by Quaterback with a score of 75.19 percent. "He has very, very good paces, but he is also a bit of a cheeky horse," said the trainer, "and I was a bit worried about that, because there is a lot going on here. But he was always with me. The magic word is confidence-building measures: If I signal to him from above that everything is fine, then everything is okay for him too." This development definitely took a little time, Schneider continues. Now there are just under 2.5 months to go until the NÜRNBERGER BURG-POKALS Final and Dorothee Schneider will have to manage her time well there, because in addition to Quaterline she has qualified another young horse for the Final in Frankfurt.
Ingrid Klimke (Münster) looked back on her second place with Freudentänzer by Franziskus with mixed feelings. Although they are not in the final, Freudentänzer is half owned by the rider and there is mutual agreement with co-owner Ariane Reinhart that the horse has great potential and will remain with the 'Reitmeisterin'. "He is a real Sunday horse, incredibly sweet, very fine and easy to ride," Ingrid Klimke enthuses about the nine-year-old dark bay stallion, a son of her World Cup horse Franziskus.
Peterka Wins Piaff Forderpreis Qualifier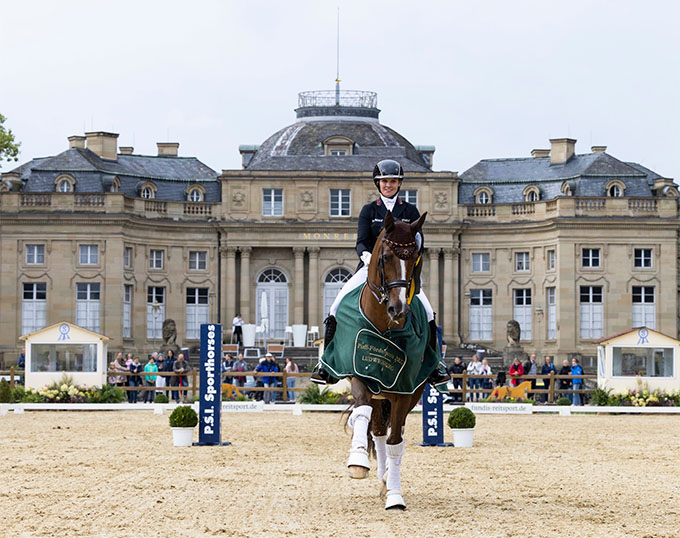 The 24-year-old Joana Peterka became the winner of the Piaff Forderpreis qualifier for German Under 25 riders. 
The impression that dressage is firmly in the hands of young women was delivered with great commitment by seven riders in the Piaff Prize of the Liselott Schindling Foundation for the Promotion of Dressage Riding. This Grand Prix for the U25 generation leads directly to the final of the series, which is dedicated to upcoming talents in Germany.
For the first time, the International Ludwigsburg Dressage Festival hosted this prestigious competition and saw Peterka from Mettmann with Davidoff ter Twincke as the winning pair. Peterka won this fourth qualifier with 69.79 percent. Pirouettes, traversals and piaffes were among the outstanding strengths of the performance. Behind the winner, Victoria Rohrmus (Schwäbisch-Gmünd) with Corelli de Luxe and Henriette Hachmeister from Hemmoor in Lower Saxony with Grafit were placed.
Pony Dressage Masters: Jana Reichl's premiere
"It was my first time," said Jana Reichl from RC Riedheim with unmistakable pride, because the 15-year-old and her pony Belagio won the Pony Dressage Masters at the first attempt as part of the Ludwigsburg International Dressage Festival, presented by the Pony Promotion Baden-Württemberg. In the final dressage freestyle class L, Jana and Belagio received 74, 20 percent. The young winner reflects on her success with mixed emotions: "What I like most about Belagio is that I can always rely on him, that he always fights for me and is motivated. Unfortunately, this is now also one of our last shows, because I will have outgrown my pony age by then."  Ann-Sophie Meyr (Eppelheim) with Mary Poppins and Leni Sophie Louise Wächter (Leonberg) and Ballack VM followed in second and third place in the Pony Dressage Masters Final.
-- PSI events' press release
Related Links
Scores: 2022 CDI Ludwigsburg
International Ludwigsburg Dressage Festival - Personal Best performances In Front of Enthusiastic Crowd
Dressage Festival with Flair: Ludwigsburg Marks the End of the 2022 Outdoor Season
Jessica von Bredow-Werndl Not Allowed to Compete at CDI Ludwigsburg Due to FEI Maternity Leave Rule
Jessica von Bredow-Werndl Aims for 2023 World Cup Finals in Omaha, First 2022 CDI Ludwigsburg
Jessica von Bredow-Werndl to Make Show Come Back at 2022 CDI Ludwigsburg
From Goose Bumps to World Cup Flair – Ludwigsburg features Dressage Sport in All Facets