KWPN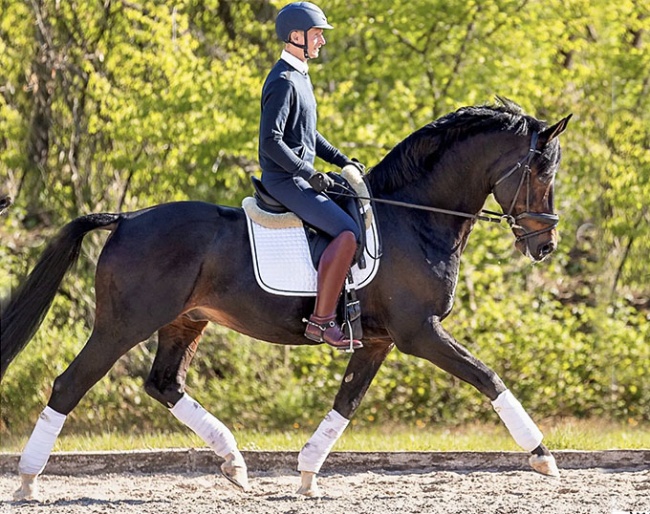 The KWPN licensed stallion Il Divo succumbed to sudden colic attack on 1 October 2022. He was 9 years old.
Il Divo was by Winningmood out of Aronia (by Oscar x Saros xx). He was bred by the late Gert Willem van Norel.
Il Divo got a pass at the saddle presentation to participate in the KWPN Autumn stallion performance test, which completed successfully with 81 points. He obtained his licensed status like that and ended up siring 54 registered foals with KWPN.
He was first trained by Jennifer Sekreve before Diederik van Silfhout took on the ride in 2019 and presented him in the KWPN Stallion Competition. He finished 9th in the finals in February 2019. After that he was pulled from sport and only stood up at stud at Van Norel's Pretendenthoeve.
Il Divo moved to André Hascher's yard in Walldorf, Germany,  around Christmas  2021 and his team picked up the training of the horse again. In July 2022 the stallion sold to Susanne Hellmann. Il Divo has no competition record in Germany.
"Il Divo was a loyal friend, a very sensitive horse with the best character," said Hascher. "He was a majestic, regal horse. He was a really outstanding horse with a heart of gold. We hoped to show this in the next years."
Hascher still has his son, Nuance (by Il Divo x Oscar x Apollonios xx) in the barn.
Photo © Christiane Slawik
Related Links
Jameson, In Style, Hermes Win Third Qualifier for 2019 KWPN Stallion Competition Finals
Inclusive and Iconic B, Winners of the 2016 KWPN Autumn Stallion Performance Test
Il Divo Gets Pass at Saddle Presentation for 2016 KWPN Autumn Stallion Performance Testing
Dutch Stallion Keeper Gert Willem van Norel Passed Away