2022 Japanese Dressage Championships
Yusuke Hasegawa became the new Japanese Grand Prix Championships at the All Japan Dressage Championships held in Gotemba, Japan, on 11 - 13 November 2022. 
The event featured a big tour Championship as well as some small tour classes. For the National Championships the results of the Grand Prix and the freestyle were totalled. 
Familiar Faces
Ten combinations competing in the Championship, but just two of them were current international team riders.
These team familiar faces did not saddle their top horses: last year's champion, 50-year old Kiichi Harada, rode his long-time equine partner, now 19-year old Egistar (by Cabochon x Kaiserstern xx) to finish fifth, while Shingo Hayashi saddled the 19-year old Polish warmblood Pavarotti (by Celt x Empik) to place seventh.
Olympic team horse Huracan (by Hotline x Don Schufro), shown in Tokyo by Hiroyuki Kitahara for owner Japan Racing Association, now contested the Nationals under new rider, Fumiyasy Nishiwaki. They were sixth
The Top Three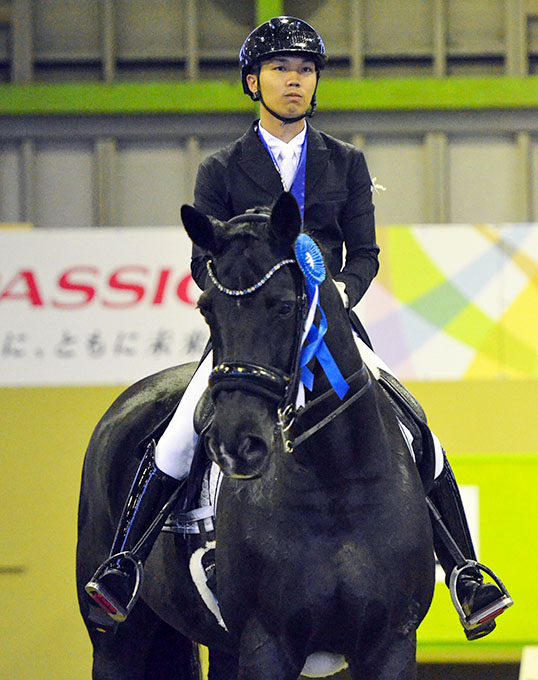 The winner and new national champion is Yusuke Hasegawa aboard Zingar Northside, an 18-year old Dutch warmblood by Gribaldi x Damocles. The pair was third in the Grand Prix with 65.370% and won the freestyle with 70.110 to achieve an overall winning total of 135.480 points. Hasegawa has only one CDI start on its record, the 2020 CDI Lier in Belgium, but on national level is gaining mileage on the schoolmaster. 
The silver went to Naoko Hieda on the 12-year old Westfalian Fantastico (by Flanagan x Contini) who collected the same silver medal at last year's championships. The pair posted a winning 65.739% in the Grand Prix and placed second in the Kur with 69.220% to total 134.959 points. 
The bronze was for Toshiya Kawabata on the 15-year old Westfalian Dynamic (by Diamond Hit x Florestan). They were second in the Grand Prix with 6(;(4"% and landed fourth place in the Kur with 68.590% to finish third overall with 134.133 points. 
Photo © Japan Equestrian Federation
Results - 2022 Japan Grand Prix Championships
1. Yusuke Hasegawa -   Zingar Northside    -    65,370     70,110  ----   135,480
2. Naoko Hieda -   Fantastico    -    65,739     69,220  ----   134,959
3. Toshiya Kawabata   - Dynamic 18    -    65,543     68,590   ----  134,133
4. Takumi Masumoto   - Don Angelo        -     69,090  ----   133,633
5. Kiichi Harada -   Egistar    -    64,478     68,185   ----  132,663
6. Fumiyasu Nishiwaki  -  Huracan    -    64,870     67,020   ----  131,890
7. Shingo Hayashi  -  Pavarotti    -    65,696     66,080   ----  131,776
8. Kazumasa Okada -   Rochedou    -    64,957     66,215   ----  131,172
9. Rishiru Yasuda -   Bernard U    -    60,217     63,965   ----  124,182
Naomi Asanuma  -  Jubilon    -    60,652   ----  R        ---- ... 
Related Links
Kiichi Harada Wins 2021 Japanese Grand Prix Championship
Yokoyama, Tahara, Yoshida and Kawabata Win 2020 Japanese Dressage Championships
New Comer Toshiya Kawabata Wins 2017 Japanese Grand Prix Championship
Kiichi Harada Wins 2015 Japanese Dressage Championship
Shingo Hayashi Wins 2014 Japanese Dressage Championships
Mieko Yagi Wins 11th Japanese Dressage Champion's Title
Yuko Kitai Claims 2012 Japanese Dressage Champion's Title