Germany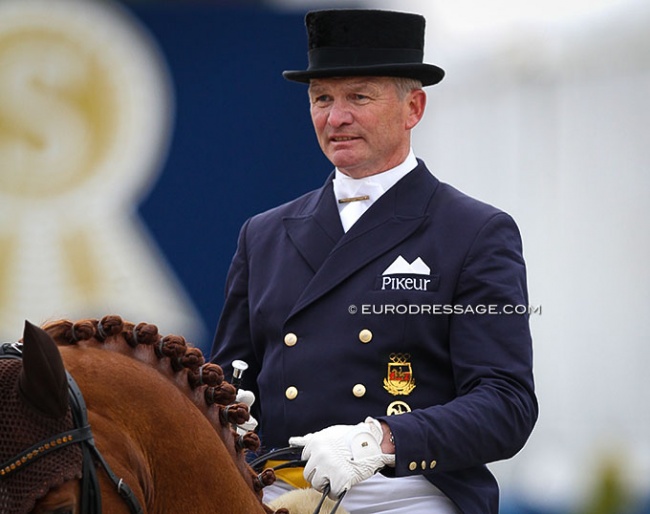 There were already several dark omens in the sky, but now it is official: Hubertus Schmidt has announced his retirement as a competitive dressage rider for health reasons. He will continue be strongly involved in dressage sport from the ground. 
Stop and Go
The first signs of a faltering health began in June at the German Dressage Championships from which Hubertus had to withdraw "due to an adductor problem."
Two weeks later at the CDI Kronberg, he scored 72.283% in the Grand Prix on Beryll and then had to withdraw from the kur for health reasons. 
In October he planned on competing at the CDI-W Zakrzow, but had to pull out from that show too for problems to his back.
Retirement
Dressursport Deutschland today announced Schmidt's retirement as a rider. 
"For some time now I've had health problems that keep me from riding," Schmidt told dressursport-deutschland.de. "That's why I decided to devote myself entirely to training riders and horses from the ground."
Decorated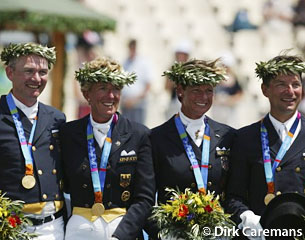 Schmidt is one of Germany's most decorated dressage rider, having trained 50 horses to Grand Prix level and achieved placings at Grand Prix level with around 80 different horses. 
Based at Fleyenhof in Borchen near Paderborn, Schmidt was initially trained by Hans-Georg Gerlach. He married his wife Doris at age 22 and graduated as a certified rider at age 23 with the Stensbeck plaque. He rode his first S-level test in 1984 and exactly 10 years later went down his first international centerline in Hamburg on Forzando (by Fortissimo x Pontius).
He was twice German Dressage Champion and five-times German Professional Dressage Rider Champion. 
Schmidt was decorated with the prestigious title of Riding Master in 2004.
Star Horses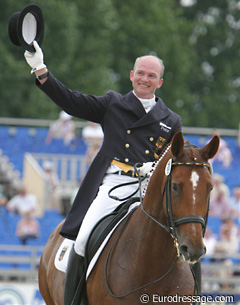 His first major FEI level horses were Tiamo Trocadero, Ruben R, Axel, Aquarell and My Fair Lady. However his career making dressage horse was Wansuela Suerte who took him to team gold at the 2004 Olympics, 2005 European Championships and 2006 World Equestrian Games. The pair also won the individual silver medal at the 2005 European Dressage Championships in Hagen. Wansuela's planned successor, the home bred Forest Gump; unfortunately died prematurely.
He rode in four World Cup Finals on Hinnerk (2009 - 11th), on Aramis (2005 - 8th), Wansuela Suerte (2004 - 3rd) and on My Fair Lady (2000 - 6th). The closest he came to German team selection in the 2010s was aboard Trakehner Imperio. They were the travelling reserves for the 2016 Olympic Games in Rio de Janeiro. 
Schmidt has several loyal sponsors supplying him with top quality dressage horses, for instance Pespi cola heir Nancy Gooding of Plum Creek Hollow (Denoix, Flynn, Weltissimo, etc.) and Gut Neuenhof (Escolar, Escorial, etc).
Star Trainer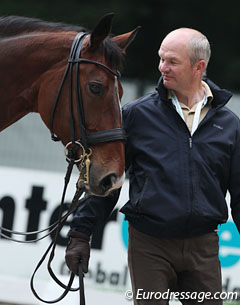 As a trainer he coached numerous students to international Grand Prix level, including Emma Kanerva, Mieko Yagi, Minna Telde, Sandy Phillips, Marcus Hermes, Suzanne Erricson, Johanna Brotherus, Patrik Kittel, Dong Seon Kim, Nicole Smith, Hiroyuki Kitahara, Anush Agarwalla, Christina Boos, Katharina Hemmer, amongst many others. 
Schmidt also has several American students that he expertly guided to the highest level in dressage sport, such as Cesar Parra, Oded Shimoni, Todd Flettrich, and Devon Kane.
Photo © Astrid Appels - Dirk Caremans
Related Links
Eurodressage Photo Gallery: Hubertus Schmidt
Hubertus Schmidt Pulls Out of 2022 German Dressage Championships
Hubertus Schmidt Adds Rudi as New Young Talent to his Barn
Hubertus Schmidt Says "Easy Does It" at 2007 British Dressage Convention
Hubertus Schmidt, A Favoured Clinician in Florida
Hubertus Schmidt Buys American Small Tour Horse Bojing
Classical Dressage by Hubertus Schmidt
Schmidt Wins Silver at 2005 European Dressage Championships
Hubertus Schmidt's Wansuela Suerte Passed Away
Hubertus Schmidt Honored as "Riding Master"
Hubertus Schmidt Wins CDI Grand Prix Special And Gets Selected for Olympic Team
Hubertus Schmidt wins 2004 German Professional Dressage Riders Championship