The Netherlands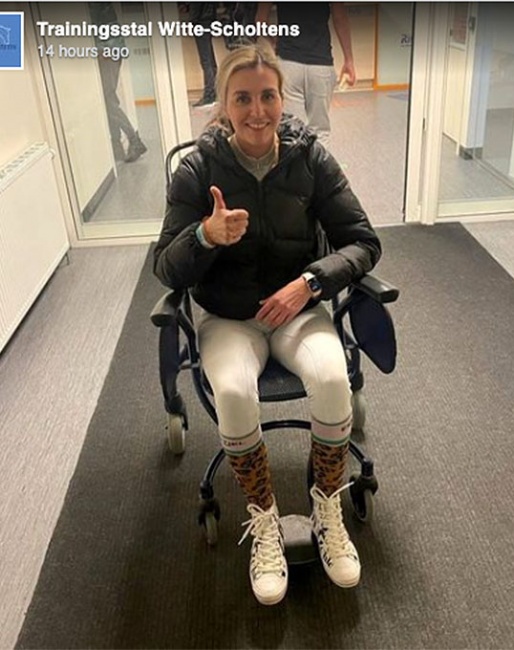 While the 2023 KWPN Stallion Licensing were a big success for Dutch team rider Emmelie Scholtens and her partner Jeroen Schotte, the event was also the scene for some misfortune for the Olympic rider. 
Las Vegas
Emmelie was entered to compete the rising 7-year old stallion Las Vegas (by Ferdeaux x Wynton) in the ZZ-L division of the 2023 KWPN Stallion Competition Finals but was forced to withdraw. While mounting the horse in the stable area, the horse slipped on the carpet, which caused Emmelie to fall.
The first aid people helped her out straight away but as a precaution she was taken to the emergency room with a painful knee for a check-up.
Indian Rock
Las Vegas was therefore withdrawn from the show. Also her 2022 World Championship ride Indian Rock was scheduled to make an appearance in Den Bosch, but he was pulled too. 
According to KWPN, the horse is injured. "We truly regret it, but Indian Rock is unfortunately not 100% fit," she stated. 
A silver lining to the weekend is that Emmelie and Jeroen presented no less than four of the seven premium stallions at the licensing, two of them are in their ownership. One of them they sold to Andreas Helgstrand. 
Related Links
Seven Colts Named Premium at the 2023 KWPN Stallion Licensing
Scholtens and Indian Rock Make Winning Small Tour Debut at 2021 CDI Exloo, Desperado Not Fit
KWPN Licensing Champion Igor Renamed Indian Rock
Emmelie Scholtens Takes Over Ride on Las Vegas