2023 CDIO Wellington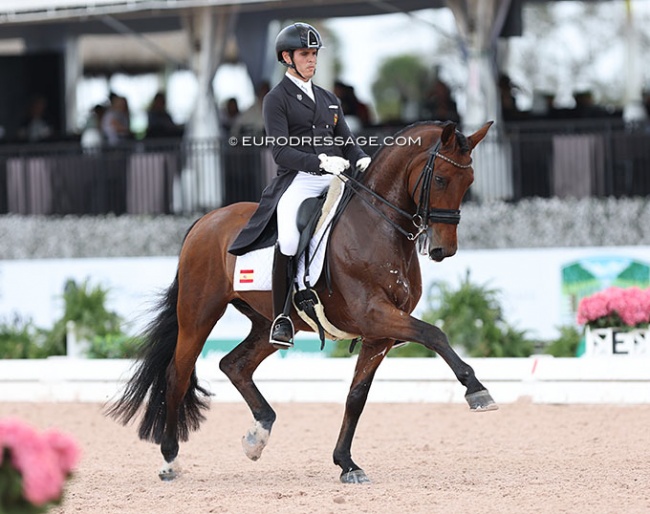 - Text and Photos © Eurodressage (this article expresses Eurodressage's' eye-witness account and opinion about the competition).
The 2023 CDIO Wellington took a flying start on Thursday morning 23 February 2023 with a 3* Grand Prix class featuring riders from 12 different nations. It was 28-year old Spanish professional Pablo "Pau" Gomez Molina who captured the victory on the PRE bred Ulises de Ymas.
While the FEI Nations Cup series started today with the first round - the Prix St Georges and CDIO 3* Grand Prix - in the afternoon, it was in fact the morning session that turned out to be the most exciting one to watch. Judged by William Warren, Agnieszka Majewska, Sven Rothenberger, Christof Umbach, and Cesar Torrente, the 3* Grand Prix produced only two rides out of 30 with a score over 70%. There was plenty of horse quality in the class, but mistakes, tension and other issues kept the majority of the riders from cracking the 70% barrier. 
Spanish Triumph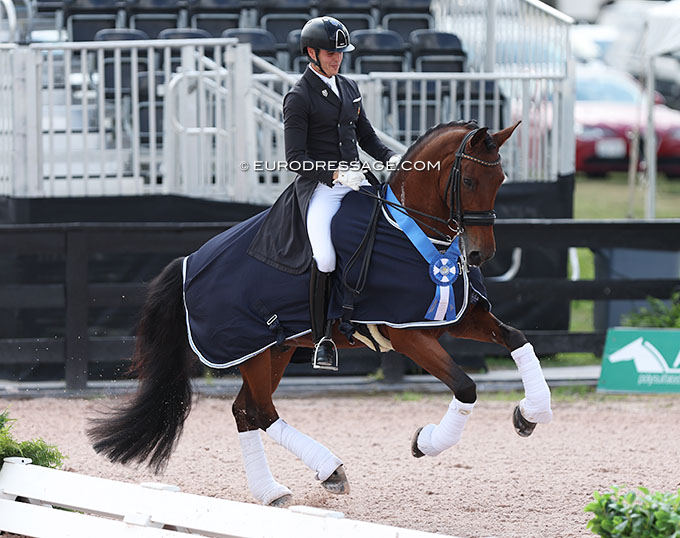 Pablo Gomez Molina is a well known face in Florida, having trained and competed there since his young riders' days, starting and international career in 2015. As a fixed member of the team of Yeguada de Ymas, Pau has only recently broken into the senior ranks after his YR and Under 25 time. Aboard the  13-year old PRE gelding Ulises de Ymas (by Seni Indio x Superior II), bred and owned by his long-time sponsors and employers Javier Bacariza and Cristina Danguillecourt, he is now hitting the big time and made a big impression today. 
With Spanish Olympian Jose Daniel Martin Dockx by his side, Pau presented the bay gelding with much flair and energy. Ulises de Ymas is all what the modern PRE horse should embody: the conformation of the Spanish horse with the quality and scope in his gaits of a warmblood. Even though the horse was often tight in the neck or tilted to the left, he presented the horse with much rhythm and collection in the piaffe and passage and rode small pirouettes. His score of 71.087% proved to be the winning way.
"I'm really happy with the test," stated Molina. "It was warm today, so I was a little bit worried with the warm-up because we didn't do much; we just worked on a tiny bit of everything. We had a little more power in certain movements but overall he was really with me and I'm happy with the way he behaved and let me ride him. To win here is like a dream come true. I started riding [Ulises de Ymas] when he was five years old, and we always thought he was going to be good enough for Grand Prix, so we took our time. He loves to work, which I think is the most important thing. We still have a lot of things to improve on but at the end of the day you work every day for this."
Too Hot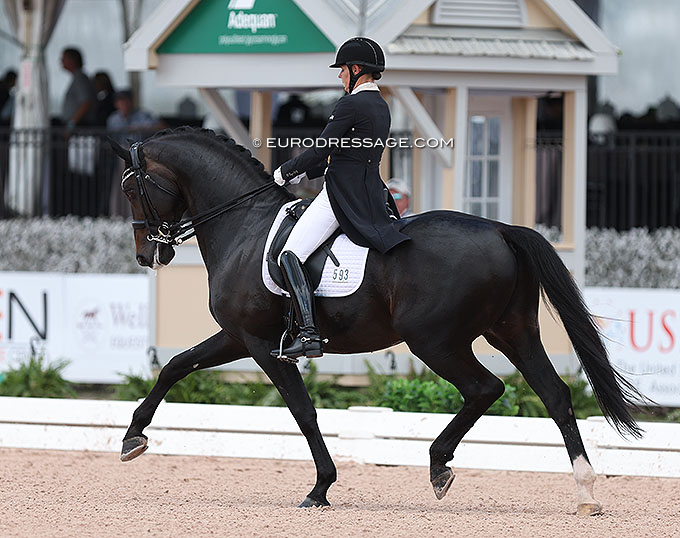 The weather seriously heated up today and by noon temperatures had reached 30 C° which affected the performances of some of the horses.
German based British Susan Pape showcased a rather tired KWPN stallion Eclectisch (by Zenon x Olivi), owned by Harmony Sporthorses, and had mistakes in the two tempi changes. The impressive stallion produced nice trot and canter extensions, good half passes, but the hindlegs trailed in the passage and in piaffe he didn't really want to sit and take the weight. The stallion has been on better form. Four judges were optimistic but German/Dutch Olympian Sven Rothenberger landed on 68.913% for this performance while the total average was 70.587% for second place
American Trio
Three Americans ranked third to fifth. All three of them had their qualities but today were unable to hit the target of 70%.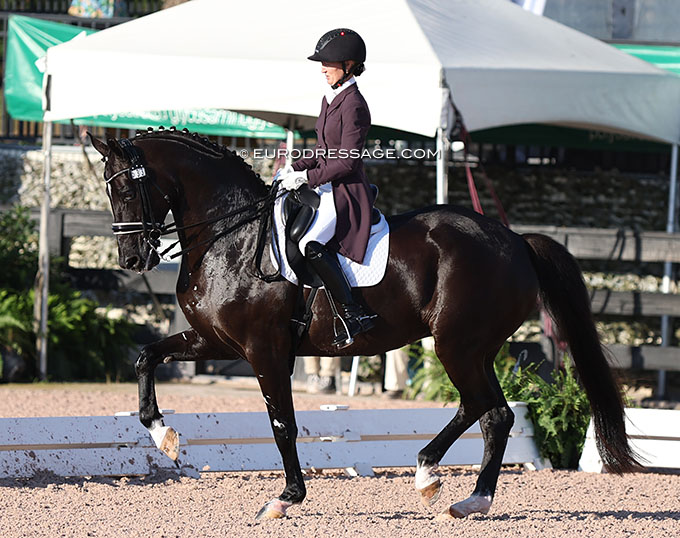 Anna Marek and Janet Simile's 13-year old KWPN bred Fire Fly (by Briar Junior x OO Seven) were the penultimate pair to go and that always helps to push the score up as the judges have a large group to compare scores with. The bay was a bit phlegmatic in the trot half passes and lacked ground cover in the collected walk but scored well on the canter extension and flying changes every second stride. They were rewarded with 69.500% although marks ranged from 67.283% to 71.304%. 
Alice Tarjan certainly has one of the most talented horses of the pack to ride aboard Candescent, a 13-year old Hanoverian by Christ x Falkenstern, but the flashy black did not relax properly in the extended walk and was "hand-held" throughout the test. Still the horse showed brilliant talent for piaffe and passage and there is certainly more in the tank. Today they landed fourth place with 69.152%
One to watch for the future is the Hawaiian Lehua Custer aboard Wendy Sasser's American bred KWPN F.J. Ramzes (by Juventus x Rampal). The pair produced a ride that was well put together, with a consistent bridle contact, but overall there needed to be a bit more fine-tuning. In the trot work there were too many passagey steps and the piaffes had much potential but Ramzes should come up more in the withers. The one tempi changes were straight and the second pirouette was better than the first one. They posted 68.869%
Plenty to Watch
There were plenty of nice pairs to be seen in this test.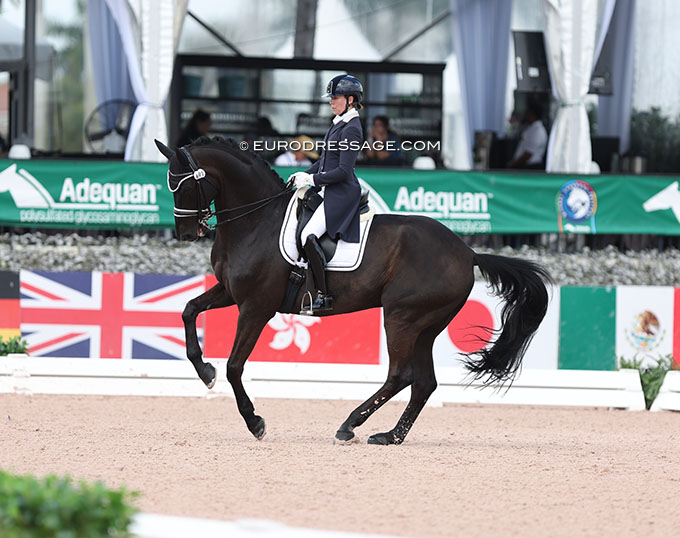 Belgian Laurence Vanommeslaghe hasn't shown her number one Edison (by Johnson) since November 2022 after declining Belgian team selection for the 2022 World Championships in Herning, but with her second horse Havalon (by Hotline x Wolkentanz II) she is competing in her second CDI of the 2023 Global Dressage Festival. The tall black gelding has a wonderful piaffe-passage, but overall needed to have the nose more out. He curled himself in the extended walk. The two tempi changes and zig zag were well ridden. They posted 68.609%
Sarah Daehnert and the 15-year old Danish bred Showhit (by Sunset Hit x Bogelys Camino) showed much promise and regularity in the piaffe-passage work, Melissa Taylor and her American bred Dixie WRF (by Jazz x Zeoliet) showed much progress since last year, with more consolidation in the Grand Prix movements and a better musculature on the horse, but there were too many mistakes and the horse leans too much into the curb, still (64.848%).  A rider with a lovely, soft and steady contact was Carly Taylor-Smith on the American bred Rosalut NHF (by Rosenthal x Salut).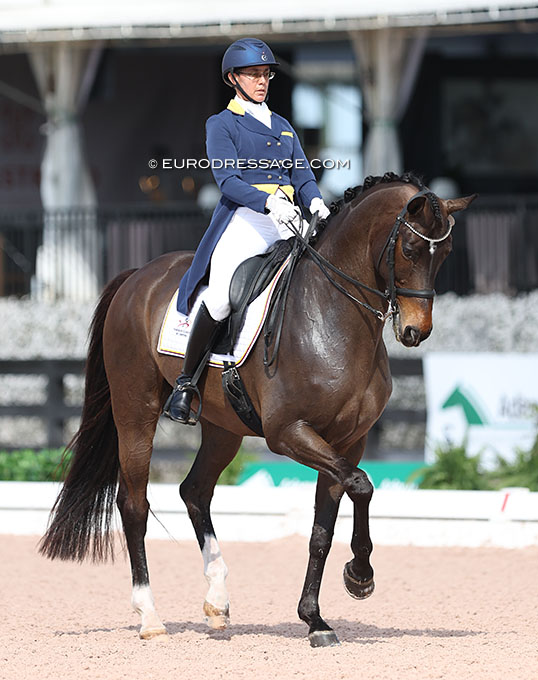 Colombian Carmen Franco made a more than respectable international Grand Prix debut on the 14-year old Danish bred Vangens Star-Light (by Skovens Rafael x Midt West Ibi Light), sitting nice and quiet in the saddle and riding through all Grand Prix movements with much concentration and polish. The horse could have been more engaged from behind, but overall the piaffe and passage were lovely and sweet. They got 64.131%
Canadian Mathilde Blais Tetreault probably presented one of the highest quality Grand Prix horses in the field. Her liver chestnut Fedor (by Johnson x Negro) has a super expressive piaffe and passage but it all was a bit hectic and the horse regularly lost his balance and there many mistakes. They finished on 60.609%. Pity. 
Into the Deep End
Of course all eyes today were on Korean Dong Seon Kim, who recently bought two world famous Grand Prix horses, Bohemian (Cathrine Dufour) and Rossetti (Henri Ruoste). Instead of taking his time to get acquainted with his horses and first getting their feet wet at national level, the brave Kim jumped into the deep end and entered both for a CDI as debut show. The Danish warmblood Rossetti (by Romanov x Midt West Ibi Light) was entered in the 3* Grand Prix in the morning, while Bohemian (by Bordeaux x Samarant) was to start in the CDIO 3* in the late afternoon.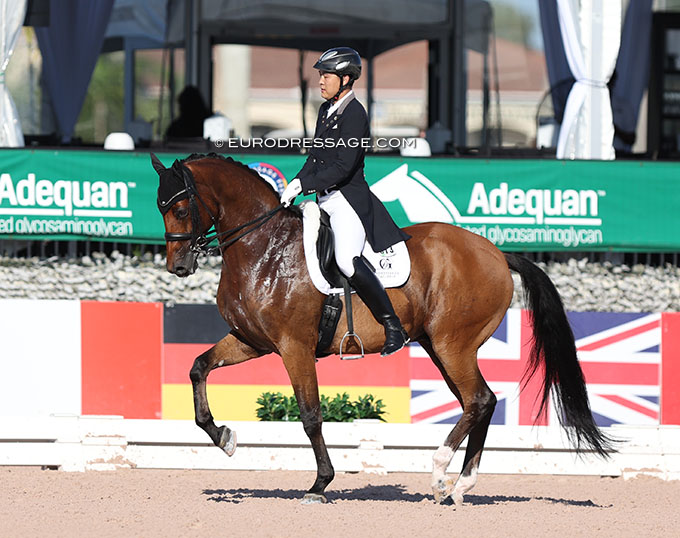 The highly sensitive and athletic Rossetti is brimming with quality and has a spectacular piaffe-passage as well as amazing, uphill tempi changes, but the horse and his rider were not yet on the same wavelength today, clearly revealing how very new and green their partnership is. The horse was tense from the start, did not always understand his rider's aids, and several times dropped out of the canter. He got visibly more wound up towards the end of the test, which made Kim decide to retire.
Later in the afternoon Kim warmed up Bohemian for the CDIO Grand Prix under the watchful eyes of interim trainer Christoph Koschel, but right before their starting time he decided to withdraw. 
Photos © Eurodressage - No Reproduction ALLOWED - If you are interested in photos for social media use, send us an email. 
Related Links
Scores: 2023 CDIO Wellington
Photo Report: All Systems Go for 2023 CDIO Wellington
BLOG - Februaries in Florida - Airplane Mode
BLOG - Februaries in Florida - Sun & Fun with Horses as Icing on the Cake