Danish Warmblood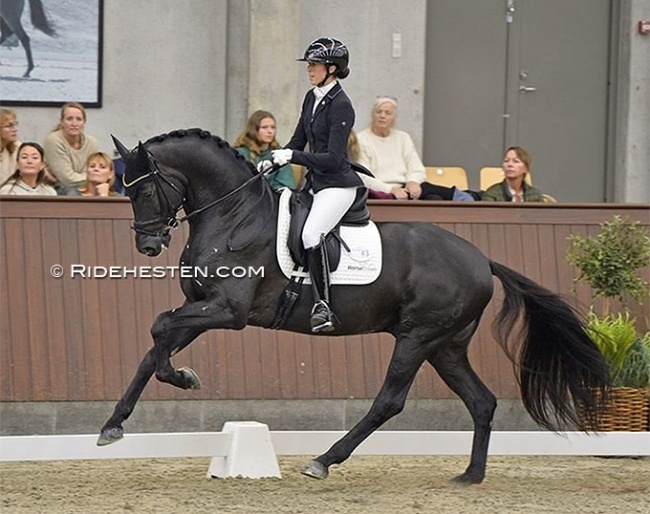 Movie Star, the 7-year old Oldenburg stallion who got approved for Danish warmblood breeding at the 2023 DWB Stallion Licensing in Herning on 10 March, does not appear as approved on the Danish warmblood website.
The stallion lies in the heart of the storm currently raging within the core management of Danish Warmblood.
From Germany to Denmark
Movie Star is a Morricone x Blue Hors Bentley x Rubinstein x Futuro offspring, bred by Ines Lohmann in Germany and initially owned by  Friedbert Schaul. He was briefly competed by David Taylor in 2019 at the Oldenburg young horse championships in Rastede. 
The black was first licensed in a private approval held by the Oldenburg society in January 2020 and fulfilled his HLP criteria for Germany by competing in the 2021 Danish Young Horse Championships. 
Norwegian Siri Evjemo-Nysveen purchased the stallion at the 2020 Oldenburg Spring Elite auction for 250,000 euro and put the horse in training with Severo Jurado Lopez in Denmark. He piloted the stallion to a fourth place in 2021 Danish Young Horse Championships. 
In 2022 Carina Cassoe Kruth, wife of Danish warmblood director Casper Cassoe, received Movie Star in training at her stable and she took the stallion to silver at the 2022 Danish Young Horse Championships.
Approved - Not Approved
At the 2023 Danish warmblood stallion licensing in Herning in March, Movie Star was presented by Kruth under saddle in the "older stallion" category for DWB approval.
The press release stated that the stallion was approved "based on sports results" but with the obligation to do a 5-day observation test to check his character and stable behaviour for vices in order to be officially approved. This test usually happens directly after the licensing in Herning.
Allegedly Movie Star began the 5-day testing at Torben Frandsen's Tørring riding center, where rumour has it he showed signs of roaring, a (genetic) defect not accepted in Danish warmblood licensed stallions. Nowhere has it been officially printed that this observation test happened, that the stallion began it, and what the results were. 
However it could explain why Movie Star is absent from the 2023 licensed stallion list on the Danish Warmblood website, while all other stallions approved at the 2023 licensed in Herning are listed there. For instance the 6-year old Hesselhoj Double Up, who got a 1-year approval for breeding at the same time as Movie Star, is included on the 2023 list. "He need(s) to make it (the testing) in the fall when the young stallions do the 35 days test," Double Up's owner told Eurodressage.
Movie Star, Source of All Turmoil within Danish Warmblood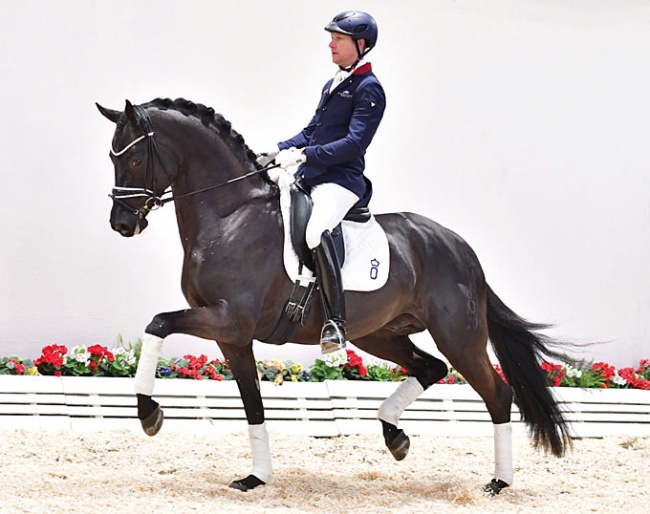 Last week the surprising news was published that stallion licensing committee Karina Christiansen parted ways with Danish warmblood. Allegedly she got fired after a serious clash of opinion with a DWB board member.  Shortly afterwards, three other licensing committee members resigned from their post. 
On 13 April 2023 Eurodressage inquired with Danish Warmblood about the licensed status of Movie Star and the press officer replied, "the stallion Movie Star 29 has not yet completed his 5 days observation test."  Eurodressage asked for the dates of the planned 5-days test, but no longer received a reply. It was put under pressure through mutual contacts to "drop the story."
Eurodressage contacted Torben Frandsen, who supervised the observation test. He declined all comment and said "I refer to their (DWB) answer." Main board member Per Springborg recommended Eurodressage to contact president Jan Pedersen for questions.
Pedersen showed little worry over the turmoil and resignation of three of the DWB dressage licensing committee after Christiansen's departure. He said, "we have many, very competent judges and riders here at home, and I am convinced that we can put together a strong team that can help support the positive development in Dansk Warmblood." 
Eurodressage also contacted resigned stallion committee members Bjarne Nielsen and Dennis Fisker. Neither provided a comment or reply on the situation (Editor's note: twenty minutes after publication of this article, Nielsen commented "I am no longer a member of the grading committee and for that reason I cannot comment on this matter.") Eurodressage contacted Movie Star's owner Siri Evjemo-Nysveen, but received no reply. 
Hint on Social Media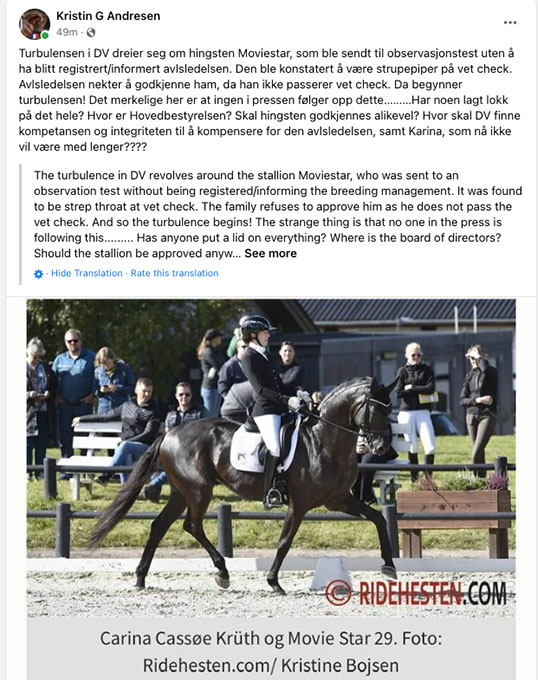 Danish warmblood stallion owner Kristin Andresen posted on Facebook on 18 April that Movie Star is at the heart of the whole scandal within Danish warmblood which allegedly led to the firing of Karina Christiansen and subsequent group resignation of three licensing committee members.
She publicly wondered, "is someone putting a lid on all this? Where is the board of directors? Should the stallion be approved at all? Where is DV going to find the competence and integrity to compensate for that derailment, as well as Karina, who now doesn't want to participate anymore."
Another DWB Press Release
The Facebook post of Andresen as well as further speculation on social media channels triggered Danish Warmblood to publish an explanatory press release today, 19 April with their version of the facts. 
President Jan Pedersen put his name under the press release.
"On March 29, breeding consultant Karina Christiansen was dismissed as a result of several personnel matters over a longer period. The decision to dismiss Karina Christiansen was made after careful consideration by the main board. It did not happen because of a single incident, nor as a result of cooperation difficulties between Karina Christiansen and Casper Cassøe alone, as is otherwise alleged from several sides. Dansk Varmblod asks for your understanding that, based on general Danish legislation regarding personnel management, we cannot comment further on an unfinished personnel matter - this also out of respect for Karina."
According to the press release, Movie Star was "withdrawn prematurely" from a 5-day observation test they told Eurodressage the stallion "has not yet completed."
The press release reads, "the stallion was awarded in Herning on the condition that it completed and passed a 5-day observation test. The stallion was withdrawn from the test prematurely for reasons that we unfortunately cannot get into, as it is an unfinished relationship between Dansk Varmblod and the stallion's owner."
DWB added that the stallion is not approved for breeding.
"However, the status is that the stallion has not passed his test and is therefore not approved for breeding in Danish Warmblood either. However, Dansk Varmblod wishes to point out that all the rules for judging stallions have been followed."
Danish Warmblood also states that the resignation of Nielsen, Fisker, and Sorensen is not connected to Christiansen's departure.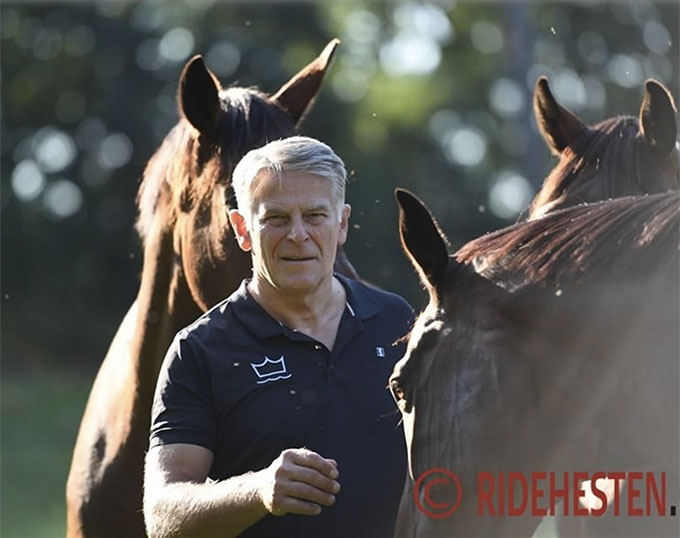 "We believe it has become necessary to emphasize that two of the three departing breeding management members had already considered quitting prior to the termination of the Breeding Consultant. So the pending rumors and claims that a collective resignation has been handed in are not correct."
Christiansen has always been praised and known for her strict application of the rules and ethical approach to her job in the important function of DWB breeding consultant and stallion licensing committee member.
Pedersen said that, "for a long time there have been certain tensions between the main board and breeding management. It has been a matter of disagreement at the interface between breeding and the political / economic."
Pedersen concluded, "The many half-truths and misrepresentations that currently abound on the web are harming the network. It is our hope that with this announcement we remove the breeding ground for further rumours."
The press release can be read in full here. 
On Saturday 22 April at Hotel Legoland in Billund, Danish Warmblood will be holding its annual Delegates' General Assembly, where these happenings are expected to be the central topic of discussion.
Photos © Ridehesten - OLD Art
Related Links
Danish Warmblood Parts Ways with Breeding Consultant Karina Christiansen
Nielsen, Sorensen, Fisker Resign from Danish Warmblood Dressage Breeding Department
Eleven Older Stallions Approved at 2023 Danish Warmblood Stallion Licensing, Svalegårds Hot Driver Champion
My Vitality, Hesselhoj Down Town, Sweetnes, Elverhojs Raccolto Win 2021 Danish Young Horse Championships
Movie Star, Top Seller of 2020 Oldenburg Spring Elite Online Auction
Morricone, VTV Oldenburg Dressage Stallion of the Year 2021