2023 Swedish Dressage Championships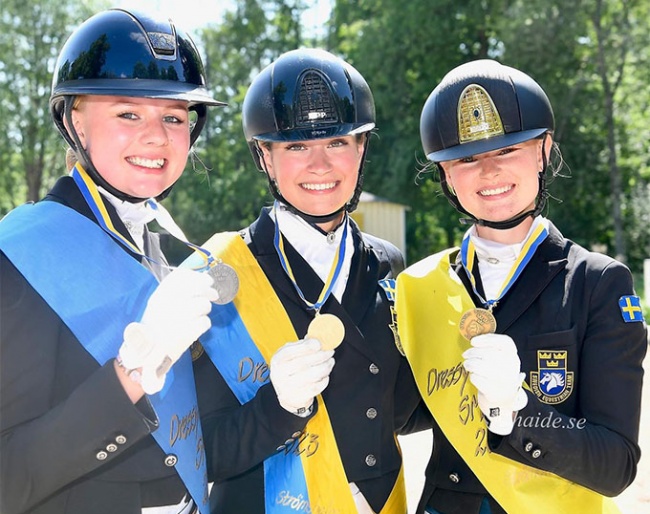 Children rider Ronja Kardos, junior Laura Laustsen, young rider Hedda Thunberg, Under 25 rider Jennifer Lindvall and senior Patrik Kittel became the winners of the 2023 Swedish Dressage Championships at Grand Prix level in Stromsholm (SWE) on 2 - 6 June 2023. 
The five division champions made history in a rather unique way by all renewing their title from 2022. All riders competed in three rounds to determine the titles.
Youth: Kardos, Laustsen, Thunberg
In the children division Ronja Kardos not only renewed her title but only two weeks ago she won the 2023 Swedish Pony Championships as well. In Stromsholm she saddled the 9-year old Holly's Final (by Floricello x Bernstein) and was a league of her own winning all three rounds with 82.875%, 84.615% and 75.218%. She placed no less than 25% (!!!) ahead of the runner-up. 
"He is like a big teddy bear and always does exactly the right thing," said Ronja. "This gold means a lot. We have trained him ourselves and now we feel ready for the championships this summer."
Junior rider Laura Laustsen was undefeated on the 16-year old Westfalian gelding Fairy Tale (by Friedensritter x Rosenkavalier). She successfully took over the ride from Ellen Linden Urnes in 2022 and has been a double champion since, this year scoring 72.828% in the team test, 73.186% in the individual and 77.170% in the freestyle. 
"It is absolutely fantastic to be able to compete at Strömsholm," said Laura. "Fairy Tale is my favourite horse and the venue here is very special. It has been around for a long time."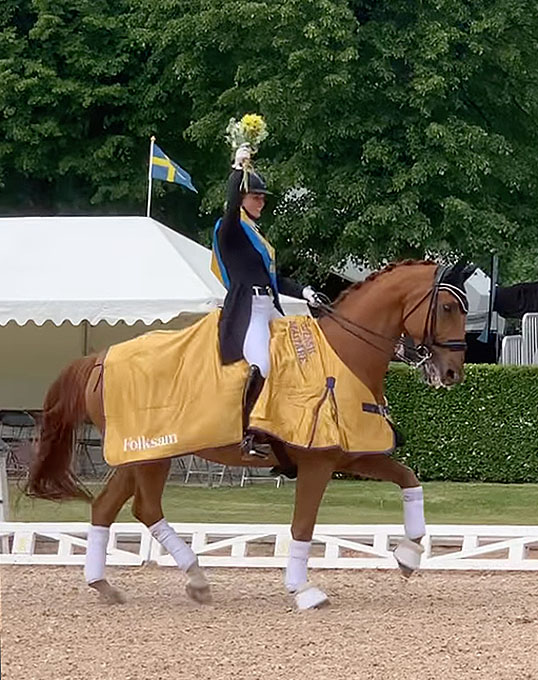 Young rider Hedda Thunberg and Lyndal Oatley's former Grand Prix horse Diva, a 15-year old Swedish mare by Richfield x Silvano, have been unbeatable in their age group and it was no different at the Nationals. She won the Prix St Georges with 74.363%, the individual test with 75.490% and the freestyle with 78.570%. 
"It's so freaking big, it's been three fantastic days with three individual personal bests. I'm in shock," said a thrilled Hedda.
Under 25: Jennifer Lindvall
Jennifer Lindvall and her 19-year old Danish gelding Midt-West Casino (by De Niro x Rubinstein) scored her second, consecutive U25 title but she had her challenger, last year's bronze medal winner Evelina Soderstrom and the 16-year old Swedish gelding Cilantro (by Johnson x Hertug), breathing down her neck. Lindvall won the first round with 68.804% but was second in the freestyle with 73.305%. However, her overall total was the highest and good for gold. Soderstrom finished with silver after posting 67.393% and 74.335%. The bronze went to Cecilia Bergakra aboard the 14-year old Swedish bred Izack (by Zack x Donnerfly). They scored 68.162% and 71.885%
Seniors: Patrik Kittel Takes Number 10
The senior championship brought twenty-six combinations to Stromsholm with Patrik Kittel loyally on the scene to fulfil the target he has publicly set: break the record of Ulla Hakanson of holding the most titles. Also "loyally" and regrettably absent from the Nationals were Swedish team riders Therese Nilshagen and the Ramel sisters who never seem to make it a priority on their schedule to show up for this Swedish staple. World Cup finalist Johanna Due Boje opted to breed her mare Mazy and withdrew.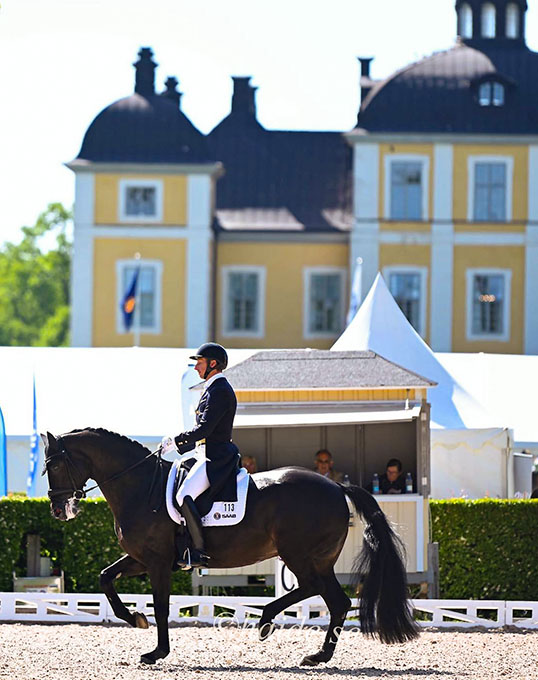 Riding in a snaffle which is allowed up to national Grand Prix level in Sweden, Kittel rode his own and Arlette Jasper-Kohl's 11-year old Westfalian mare Forever Young HRH (by Furst Fugger x Don Bosco) to his 10th title with 76.152% in the Grand Prix and 82.600% in the Kur. 
"It's good to be in the double numbers," Kittel said about his 10th title. When asked why he chose the snaffle bit over the double bridle, he explained. "I think it is good to be able to compete in the double bridle internationally, but it is also very good for educational purposes to ride in the snaffle nationally. I thought why not, you get a different contact and can work a little on different things. She goes great in both so it's just a matter of enjoying the opportunity.
Tinne Vilhelmson Silfven and Antonia Ax:son Johnson's 14-year old Holsteiner Devanto (by De Chirico x Lorentin) landed in a comfortable second place after earning 72.435% in the Grand Prix and 77.625% in the freestyle.  Emma Jonsson and the 12-year old KWPN bred Gerion (by Jazz x Don Primero) were the clear bronze medal winners with 72.261% in the Grand Prix and 75.060% in the freestyle. 
Photos © Haide Westring - private
Results - 2023 Swedish Dressage Championships - Stromsholm
Children 
1 Ronja Kardos  - Holly's Final  - 84.625 75.218 --- 242.718
2 Milla Blomqvist  - Sandro  - 76.200 71.428 --- 217.432
3 Meja Kinde Ljungh  - Rondo  - 74.725 66.023 --- 215.605
4 Agnes Christensen  - Narnia  -  71.947 72.825 70.270 --- 215.042
5 Lisa Ekdahl  -  Hello Chello B  - 73.732 70.000 66.858 --- 210.590
6 Ingrid Albinsson  - Charam  - 71.197 70.575 67.442 --- 209.214
7 Erla Argus Grankärrs  - Niels P.J.  - 66.804 69.875 69.664 --- 206.343
8 Ella Jerlin Föreningen  - Madcap of Thille  - 64.107 70.950 65.949 --- 201.006
9 Alva Gustafsson  - Cinova - 68.215 65.000 64.435 --- 197.650
Junior Riders (top 15)
1  Laura Laustsen  -  Fairy Tale - 72.828 73.186 77.170 --- 223.184
2 Maja Hermansson  -  Fürstenhit  -  70.000 70.735 73.740 --- 214.475
3 Ellen Stymne  - Crescendo  - 69.949 67.941 72.320 --- 210.210
4 Tove Slåtteby  - Bento D  -  69.394 69.020 70.790 --- 209.204
5 Louise Edvardsson  - Corona  - 67.323 68.529 71.955 --- 207.807
6 Wilma Bornhager  -  Leo Degraunch  -  68.131 68.186 70.980 --- 207.297
7 Irma Wickström  - Baunehöjens Macoy  - 67.677 67.549 69.280 --- 204.506
8 Ebba Wallin Ivarsson  - Santorini  - 67.424 66.030 70.530 --- 203.984
9 Olga Fischer - Grevens Sa´va´  -  66.313 66.814 69.435 --- 202.562
10 Juni Skobe Rosén  - Netstutteriets Smirnoff  - 66.162 66.422 69.265 --- 201.849
11 Alice Kampe Alsin  -  Finnegan  - 65.859 64.657 69.005 --- 199.521
12 Emilia Selander Lundin  - Fenomenal  - 65.253 65.981 68.260 --- 199.494
13 Mimi Letzén  - Zappa SV  -  64.748 65.294 68.945 --- 198.987
14 Alice Jansson  - Rozella  - 68.283 63.618 64.930 --- 196.831
15 Emilia Andersson -  Finch Hatton  -  66.061 63.716 66.035 --- 195.812
Young Riders
1 Hedda Thunberg  -  Diva  - 74.363 75.490 78.570 --- 228.423
2 Blanca Bosson  - Cardon M  -  69.902 69.461 72.635 --- 211.998
3 Ellen Olsson  - Daimjenko  - 69.363 69.902 71.055 --- 210.320
4 Mary-Sophie Haid-Bondergaard  - Adora Nightingale  - 68.088 68.039 72.490 --- 208.617
5 Emma Kåberg  - Carla  -  67.892 68.382 71.220 --- 207.494
6 My Sandgren  - Hampuz M - 68.578 69.265 69.625 --- 207.468
7 Louise Brantefjord  - Grey Galaxy  - 69.265 66.529 70.605 --- 206.399
8 Wynja Eriksdotter Rubin  - El Diablo  - 66.520 68.187 70.075 --- 204.782
9 Laura Laustsen  - Pasteur - 67.696 66.863 69.440 --- 203.999
10 Amanda Barnestam  - Simmebros Donna Frapin  -  68.284 64.804 70.745 --- 203.833
11 Siri Ehrnrooth  - Black Sense E  -  67.500 66.186 69.885 --- 203.571
12 Tindra Alricsson - Adobe MB  - 65.245 67.745 67.630 --- 200.620
13 Hannah Regosa  - Baldi  - 67.696 65.588 66.740 --- 200.024
14 Nora Einerth  - Sirello  - 67.010 63.922 66.555 --- 197.487
15 Tindra Dahlström -  Don Sanchez  -  65.784 64.706 65.245 --- 195.735
Under 25
1 Jennifer Lindvall - Midt-West Casino  - 68.804 73.305 --- 142.109
2 Evelina Söderström  -  Cilantro  -  67.393 74.335 --- 141.728
3 Cecilia Bergåkra  -  Izack  - 68.162 71.885 --- 140.047
4 Mary-Sophie Haid-Bondergaard - Roberto Des Frettes  - 66.795 72.040 --- 138.835
5 Ellen Hedbys - Sonnenkönigin  - 65.385 71.420 --- 136.805
6 Hannah Rosendal  -  Beau-Amor - 66.410 68.755 --- 135.165
7 Klara Svanberg  - Bon Geste - 67.991 67.060 --- 135.051
8 Victoria Karlsson - Cum Laude SVU  - 64.829 69.920 --- 134.749
9 Matilda Stymne  - Faarbaekgaards Rising Star  - 64.829 67.295 --- 132.124
10 Sofia Buskhe  - Dexter  - 63.205 68.075 --- 131.280
11 Emma Brunfelter  - Entutu -  65.684 64.080 --- 129.764
12 Filippa Norrman  - H.S Indigo  - 62.778 66.070 --- 128.848
13 Katarina Hedlund  -  Goldmine  - 62.393 63.225 --- 125.618
14 Elize Idén  - Schneekoppe Dot Com  - 61.966 62.025 1 --- 23.991
15 Vendela Eriksdotter Rubin  -  Bonafide - 64.367 0.000 --- 64.367
Seniors
1  Patrik Kittel  -  Forever Young HRH - 76.152 82.600 --- 158.752
2 Tinne Vilhelmson Silfvén  -  Devanto - 72.435 77.625 --- 150.060
3 Emma Jönsson  - Gerion  - 72.261 75.060 --- 147.321
4 Caroline Darcourt  -  Lord Django - 70.152 75.220 --- 145.372
5 Marina Mattsson  - Helix  - 69.826 74.300 --- 144.126
6 Stefan Jansson  - Zidney  - 69.239 73.140 --- 142.379
7 Mads Hendeliowitz  -  Autograf Q - 68.304 72.025 --- 140.329
8 Sofia Möller  - Flawless - 68.065 71.120 --- 139.185
9 Anette Christensson  -  Edwin - 67.065 71.050 --- 138.115
10 Nina Karlsson  -  Strandagergårds Danoir - 66.891 70.025 --- 136.916
11 Sophie Fleming  -  Raul - 66.087 70.375 --- 136.462
12 Carina Bondesson  - Acappella -  66.391 69.835 --- 136.226
13 Josefin Rudolfsson - Canon - 65.935 69.465 --- 135.400
14 Johan Lundgren - Duty Free -  65.848 67.470 --- 133.318
Complete results:   junior riders - young riders - Under 25 - Seniors
Related Links
Kardos, Laustsen, Thunberg, Lindvall, Kittel Win 2022 Swedish Dressage Championships
Walfridsson, Sandgren, Linden Urnes, Dolk, Kittel Win 2021 Swedish Dressage Championships
Mattsson, Jonsson, Kittel Win 2020 Swedish Dressage Championships
Olofsson, Soderstrom, Mattsson, Kittel Win 2019 Swedish Dressage Championships
Olofsson, Soderstrom, Mattsson, Kittel Win 2018 Swedish Dressage Championships
Pettersson, Bergakra Berglund, Gyllensward, Mathisen Win 2017 Swedish Dressage Championships
Isaksson, Soderstrom, Tovek, Mattsson, Kittel Win 2016 Swedish Dressage Championships
Ivarsson, Mattsson, Kittel Win 2015 Swedish Dressage Championships
Patrik Kittel Wins the 2014 Swedish Dressage Championships
Patrik Kittel Wins the 2013 Swedish Dressage Championships
Eva Ulf Wins 2012 Swedish Grand Prix Championships
Tinne Vilhelmson Wins 2011 Swedish Grand Prix Championships
Tinne Vilhelmson Wins 2009 Swedish Grand Prix Title with Favourit
Tinne Vilhelmson Captures Second Grand Prix Title at 2004 Swedish Championships
Marina Mattsson Wins 2014 Swedish Young Riders Championships