2023 U.S. Dressage Championships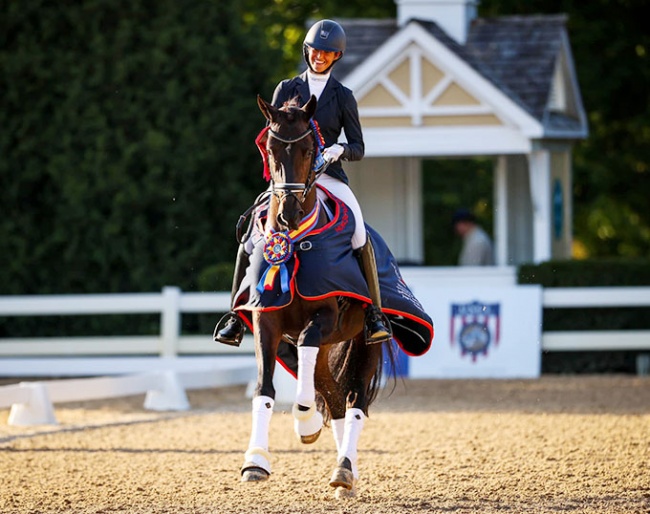 The 4-year old Zapatero, the 5-year old Lindholm's Quick Step, the 6-year old Fontenay, and the 7-year old Gorgeous Latino became the winners of the young horse classes held at the 2023 U.S. Dressage Championships at Lamplight equestrian centre in Wayne, ILL, on 21 - 27 August 2023. 
4-year olds: Zapatero
German Madeleine Bendfeldt scooped up the champion's title in the 4-year old division aboard her own and Beth Eversole Noorthoek's Hanoverian Zapatero (by Zoom x Floriscount).  The pair placed second in the first round with 84.80% and second in the Finals test with 91.20%. Their overall total put them on the highest step of the podium. The judges in the second round rewarded Zapatero with 8.4or walk, 9 for trot, 9.4 for canter, 9 for submission and 9.8 for perspective. 
When asked where she found Zapatero, Madeleine replied, "I actually know the breeder (Stefan Schröder). I know the guy where we found him in Germany. He's a very good friend and I've known the horse since he was two. I was always thinking, "How can I get this horse under my saddle? It's my dream horse." I always wanted it, and here we are! Got it done. It took a while, but now I am in the saddle of my dream horse here. And [the judges] honored him, and we honored him the way that he should be honored and I'm just so thrilled. I think today was just 50% of what he can actually do. I'm sure about it."
Petra Warlimont (Evergreen, CO.) was the reserve champion with her own Deambulo PWD, a 2019 Hanoverian gelding by Don Martillo x Finest. They were fourth in the first round with 82.00% and topped the board in the second round with 91.80%. The judges rewarded Warlimont's horse with 9 for walk, 8.8 for trot, 9.3 for canter, 9 for submission and 9.8 for perspective. 
"I saw this horse a year ago from a friend of mine in Germany that I've worked with for over 10 years," said Petra. "I've done this since 2007 and I've always ridden horses that we found together. This is the best one we've had. He always showed me videos [of Deambulo PWD], and I said, "No, I can't do this." Then I went there to try out the other horses, and he said, "Just get on." And I got on and I was like, well, now this has to happen. So I'm just so trhilled with this horse. He's an amazing animal and the friendships that have been created through all his journeys are amazing. And all the help I've had was just amazing."
Lindsey Holleger (Middletown, N.Y.) placed third in the overall championship standings with MW One More Dream, a 2019 Oldenburg gelding (by Morricone x Sir Donnerhall) owned by Jen Vanover. They pair was third in the first round (84.80%) and fifth in the second round (86.20%) earning 8.5 for walk, 9.7 for trot and canter, 8.5 for submission and 8.7 for perspective. 
"Jen Vanover of Maplewood  found her as a foal in the Netherlands," Holleger explained. "She bought her off an auction. It took maybe six months to start her. She was very reactive and it was tough. But you can feel it. The moment I sat on her I was like, "This is probably the best one that I've ever had the opportunity to ride. I just had a feeling of, "This is my horse.""
5-year olds: Lindholm's Quick Step
Madeleine Bendfeldt made it a double whammy in Wayne this week as she also became the champion in the 5-year-old division aboard the Danish warmblood Lindholm's Quick Step (by Quaterhit x Heselgårds's Platin), owned by Beth Noorthoek. She won both the preliminary test (89.00%) and the Finals test (82.80). In the finals the judges panel rewarded the black gelding with 7.9 for walk, 8.5 for trot, 8.7 for canter, 7.9 for submission and 8.4 for perspective.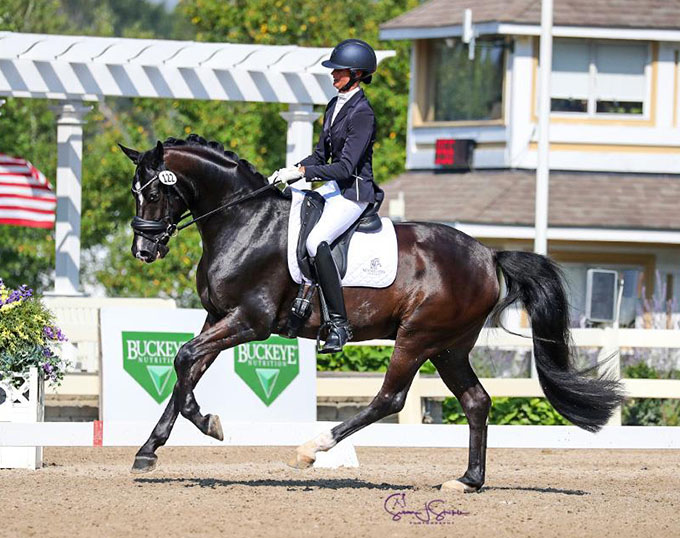 "I'm so incredibly proud of these young horses. It's a lot, the entire week, to transport and shipping and everything. It's a lot. But they did great," said Bendfeldt. "Everything is new. There are so many things to see just right up front from the barns to the warmup is a lot to take in. But now I know that he could still perform."
Quick Step was sourced in Denmark at Katrinelund. "I rode his father [Quarterhit] a couple of times in Denmark when I worked there," said Madeleine. "And I loved him. So when I found [Quick Step] he was pretty green still, as a 4-year-old, but he gave me the feeling that there is something there. And every day we've gotten a little bit better in the last half of a year, and here we are."
Alyssa Doverspike Burkett (Murrieta, CA.) and For Edition, the 2018 Westphalian gelding (by For Gold x Furstenball) she co-owns with David Wightman and Kimberly Pribble, were the reserve champions. The gelding was fifth in the preliminary round with 83.00% and third in the Finals test with 79.80%. He got 8 for walk, 8.3 for trot, 7.8 for canter, 7.7 for submission and 8.1 for perspective. 
"We bought him as a foal," said Alyssa. "We bought him at two weeks on the ground and brought him over when he was 3 years old, and just started training there. He was here last year for the 4-year-old and finished third. I'm so proud of him that he's moving his little way up. I'm happy with his energy level considering the weather changed for us, coming from such a dry climate. But that's just part of the sport. So I'm really happy that he shows such a motor. Such a willingness to go and just keep trying. I think it's really for him a fine line between getting the most out of his trot and canter and keeping the walk and relaxing. That can be a challenge, so I'm super happy for sure."
Adam Steffens (Wellington, Fla.) and Candoit Farm's Hanoverian mare Secret Weapon (by Secret x Ampere) rounded out the top three. They were third in the preliminary round with 85.20% and sixth in the finals with (77.80%) but their overall total landed them third place. Secret Weapon earned 7 for walk, 8.8 for trot, 7.7 for canter, 7.6 for submission and 7.8 for perspective in the finals' round. 
6-year olds: Fontenay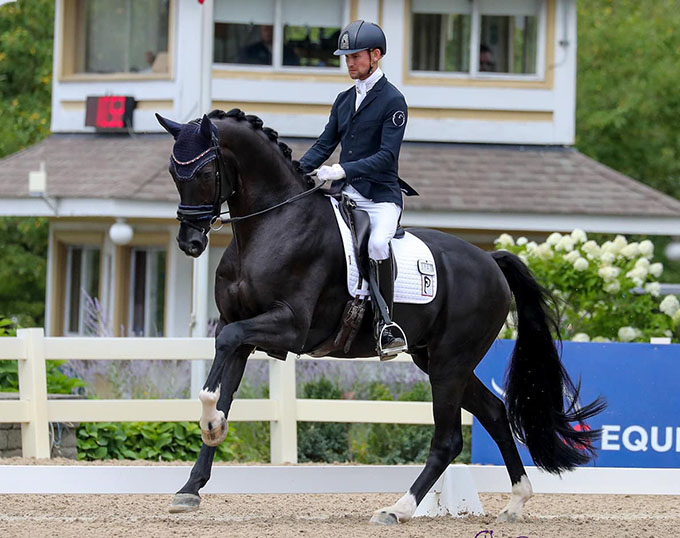 Canadian Championships newcomer Sven Smienk (CAN), who only began competing at high performance level in the U.S.A this spring, there was a silver lining to this debutant ball after all. After placing second in the 5-year old division with Cesar Parra's Superior (by Sensation x Licosto), he saw his medal chance go up in smoke as the pair unfortunately got eliminated in the finals round due to unlevelness. In the 6-year old division, however, Smienk continued to wield the axe of power aboard Fontenay, a 2017 Hanoverian (by Furst Jazz x Don Frederico), owned by Dr. Cesar Parra and Gina Raful. The duo went two for two, winning the preliminary round with 87.40% and impressing the judges in the Finals, earning an 88.200%. The highly gifted Fontenay received 9 for walk and trot, 8.6 for canter, 8.5 for submission and 9 for perspective. 
"I started riding Fontenay in November of last year," said Smienk. "I've gotten to know him in a relatively short period of time being a newer combination." When asked what the highlight of the week was, Smienk replied, "I think what I was most happy with is he's a very powerful horse, and to have to be really soft and supple and light, but still powerful with balance, I think I really managed to pull that off and present a harmonious picture." Fontenay will now get a little break before moving to Florida for the winter. "My plan is to back off a little bit for now, do some trail riding, and give him sort of a break. Then we'll slowly start working towards the Wellington season and see what we can do," Sven added.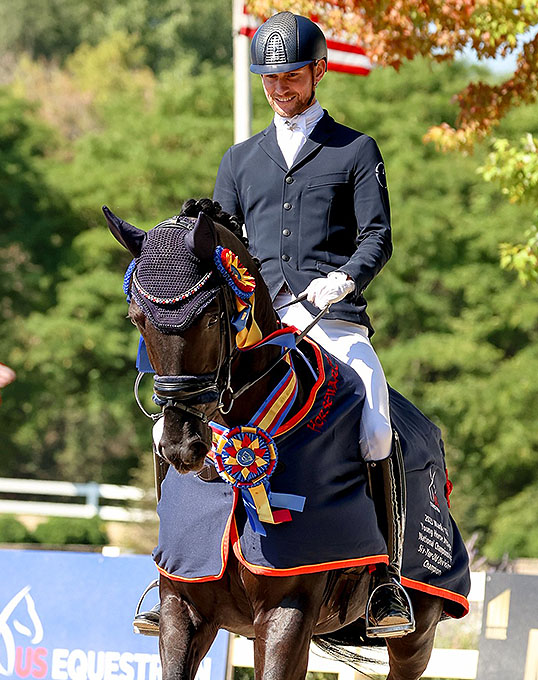 Fontenay won gold in 2021 under Katryna Evens, was sixth in 2022 under Madeleine Bendfeldt, and now captured gold with Smienk. All three riders were trained under Parra's supervision at the time. 
David Blake (Cardiff by the Sea, Calif.) and G.Q., a 2017 Danish Warmblood gelding (by Grand Galaxy Win x Florencio) owned by Helen Stacy, finished second in the preliminary test with 83.800% and maintained that position in the finals with an 86.400%, which earned the overall reserve champion title. The chestnut GQ scored 8.8 for walk and trot, 8.5 for canter, 8.4 for submission and 8.7 for perspective.
"We've had him a little under a year at Helgstrand," said Blake. "Helen Stacy owns him, and we picked him out together. She's going to ride him, but she lets me do this for now. He's really powerful but he was really with me and super obedient. I'm really happy with it."
Lindsey Holleger (Middletown, N.Y.) and MW Fürstencharmant, a 2017 Oldenburg stallion (by Furstenball x Sir Donnerhall), bred and owned by Jennifer Vanover, rounded out the top three for the division. They were third in the preliminary test with  82.000% and fifth in the Finals round with 80.000% and overall placed third. This was a third, consecutive bronze for the pair, who also finished third in 2021 and 2022.
"He's exceptionally trainable. He's still a stallion and he's the best boy ever. He's so well behaved. He's been lovely," said Holleger. "
7-year olds: Gorgeous Latino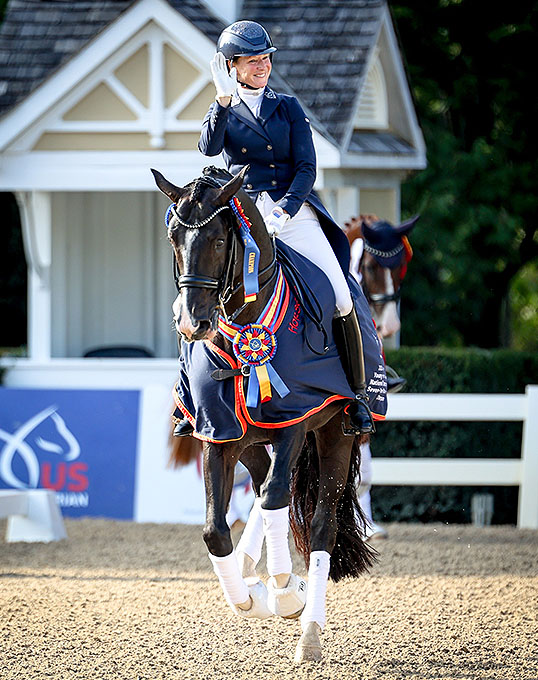 Sabine Schut-Kery (San Diego, Calif.) and Gorgeous Latino, Sandy Mancini's 2016 Dutch Warmblood stallion by Toto Jr x Rubiquil, moved up the leaderboard to clinch the champion title in the U.S. Seven-Year-Old Championship. The pair was third in the preliminary test with 74.157% and won the finals test with 77.300%.
"Well, I'm pretty much speechless. He was amazing," said a thrilled Schut-Kery. "I could not have asked for more. There were a couple of problems, but he's young and that's not a big deal to me. But he had a lot of energy, and he was really with me, and that's one of the most important things I look for. It really felt like a partnership in the ring—sometimes you can have it in the warmup and then in the ring it's different. So, I could not be more thrilled."
Sabine praised the horse's rideability and temperament. "I could ride him through downtown Chicago. I think nowadays that it's great to have those kinds of bloodlines in the mix of everything. He is that way because he's honest, and he's a good citizen, and he tries his hardest and likes his job. He's a good boy. Sandy found him. He comes from Hexagon in Holland."
Ali Potasky (Versailles, Ky.) won the preliminary test with 75.682% and placed fourth in Friday's final test with 74.600% to win the reserve champion title aboard Courtney Lau's Lord Hennessy, a 2016 Dutch Warmblood gelding (by Hennessy x Santano).
"Hennessy is a really big and kind of a heavy guy, so he's been struggling a little with the heat," said Ali. "He maybe didn't have quite as much energy as he did the first day, but he stayed 100% with me and the training just showed. I think I had no bobbles. Really safe, really submissive, obedient, willing test, and that is also what's important to me. That can always be developed and strengthened. The fact that he can just go in there, knock out that test—which is really hard for a 7-year-old, I think everyone in the division can agree it's a technical test for that age and training level. So that's what I'm most proud of."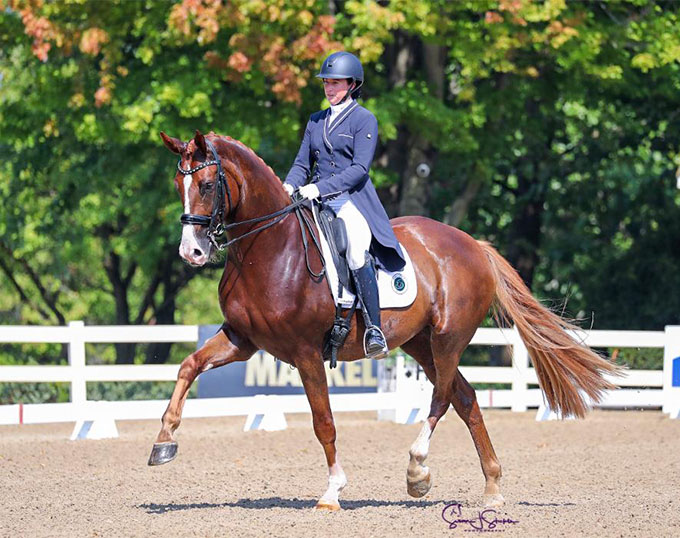 Potasky's employer Kathy Priest sourced the horse in Holland. "We found him through Egbert Kraak in Holland as a three-year-old. Kathy bought him from Holland and then we sold him to one of our clients, Courtney Lau, who has owned since he was three-and-a-half. She also has shown him through the summer and the Florida season."
Rebecca Rigdon was fifth in the preliminary test with 73.486% and moved all the way up to second place in the final test (755.43%) to land third place in the overall national championship. Her partner in crime was Lionell VE, a 2016 Dutch Warmblood gelding (by Negro x Tenerife VDL) owned by Lauren Fisher.
"I was also thrilled with my horse today," said Rigdon. "That was the best ride that I've had with him in the arena. We had some issues. I knew that I was going to have to push the gaits in order to be on the heels of anyone here technically. So, I was super happy with him. He's green, and at this point, as a 7-year-old, it's a tough test for them. And with the heat and everything, he showed up and I could not be happier."
Interesting Lionell also came from the same Dutch horse dealer. "My horse is also from Egbert, as well as my husband's horse, who was fourth in the class (Lion Heart (by Grand Galaxy Win x Special D), which I think is pretty rad that he picked those horses out. Lionell's by Negro. He's a full brother to Nespresso, bred by Van Erp. He was originally Lottie Fry's. My horse owner is Lauren Fisher, who is just a wonderful human being."
Text USEF Press Release, edited by Eurodressage - Photos © Sue Stickle/US Equestrian
Related Links
Scores: 2023 U.S. Dressage Championships
Fürst Dream, Valor, Møllegårdens Fashion, King's Pleasure Win 2022 U.S. Young Horse Championships
Fontenay, Glory Day, Sonata MF Win 2021 U.S. Young Horse Championships
Gjenganger, Easy di Fonte Abeti, Spirit of Joy, Stenagers Wyatt Earp, Donatella M Win 2020 U.S. Young and Developing Horse Titles
Sonnenberg's Kain, Sole Mio, SenSation HW Win Young Horse Titles at 2019 U.S. Dressage Championships
Sole Mio, SenSation HW, Lucky Strike Take First Titles at 2018 U.S. Young Horse Championships
Ravenna and Fashion Designer OLD Win Titles at 2017 U.S. Young & Developing Horse Championships
Serenade MF, Darius, Frankie Win 2017 U.S. Young & Developing Horse Championship
Habanero CWS, Desario, Horizon Win Title at 2016 U.S. Young & Developing Horse Championships
Tiko, Rosalut NHF, Folkestone Take First National Titles at 2015 U.S. Young Horse Championships
Rosalut NHF, Emilion SA, Donatus Win 2014 U.S. Young and Developing Horse Championships
Rebellienne, Fashion Designer, Vitalis Win 2013 U.S. Young Dressage Horse Championships
Bragdell and Hemmingway Win 4-Year Old Division at 2012 U.S. Young Horse Championships
Tarjan and Somer Hit Win 6-year old Division at 2012 U.S. Young Horse Championships
Schueler and Regalo Win 5-year old Division at 2012 U.S. Young Horse Championship
Tarjan and Somer Hit Win 6-year old Division at 2012 U.S. Young Horse Championships
Schueler and Regalo Win 5-year old Division at 2012 U.S. Young Horse Championship
Furst Fiorano and Donna Tella Win Big at 2011 U.S. Young Dressage Horse Championship
Bragdell and Hemmingway Win 4-Year Old Division at 2012 U.S. Young Horse Championships
Aesthete, Selten HW, Pikko del Cerro Win 2009 U.S. Young Horse Championships
Selten HW, Winsor and Cabana Boy Win 2008 U.S. Young Horse Championships
Cabana Boy and Grandioso are 2007 Markel U.S Young Horse Dressage Champions
Currency DC and Sir Sinclair Win at 2005 USEF/Markel Young Horse Dressage National Championships
Royal Prince and Revolution win 2004 American Young Horse Championships