Canada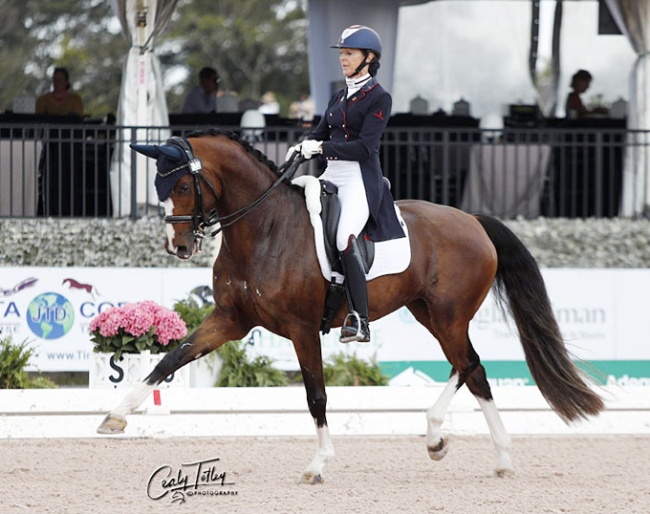 The Canadian Pan American Games team selection trials will be going into their final week with the last two team selection trial and qualification opportunities taking place at the CDI Bromont (east coast) and CDI Calgary (west coast) on 1 - 3 September 2023. 
The Pan American Games allows for mixed teams of small and big tour combinations. However, to be in the running for an Olympic team slot, at least two GP combinations need to be on the team.
The Qualification Process
Riders interested in Canadian Pan Am team selection had to file a declaration of intent before 30 January 2023. The qualification period runs from 1 January 2023 to 5 September 2023. Riders not only have to achieve the FEI MER scores but in order to be considered have to meet the Canadian equestrian federation's criteria.
An elaborate calculation system is then being used to produce a "leader board" with a final ranking.
All qualifying Prix St. Georges/Grand Prix and Intermediate I/Grand Prix Special scores achieved will be used to calculate each combination's final ranking average. a maximum of one qualifying Prix St. Georges or Intermediate 1 score from their final ranking average, however at least four Prix St Georges and four Intermediate 1 scores from 2023 must be included in the final ranking average and at least one qualifying Prix St. Georges/Grand Prix and one qualifying Intermediate 1/GP Special score must have been achieved after July 1st, 2023, and those scores must be included in the final ranking average.
The average of all qualifying Prix St. Georges /Grand Prix scores earned during the Qualification Period count for 60% of the combination's final ranking average. The average of all qualifying Intermediate 1/Grand Prix Special scores count for 40% of the combination's final ranking average.
Full selection criteria details here.
Where is the Leader Board?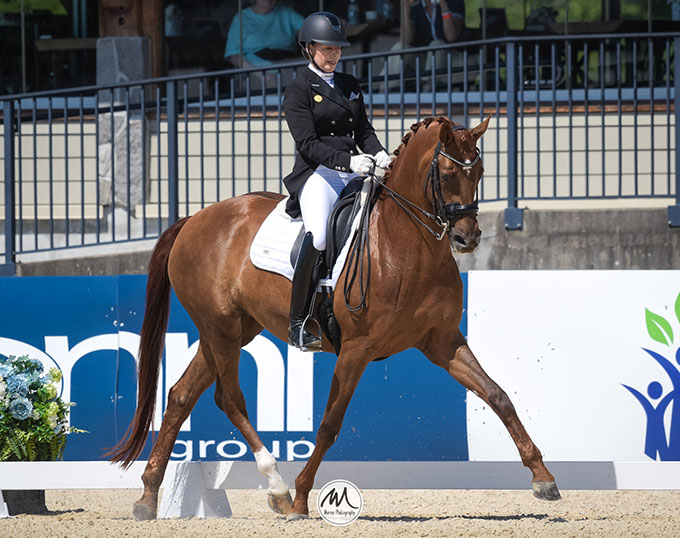 Leading up to the final selection weekend in Bromont and Calgary, a leader board of the combinations closest to making it on the team cannot be found on the Equestrian Canada website. 
Eurodressage asked Christine Peters, senior manager of Canada's dressage Olympic/Paralympic program,  if it was possible to see the leader board going into the final selection week. 
"At this time the High Performance Advisory Group does not post a leaderboard," said Peters. "Part of the rationale is that the score calculation file does not fully reflect the selection process, which is not completely score based, so publishing that information could be misleading to the general audience."
Other criteria that are taken into consideration are "the fitness, soundness and ability of the athlete/horse combination to contribute to a Gold medal team," as well as "previous international experience," and "the prospect of the athlete/horse combination to win at the 2023 PAG."
The Ten "Seemingly" in the Running?
However, hours after Peters statement to Eurodressage that no leader board is made public, Equestrian Canada posted the following message on social media:
"Good luck to our Canadian Dressage athletes who are heading into the final weekend of qualifying dressage competitions for the 2023 Pan American Games, including those ranked top 10 combinations (top 5 in each division, no ranking order):"
Grand Prix:
Naima Moreira Laliberté & Statesman
Pia Fortmüller & Frieda
Camille Carier Bergeron & Sound of Silence
Mathilde Blais Tétreault & Fedor
Rakeya Moussa & Davidoff V.H. Trichelof
Prix St. Georges:
Shannon Dueck & Angelika MW
Beatrice Boucher & Summerwood's Limei
Vanessa Creech-Terauds & Duchess L
Shelley Lawder & Balancee
Lori Bell & Flirt
"The notice posted yesterday was not a short list it was just the top 5 big and top 5 small tour combinations heading into the final weekend of competition," Peters explained to Eurodressage.
Fortmuller and Moussa still need to achieve their fourth mandatory score at the final qualifier, even though they are already listed in this top five. Same goes for Lori Bell who only has three scores so far. The leaderboard and final ranking will be completely reshuffled as more Canadian riders will obtain their final, fourth score this weekend.
Related Links
It Takes a Village! Outpouring of Support for Canadian Pan Am Team Potentials
New Canadian Talent in the Spotlight at 2023 CDI Caledon, Fraser Premiers New Small Tour Horse
Mathilde Blais Tetreault Stakes her Claim at 2023 CDI 3* Ottawa
Pia Fortmüller Wins Big Tour Classes at Inaugural Ginny Rattner Memorial 2023 CDI Sherwood
Canadian Mother-Daughter Duo, Evi and Tanya Strasser, in the Running for Pan Am Team Selection
The Strasser Mother-Daughter Duo Make it a 1 - 2 - 3 at 2023 CDI Caledon
2023 Pan American Games Allocated to Santiago, Chile