Training and Sales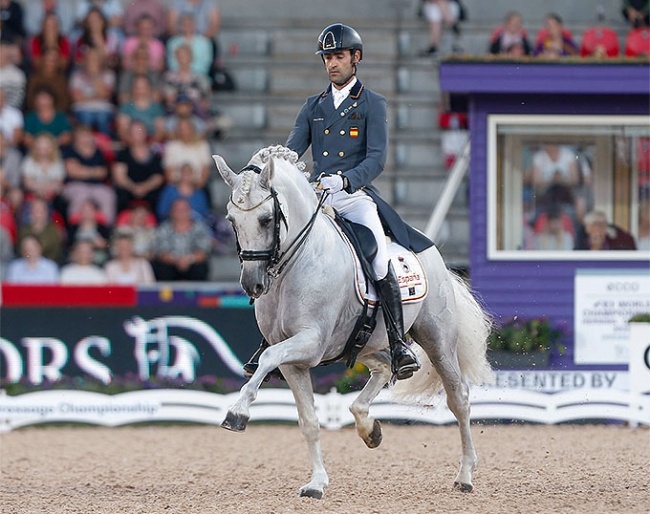 For some years now there is a name in the PRE world that stands out above all others: Yeguada Indalo. With over four decades of experience, this stud has been known for building up quality purebred PRE horses for dressage and in this discipline unparalleled results and success have been accomplished.
On the international scene, Yeguada Indalo has achieved what many can only dream of: having four horses compete at the highest level in their age division categories.
A Bright Beacon: Quincallo de Indalo
One of the names that shines the brightest is Quincallo de Indalo, the grey stallion by Esbelto VII. He will represent Spain for the second consecutive year in a major international championship, i.e. the European Dressage Championship in Riesenbeck (GER) this week.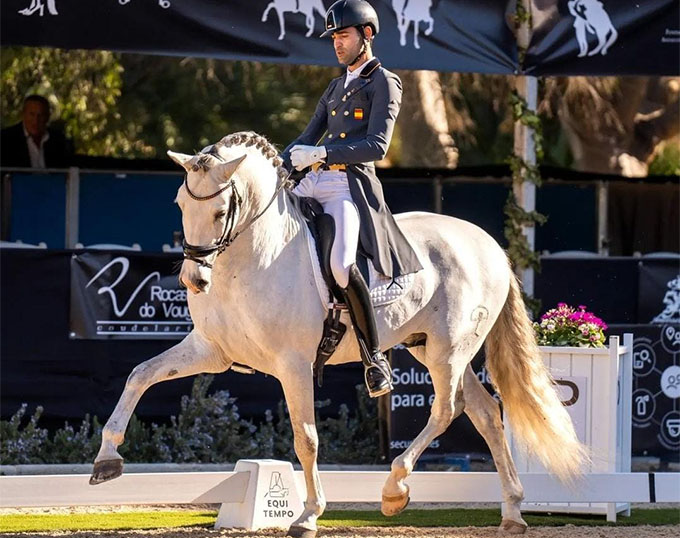 After winning the bronze medal at the 2022 Spanish Championships and placing 14th in the Kur to Music finals at the 2022 ECCO FEI World Championships, Quincallo de Indalo and his rider Alejandro Sánchez del Barco were Spain's best performance combination in Herning.
This year, their winning streak has been unstoppable: they claimed victories at the CDI Jerez and the CDI Deauville, and left many speechless with their flawless performances. These international victories and consistent seventy percentage marks automatically qualified them back on the Spanish team for Riesenbeck
Young Horse Success
However, Yeguada Indalo's excellence and accomplishments do not end there. Trapalo de Indalo shone in in the 7-year-old category. This horse was chosen for the World Young Horse Championship for three consecutive years and has claimed victory in the CDI events at the Real Escuela de Jerez and Deauville with scores above 71%. The now 8-year old stallion is showing promising potential for the Grand Prix exercises.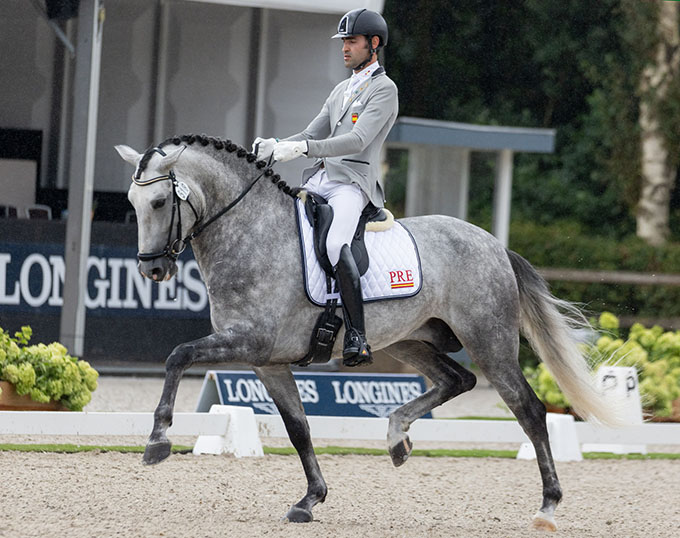 And when it comes to the future generation, Yeguada Indalo stood out this year  with two horses competing at the FEI/WBFSH World Breeding Championship for Young Dressage Horses in Ermelo 2023: Derroche and Rondo de Indalo, achieving remarkable scores of 77% and 80%, respectively.
In the Vanguard of PRE Breeding for Dressage Sport
Yeguado Indalo has clearly positioned itself in the vanguard of PRE breeding for top level dressage sport. 
Stud owner José Luis Martín Lorca merges his passion for classical dressage with the highest levels of genetic excellence at Yeguada Indalo. Indalo horses are a living proof of Martin's commitment to breeding high quality PRE horses that meet the demands of top level dressage sport.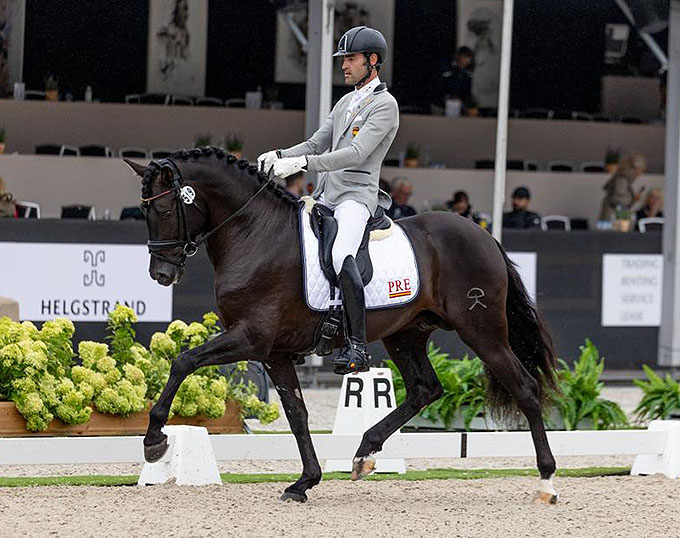 Discover Yeguado Indalo and its breeding programme at www.yeguadaindalo.com
Photos © RIS photo - Lily Forado
Related Links
Spanish Team Selected for 2023 European Dressage Championships
Spanish Horses Selected for 2023 World Young Horse Championships
PRE Horses Selected to Represent Spain at the 2023 World Young Horse Championships
Jose Antonio Garcia Mena and Divina Royal Win 2022 Spanish Grand Prix Championships
Spanish Horses Selected for 2021 World Young Horse Championships
Furstenherz, Doñana TR, Fantastico, Hi-Rico de Sobral, Gladiador Do Lis Win 2019 Spanish Young Horse Championships