Prinsjesdag Foal Auction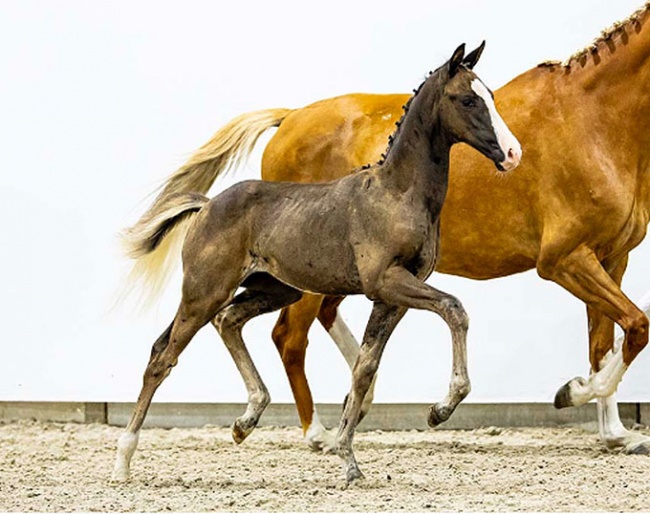 Trigger Time became the top seller of the 32nd edition of Foal Auction Prinsjesdag in Ermelo on 19 September 2023. 
The filly Trigger-Time (by Extreme US x Grand Galaxy Win) sold for 37,000 euro and will stay in The Netherlands. 
The second most expensive foal was Toptoto E (O'Toto van de Wimphof x Charmeur) which sold for 35,000 euro.
Troubadour A (For Romance I x Wynton) went for 25,000 euro and Tom Cruise Texel (Hermes N.O.P. x Negro) as well as Trendwatcher Texel (Extreme US x Toto Jr) fetched 23,000 euro. Both are bred by Wim van der Linde, a breeder loyal to selling his foals through this auction.
Two 2 Tango NN (by Fynch Hatton x Ampere)  sold for 17,000 euro. Thunderball Endy VDG (by Furst Toto x Furst Jazz) found a new owner for 14,000 euro. Total Lady Texel (by Governor x Ferro), Taurus BSW (by Jazz x For Romance), and Tivolie Florence JD (by Expectation x Jazz) went for 13,000 euro. To Perfect W (by So Perfect x Charmeur) and Touch of Ritme II (by Bordeaux x Sezuan) sold for 12,000 euro.
Temptation Island (by Next Level x Governor), Tailwind Vienna D (by So Perfect x Jazz), and Thaleai Eickenrode (by Vitalis x Apache) sold for 11,000 euro. Tycoon (by Furst Dior x Chippendale) sold for 10,000 euro.
The most expensive jumping colt was Extra Panama W (Emerald x Echo van Spieveld) which sold for 20,000 euro. 
"With buyers from the Netherlands, Belgium, Poland, Germany, Great Britain and Ireland, international interest was once again high, but remarkably, especially a few Dutch investors also made their move," said organizer Arjan van der Waaij. "The standout dressage foals provided the outliers this edition and ended up bringing an average of over 13,000 euros. Among the jumping foals, an average of 11,500 euros was paid, bringing the average to 12,300 euros. All in all, we can look back on a successful auction with a high sales percentage and a nice average."
Related Links
Foal Auction Prinsjesdag 2023 Raises the Bar with Impressive Collection
Text Me Wittenberg, Price Highlight of the 2023 Prinsjesdag Online Foal Auction
Top Seller Sir Mowgli SVN van 't Studutch Secured by Canadian at 2022 Prinsjesdag Foal Auction
Total McLaren x Apache In Utero Foal, Top Dressage Lot of 2022 Prinsjesdag Embryo Auction
2021 KWPN Foal Champion Rosatrichta Best Seller of 2021 Prinsjesdag Foal Auction
Riva-Noeska, Best Seller of 2021 Prinsjesdag Spring Online Foal Auction
Poleposition Texel, Dressage Best Seller at 2020 Prinsjesdag Foal Auction
Peer Gynt, Dressage Price Highlight of the 2020 Prinsjesdag Online Foal Auction 1
Pyria SC, Best Seller of 2020 Prinsjesdag Online Foal Auction 2