2023 Piaff Forderpreis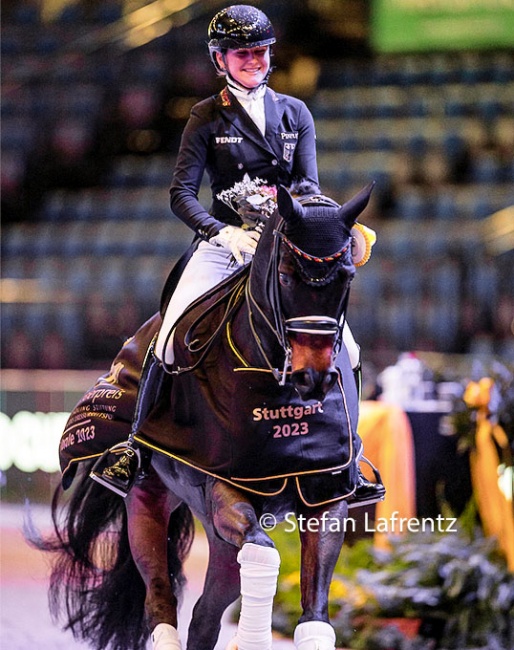 Felicitas Hendricks and Drombusch became the winners of the 2023 Piaff Forderpreis Finals at the 2023 CDI-W Stuttgart on 17 November 2023.
The Piaff Forderpreis is a German Under 25 show circuit with four selection trials - this year in Mannheim, Balve, Verden and Ludwigsburg -  held in spring and summer and the Finals in Stuttgart.  The participants for the qualifiers are decided at a training seminar and selection trial held in Warendorf in February. Approximately 15 riders are selected at the seminar to compete in the qualifiers and 8 are invited to the finals in Stuttgart.
A few days before the Finals the 2021 winner Semmieke Rothenberger withdrew horse Farrington which ended her attempt to win the Piaff Forderpreis on two different horses. This left the road wide open for Felicitas Hendricks to storm to the victory. After winning team and individual gold and Kur silver at the 2023 European Under 25 Championships and already make successful senior debut at the World Cup Qualifier in Herning, Hendricks showed incredible maturity and readiness to tackle the Finals in Stuttgart. 
Hendricks and her 12-year old Oldenburg Drombusch (by Destano x Dimaggio) won the warm-up round with 71.930% and wielded the axe of power in the finals - the Grand Prix - with 72.340%. The Hagen based Felicitas now added this significant title to her list of achievements.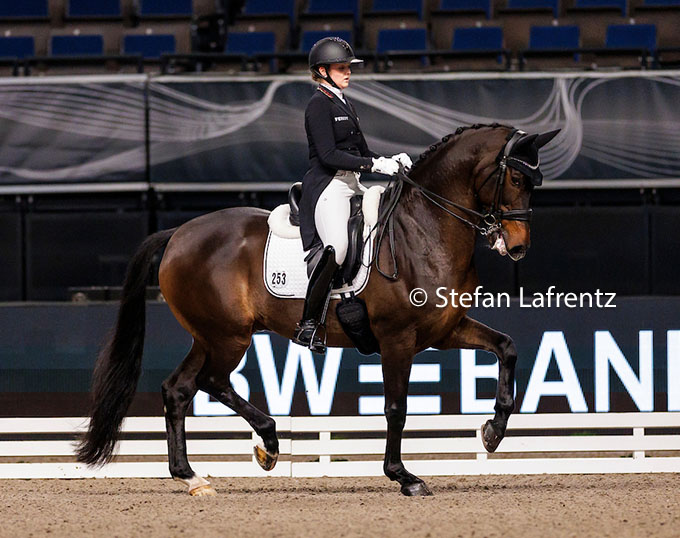 "Drombusch presented himself well here. I really had a good feeling throughout the entire test,"  said the winner, who trains with her uncle, Christoph Koschel, and credits him for the help. "It helped me a lot that he was able to explain so much to me, I didn't even know where to start (moving up to GP level). The most difficult movement for me was the zig zag  because it requires a lot of balance and perfect communication, but now I enjoy it the most."
The runner up was Luca Sophia Collin on her own 13-year old Ferrero D (by Tuschinski x Jazz), who posted a 70.180% in the Finals. The pair is fairly new as Collin bought Ferrero D from Australian Mary Hanna through Kittel in the early spring of 2023.
The third place went to Anna Schölermann on Scott Zahner's 10-year old Hanoverian Bon Scolari (by Bon Bravour x Scolari). They scored 68.900%.
Photos © Stefan Lafrentz
Related Links
Scores: 2023 CDI-W Stuttgart
Rothenberger Withdraws Farrington from 2023 Piaff Forderpreis Finals
Semmieke Rothenberger Wins 2023 Piaff Forderpreis Selection Trial, Thirteen Qualified for Show Circuit
Previous Winners
Helen Erbe Wins 2022 Piaff Förderpreis Finals in Stuttgart
Semmieke Rothenberger Wins 2021 Piaff Forderpreis Finals for German U25 Riders
Ann-Kathrin Lindner Wins 2020 Piaff Förderpreis Finals for German U25 Riders
Bianca Nowag Wins 2019 Piaff Förderpreis Finals in Stuttgart
Westendarp Wins 2019 Piaff Forderpreis Selection Trial, Sixteen Riders Qualified for 2016 Show Circuit
Jil-Marielle Becks Wins 2018 Piaff Förderpreis Finals in Stuttgart
Lisa Maria Klossinger Wins 2017 Piaff Forderpreis Finals
Franziska Stieglmaier Wins 2016 Piaff Forderpreis Finals for German Under 25 Riders
Sanneke Rothenberger Wins 2015 Piaff Forderpreis Finals for German Under 25 Riders 
Schurmann Wins 2014 Piaff Forderpreis Finals for German Under 25 Riders
Nadine Husenbeth Wins 2013 Piaff Forderpreis Finals at CDI-W Stuttgart
Stella Charlott Roth Wins 2012 Piaff Forderpreis Finals
Sprehe Defeats Favourite Engelen in 2009 Piaff Forderpreis Finals
Matthias Alexander Rath Wins 2006 Piaff Forderpreis
Ellen Schulten-Baumer Wins First Ever Piaff Forderpreis at 2001 CDI Stuttgart