2023 Japanese Dressage Championships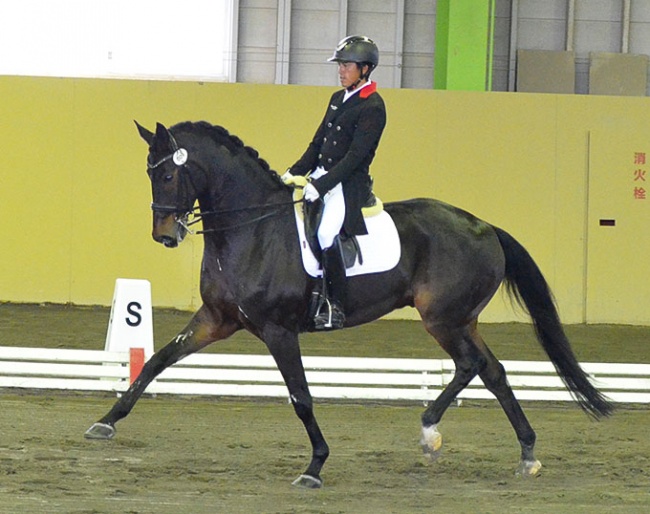 Shingo Hayashi became the new Japanese Grand Prix Championships at the All Japan Dressage Championships held in Gotemba, Japan, on 10 - 12 November 2023.  The National Championship celebrated its 75th edition.
The event featured a big tour Championship as well as a small tour division.  For the National Championships the results of the Grand Prix and the freestyle were totalled. While last year at the 2022 Japanese Championships nine combinations rode the freestyle finals, this year only five moved to the second phase. 
Gold for Hayashi
Only one of Japan's 2022 World Championship dressage team competed in the nationals, Shingo Hayashi, and he scored the title and gold medal. Aboard the 18-year old Hanoverian gelding Scolari (by Sandro Hit x Brentano II), Hayashi scored a winning 67.804% in the Grand Prix and 66.055% in the freestyle, which ranked him third. He totalled a winning 133,859 sum of points. 
"There were a lot of people who came to watch, so I wanted to put on a good performance," Hayashi stated at the end of the day. "The horse was nervous and looked around. I feel a bit disappointed as it was a bit of pity, but I'm happy that I won. He worked hard for two days. Scolari is 18 years old, so he did a good job. I would like to think about his future all based on his physical condition and health."
Hieda and Nishiwaki Get Silver and Bronze
The silver medal went to Naoko Hieda on the 13-year old Westfalian Fantastico (by Flanagan x Contini). This is her third, consecutive silver medal. She posted 65.456% in the Grand Prix for second placce and won the freestyle with 68.300%. Her total was 133.756 points, just a fraction less than Hayashi.
Fumiyasu Nishiwaki and the 2021 Tokyo Olympic team horse Huracan   (by Hotline x Don Schufro) scored the bronze medal with 64,674% and 67,085%. Nishiwaki took over the ride on the dark bay gelding from team rider Hiroyuki Kitahara  in 2022.
Small Tour Title for Hayashi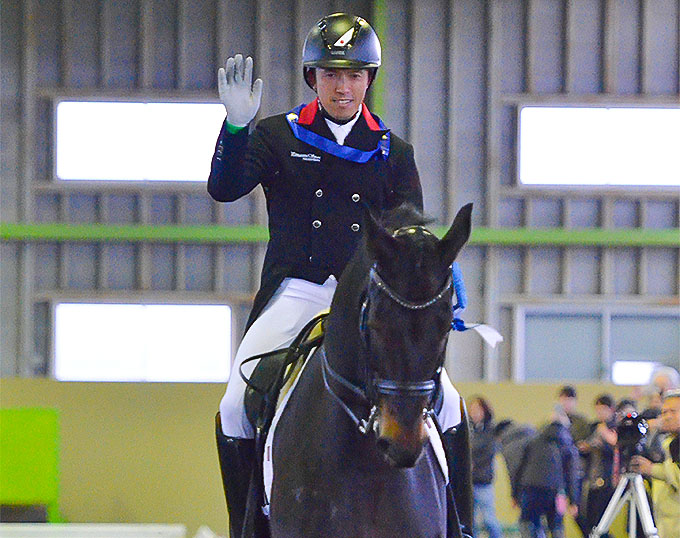 For Hayashi is was a successful weekend as he also won the small tour championship aboard the 15-year old Dutch warmblood Diamond Dance (by Don Schufro x Skydancer). The horse was previously shown by Belgian youth rider Zoe Niessen before selling to Chiharu Sawada in Japan. 
The silver in the small tour was for Ryoma Hieda aboard the 12-year old Oldenburg gelding Treffinger's Standing Ovation (by Surprice x Vespucci), while bronze went to 2023 Asian Games team rider Maria Takada on  the 15-year old Westfalian bred Britania (by Baluga x Radjah Z)
"She is a mare that has some difficult spots, and if she loses her good mood, she will go into a reluctant mode," Hayashi admitted. "So I rode her carefully to avoid that. I'm glad that I was able to go around without making any big mistakes." Shingo completed his weekend at Gotemba with more victories as he also put mileage on a junior rider's horse, Yves vom Kappelhof, to win the M-level competition. 
Photos © Japan Equestrian Federation
Results - 2023 Japan Grand Prix Championships
1. Shingo Hayashi - Scolari  - 67,804 - 66,055 --- 133,859
2. Naoko Hieda -  Fantastico -  65,456  - 68,300 --- 133,756
3. Fumiyasu Nishiwaki - Huracan  -  64,674 - 67,085 --- 131,759
4. Yusuke Hasegawa - Zingar Northside -  63,304 - 65,590 --- 128,894
5. Chiaki Tsushima - Dacor -  60,174 - 63,810 --- 123,984
Ai Kawakami - Winnetou D -  58,218 
Shinichi Tomo - Waylon - 56,587 
Hirohiko Koyanagi - Floris Vinckenburgh - 56,109 
Satoko Yasuda - Westwind - 52,326 
Ryoko Koshio - Visconti - 49,109 
Related Links
Yusuke Hasegawa Wins 2022 Japanese Grand Prix Championship
Kiichi Harada Wins 2021 Japanese Grand Prix Championship
Yokoyama, Tahara, Yoshida and Kawabata Win 2020 Japanese Dressage Championships
New Comer Toshiya Kawabata Wins 2017 Japanese Grand Prix Championship
Kiichi Harada Wins 2015 Japanese Dressage Championship
Shingo Hayashi Wins 2014 Japanese Dressage Championships
Mieko Yagi Wins 11th Japanese Dressage Champion's Title
Yuko Kitai Claims 2012 Japanese Dressage Champion's Title