Opinions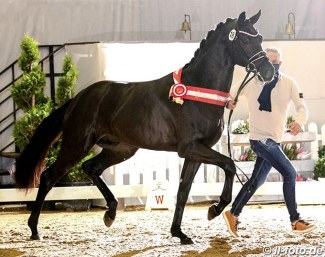 Guest columnist of this week is Rick Helmink, a Dutch equestrian journalist working for De Paardenkrant/Horses.nl. He specializes in breeding and dressage and often shares his unsalted opinion about the happenings in the equestrian world in his columns. His latest is about the 2020 Westfalian Stallion Licensing, which he first published on Horses.nl, and now shares with Eurodressage. 
Congratulations Nonetheless
800,000 euro for the Westfalian champion and 600,000 euro for the reserve champion. It was printed in bold on all the web sites, including ours, and with that the first marketing campaign for the new additions to Helgstrand Dressage was done. Without having to spend a cent on it....except of course the 1.4 million euro. 
With this column I don't want to assume that these stallions are not worth the money. What I do know first hand is that two stallions in the past sold for millions at the auction, but were in fact already owned by the highest bidder before the auction took place. So counter-bidders could do whatever they wanted, they wouldn't get the stallion.  
High Price
For this type of games the Hanoverian society paid a high price. The studbook was no longer captain of their own ship, but there was another one behind the steering wheel. Then the studbook tried to regain power, but it was a bumpy road. 
Studbook Losing Face
We all remember the auction blunder the Hanoverian studbook made with the stallion Confess Color. It become a week-long public battle. A studbook (and its poor auctioneer) lost face in front of the entire world. And this, by the way, caused by those who already get preferential treatment with more beneficial conditions (lower auction fee %) when buying horses there.
Tuition
In the meantime the tuition has been paid in Hanover and stallion owners (especially those with outstanding stallions) have to sign a contract with the studbook before the licensing that their stallion can not be sold privately before the auction. This recovered balance in power generated a successful auction (with no games) this year in corona times.  
Scared
Aside from the fact that studbooks lose control over their own auction - with these types of actions only one party takes advantage - other buyers become scared to bid. Because why bid on a stallion which you might never be able to buy it? 
Be Happy Without Millions
Maybe we have to be happy that such prices are not paid at the auction of the KWPN society. Because in this way, KWPN remains the boss in their own house. From a breeder's perspective this is not a bad thing. 
Congratulations Nonetheless
The way the Westfalian studbook gives their congratulations, "nonetheless," to the owners of the approved stallions that were not for sale, in the same way I congratulate the Westfalian studbook with their prices, nonetheless. And of course Andreas Helgstrand with his purchases. 
- by Rick Helmink
Photo © LL-foto
Related Links
Fair Game Colt, Champion of Generous Approval at the 2020 Westfalian Stallion Licensing
Vivino Sets New Auction Record at 2018 Hanoverian Stallion Licensing
Rocky Lee Son Claims the Spotlight at 2015 Hanoverian Stallion Licensing
Dynamic Dream, 2019 Westfalian Licensing Champion and 1.9 Million Auction Horse, Tests Positive to Medication
Von und Zu Crowd Favourite, Confess Color Sells for 1,890,000 euro at 2019 Hanoverian Licensing