Westfalian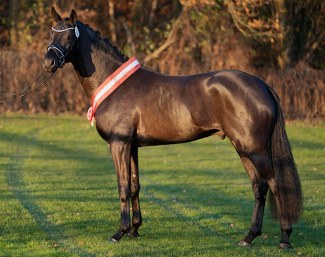 A black colt by Fair Game x Destano was named the champion of the 2020 Westfalian Stallion Licensing in Munster-Handorf on 23 November 2020. 
Of the 42 colts that actually finished the two-day licensing process, 31 were approved. 10 were named premium. 
Generous Approval 
The Westfalian Licensing Committee handed out licensed cards as if they were giving Christmas presents. 31 colts out of 42 were approved (73%)! In comparison the Hanoverian society was also very lenient this year, licensing 25 colts out of 34 (73%). However in Oldenburg the selection was much stricter with 17 licensed out of 31 (54%). 
The Westfalian strategy seems to be a "people pleasing" one, instead of selection strictly on blood, conformation, movement, and even colour (predominance of black and dark bay colts).  With the bar set lower in Munster-Handorf than at other approvals, the Westfalian licensing has become a magnet for stallion owners to get their colts licensed and sold easily.
The  uncloaked commercial approach showed off this year in the naming no less than 10 colts premium stallions, of which 9 were - not surprisingly - for sale in the auction, boosting the wallet of the society. Strongly moving colts that were not for sale were disregarded for the premium title. 
The Westfalian strategy certainly pays off, with an average sales price of 143,432 euro per stallion this year, but whether this path will work for the long term of selecting and breeding quality and diversity, only time will tell.
Seven Drop Outs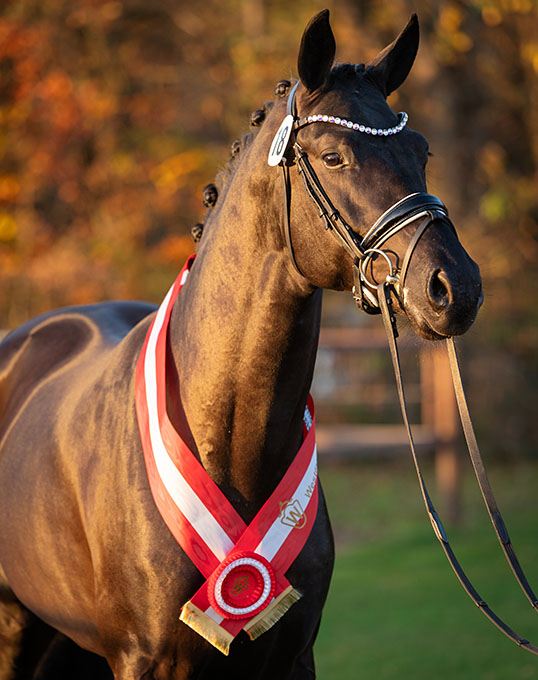 A high amount of colts dropped out during the two-day licensing process. 49 colts were entered for the licensing on Sunday 22 November and by Monday six of them has been "withdrawn" and one was "not presented" at all, ending up with a lot of 42. 
Reesink's Secret x Biasini was withdrawn before the lunging phase.
Withdrawn before the freedom phase were Franz Winklmaier's Henkie x Sir Donnerhall (which sold to Helgstrand before the licensing); Mathieu Beckmann's Dancier x Floriscount, Ottmann-Droege's Foundation x De Koonig, and Ingo Pape's Secret x Don Schufro. 
Two further stallions did not show up for the final walk ring: Erich Weitzel's Benicio x Fidermark, and Heike Pleines' Bernay x Millennium. 
Fair Game x Destano, Champion
The reshuffling of the participants' field should not take away from the shining moment of the licensing champion. The black Fair Game x Destano x Harvard, bred by Konrad Mensch and owned by Joachim Scherer, was the number one of the 2018 crop of colts in the premium ring. 
"A stallion as perfect as one could hardly wish for," said Westfalian's provisional Breeding Director Thomas Münch in the press release. 
At the Hybrid Auction following the licensing ("hybrid" meaning bidding could be done online or on the phone, as well as live bidding at the event), the Fair Game sold for a whopping 800,000 euro to Helgstrand Dressage.
The hybrid auction concept is brand new in this corona year with travel restricted due to the pandemic. The Westfalian society renamed the hybrid concept to "OnLive" Auction. The majority of the colts sold to people bidding on the scene and not via the computer.
Diamond Deluxe x Lisarro van de Helle, Reserve Champion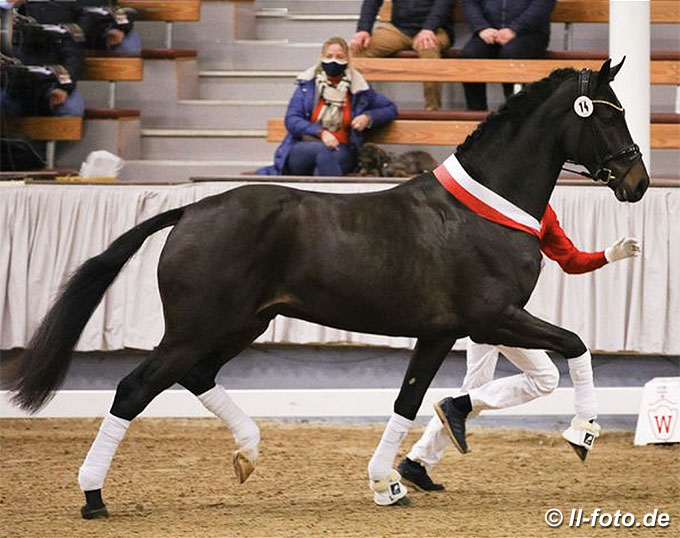 The Reserve Champion of the dressage stallions was the black Diamond Deluxe x Lissaro van de Helle x Labrador son, bred and owned by Wilhelm Rüscher-Konermann.
"The beautifully presented bay stallion impressed the licensing commission on both days," said Münch.
Instead of keeping the colt for his own station, Rüscher-Konermann put him in the auction and the decision paid off. Helgstrand Dressage purchased him for 600,000 euro. 
Two Tie for Third 
Two stallions tied in third place in the premium ring.
Alfons Baumann's Ibizi x Davignon x Apart was the third ranked stallion, which in Germany they call "second reserve".  Baumann, who recently held a major stock sale of his horses in a yard auction, did not sell this colt, but kept him for the licensing.  The colt ranked third in the premium ring and sold at the licensing auction for 172,000 euro. 
The second third placed colt was the Don Allegro x Belissimo M x Sir Schölling, bred by Eward Descher and presented by Mathieu Beckmann. He sold for 226,000 euro to Switzerland through an online bid.
Photos © Reckimedia - LL-foto
Licensing Results
Premium Stallions
1. Fair Game x Destano x Harvard - Breeder: Konrad Mensch - Owner: Joachim Scherer - 800,000 € to Helgstrand
2. Diamond Deluxe x Lissaro x Labrador - Breeder & Owner: Wilhelm Rüscher-Konermann - 600,000 € to Helgstrand
3. Ibiza x Davignon x Apart - Breeder & Owner: Alfons Baumann - 172,000 to sissy Max-Theurer
3. Don Allegro x Belissimo M xSir Schölling - Breeder: Ewald Descher - Owner: Mathieu Beckmann - 226,000 € to Switzerland
5. Ibiza x For Romance x Wolkentanz II - Breeder: Krimhild Schulze-Beikel - Owner: Ingo Pape - 75,000 €
5. Bernay x Lucky Champ x Cassini II - Breeder: Theodor Johannsen - Owner: Martina Biermann - 90,000 €
5. Floriscount x San Amour x Fürst Heinrich - Breeder: Gestüt 'Elstertal' - Owner: Helgstrand Dressage - not for sale
5. Sir Heinrich x Escolar x Louis le Bon - Breeder & Owner: Roswitha Bergrath - 126,000 to  LG Warendorf
5. Zoom x Blickpunkt x Pik Donnerhall - Breeder: Michaela Fleige - Owner: Mathieu Beckmann und IB Berger - 52,500 € to Henrik Brinkmann
5. Zoom x Fürst Romancier x Frenchman - Breeder: Heinrich Aarnink - Owner:  Mathieu Beckmann - 210,000 € to Switzerland
Licensed Stallions
Daily Diamond x Johnson x Scandic - Breeder: S. Wijnveen - Owner:  Jan W. Greve - 45,000 € bought back by owner
Dankeschön x Ampere x Fidermark - Breeder & Owner: Alfons Baumann - 57,000 €
Don Allegro x Donnerschlag x Weltmeyer - Breeder: Yvonne Alsmann - Owner:  Otto Hofer
Farrell x Lord Loxley x  Damon Hill - Breeder & Owner: Karl-Aug. Schulte-Varendorff - 250,000 € to Helgstrand
For Final x Lissaro xDavignon I - Breeder & Owner: Bernhard Hustert
Fürstenball x Sir Donnerhall x Weltmeyer - Breeder & Owner: Bernhard Ilting-Reuke - 51,000 € to Lisa Müller
Fürstenball x Zack x Sandro Hit - Breeder: Bruno Blome - Owner:  Heike Pleines
Glamourdale x Millennium x Lord Loxley - Breeder: ZG Heike u.Werner Pleines - Owner:  Claude Niedner
Indian Rock x Springsteen x Weltart - Breeder: Jean-Pierre Renson - Owner:  Georg Wilbers - 53,000 €
Rock Forever x Franziskus x Ehrentusch - Breeder & Owner: Thomas Holling
Secret x Desperados x His Highness - Breeder & Owner: Jürgen Bunge - 145,000 €
Sezuan x De Niro x Furaldo - Breeder: Gerhard Aumer - Owner:  BG Klausing - 70,000 €
Sir Donnerhall x Totilas x Florestan I - Breeder: Andreas & Ute Brinkmann - Owner:  Jill Mieleszko-Vekens - 53,000 €
Vitalis x Florencio x Jazz - Breeder & Owner: Family Rothenberger
Vitalis x Rock Forever x Florestan I - Breeder & Owner: Niklas Schulte-Märter - 45,000 €
Vitalis x San Amour x His Highness Z.: Albert Röber - Owner:  Reesink & Ifverson
Zack x De Niro x Florestan I - Breeder & Owner: Klaus Große-Lembeck
Zoom x Davignon x Matcho AA Z.: Ingrid Essmann, Greven - Owner:  Daniela Brink - 28,000 €
Zoom x  Don Vino x Werther Z.: Karl-Heinz Brinker - Owner:  Mathieu Beckmann - 26,000 €
Zoom x Rocky Lee x Fibonacci Z.: ZG Josef u.Karl-Heinz Rudde - Owner:  Christoph Rawert - 35,000 €
The most expensive, non-licensed stallion was the Morricone x Diamond Hit selling to a bidder at the event for 33,000 euro. 
Complete results here.
Related Links
Fifty-Five Dressage Colts Selected for 2020 Westfalian Stallion Licensing
Previous Champions
Dynamic Dream, Champion of 2019 Westfalian Stallion Licensing
Dynamic Dream, 2019 Westfalian Licensing Champion and 1.9 Million Auction Horse, Tests Positive to Medication
Danciero, Champion of the 2018 Westfalian Stallion Licensing
Fashion in Black Named Champion of the 2017 Westfalian Stallion Licensing
Valverde, Champion of the 2016 Westfalian Stallion Licensing
D'Egalite, Champion of the 2015 Westfalian Stallion Licensing 
Borsalino, Champion of the 2014 Westfalian Stallion Licensing
Rock For Me, Champion of the 2013 Westfalian Stallion Licensing
Like A Diamond, Champion of the 2012 Westfalian Stallion Licensing
Dubrovnik, Champion of the 2011 Westfalian Stallion Licensing
A La Carte, Champion of the 2010 Westfalian Stallion Licensing
Silbermond, Champion of the 2009 Westfalian Stallion Licensing
Flanagan, Champion of the 2008 Westfalian Stallion Licensing
Coronas, Champion of the 2007 Westfalian Stallion Licensing
Estobar NRW, 2006 Westfalian Licensing Champion
Cornado 2005 Westfalian Licensing Champion
Fidertanz, 2004 Westfalian Licensing Champion
Dancing Dynamite, 2003 Westfalian Licensing Champion
Rosencharmeur, the 2002 Westfalian Stallion Licensing Champion
Don Bedo, 1998 Westfalian Stallion Licensing Champion